News
15-year-old Katie Grimes makes Olympic team, called "future of swimming" by Katie Ledecky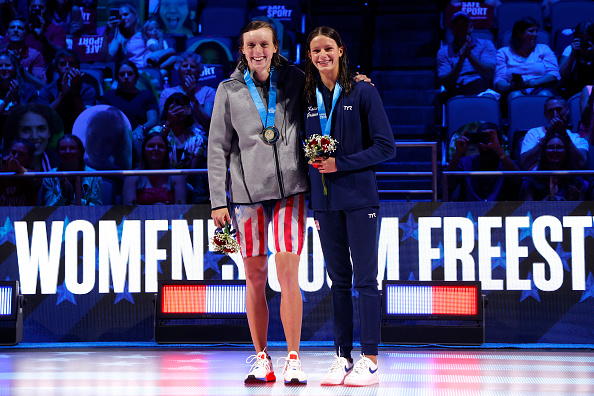 Katie Ledecky will undoubtedly go down as the best women's swimmer who ever lived. At 24, she's not yet ready to pass the torch to the next great swimmer. However, after she blew the competition out of the water in the 800-meter freestyle at Saturday night's finals during the U.S. Olympic Trials, Ledecky gave a ringing endorsement to her potential replacement in the future.
Ledecky won the 800m freestyle Saturday night in 8 minutes, 14.62 seconds. It was almost six full seconds ahead of Katie Grimes, who shaved 11 seconds off her personal record and finished second in the race after a great kick in the final 50 meters.
The crowd in Omaha went crazy for Ledecky, who has now won more swimming trials finals (8) than any other American woman in history. The crowd got even crazier when they found out Grimes, a 15-year-old from Las Vegas, made the Olympic team.
No one seemed happier for the teenaged Grimes than her family, but a close second was Ledecky, who beamed during a post-race interview. This comes just a couple of days after Grimes finished third, behind Ledecky, in the 1,500-meter finals.
"I told Katie Grimes after her third place in the mile that she was the future," Ledecky said. "Then I told her she is the NOW. That was incredible. I can't believe how young this team is going to be."
Ledecky is still the now, and the future, of women's swimmers in America. She holds the world's top 24 times in the history of the 800 meters, and she also holds holds the current world records in the 400 meters, 800 meters and 1,500 meters.
She looks to swim so effortlessly in the distance races, typically getting out to such a big lead that she probably has time to dry off, get a drink of water, a sandwich and talk to her family before the next person touches the wall.
Only 24, she still seems to have a lot left in the tank. She's her own biggest critic, and that was evident after Saturday night's final race in her Trials schedule.
"It was a fine swim," Ledecky said in Swimming World magazine. "I thought I would do better given how well my prelims swim felt. I have learned how to manage my own expectations and tried to take it one swim at a time and not compare myself to my past."
Ledecky crashed the swimming scene at the 2012 US. Olympic Team Trials when she trimmed six seconds off her personal best as a 15-year-old set to make the London Games. Now, Grimes at 15 shaved 11 seconds to qualify for next month's Tokyo Summer Olympics, according to SwimSwam.
Grimes' time of 8:20.36 is the third-fastest time all-time for the 15-16 age group behind only Katie Ledecky (8:13.86 in 2013) and Janet Evans (8:17.12 in 1988). Fifth on that list is Bella Sims (8:23.55), who finished fifth in Saturday night's Trials final in that time.