Entertainment
A Deep Dive Into The Best Swimwear Brands On The Internet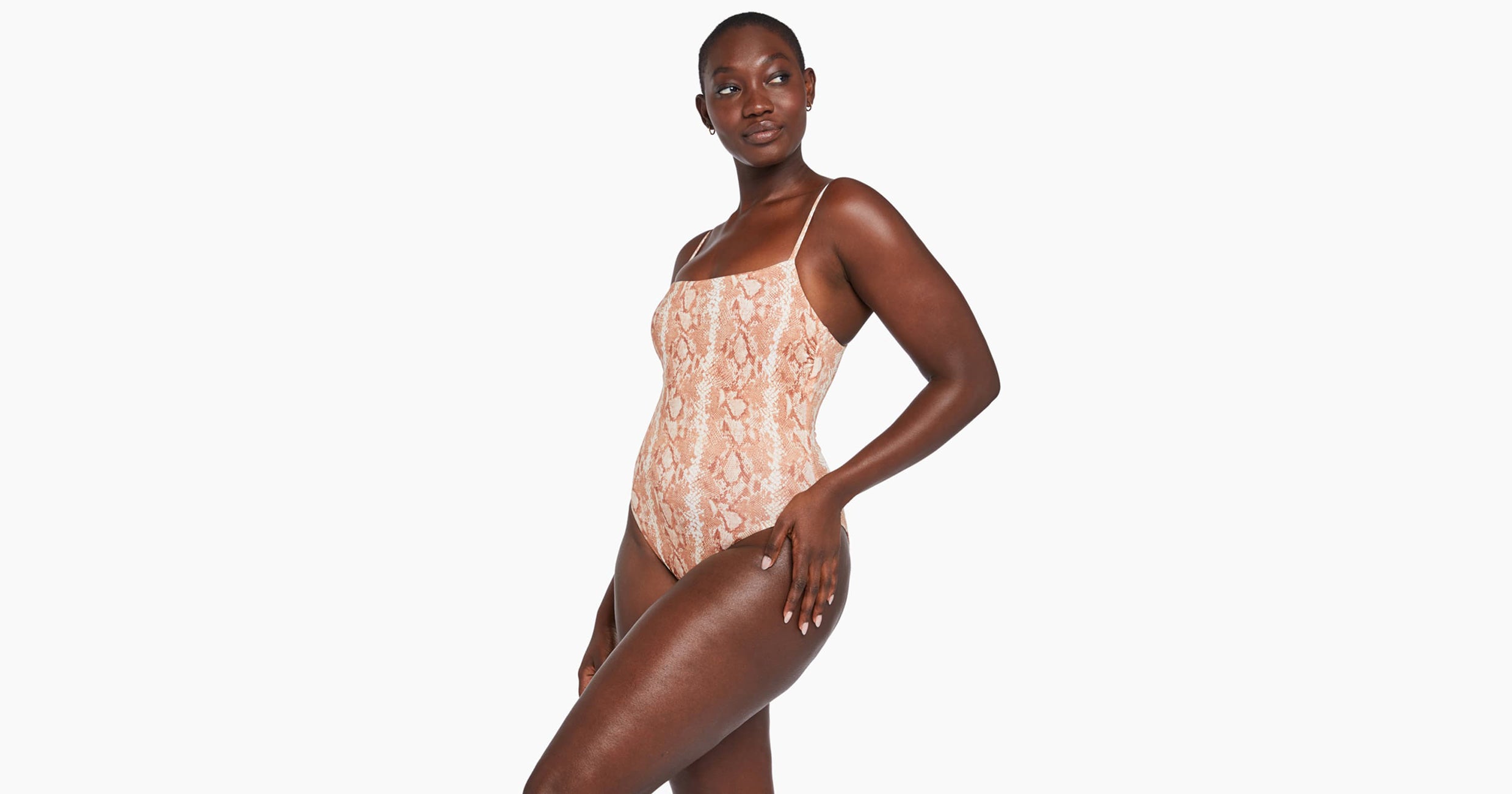 We've got a checklist going to make sure we have everything we need for the hottest-girl summer on record: stock up on top-rated sunscreen; book the best lake house rental on Airbnb; acquire the most poppin' swimwear our budgets can buy. The only thing holding us back from our last initiative is that we're about 20,000 leagues underwater, thanks to the veritable ocean of cute bathing suits in the swim-o-sphere right now. Do we want something cheap and cheerful or luxe and eco-friendly? (All of the above, please!) Do we need a sporty, covered-up suit that's going to stay put while we engage in every watersport under the sun OR simply the mere suggestion of a bikini for the most optimal tan? If you're also out to sea on this decision-making dinghy, then you've come to the right place — we've done a deep dive (sorry, had to) on all the best swimwear brands for women that the internet has to offer. From the affordable and the low-impact to the inclusively sized and sporty, find the best swimwear brands on the world wide web ahead.
Best Affordable Swimwear Brands
ASOS
If you've got minor ducats to shell out on the best swimwear brands this season, there are plenty of suits in the sea. ASOS is one of our favorite retailers for low-priced bathing suits, and it doesn't require you to sacrifice style or eco-conscious construction. With their in-house ASOS DESIGN imprint and affordable brands like Collusion and Monki offering recycled-fiber suits in buy-it-now prints, we could spend hours adding to our carts (without breaking the $100 threshold).
Shop swimwear at ASOS
H&M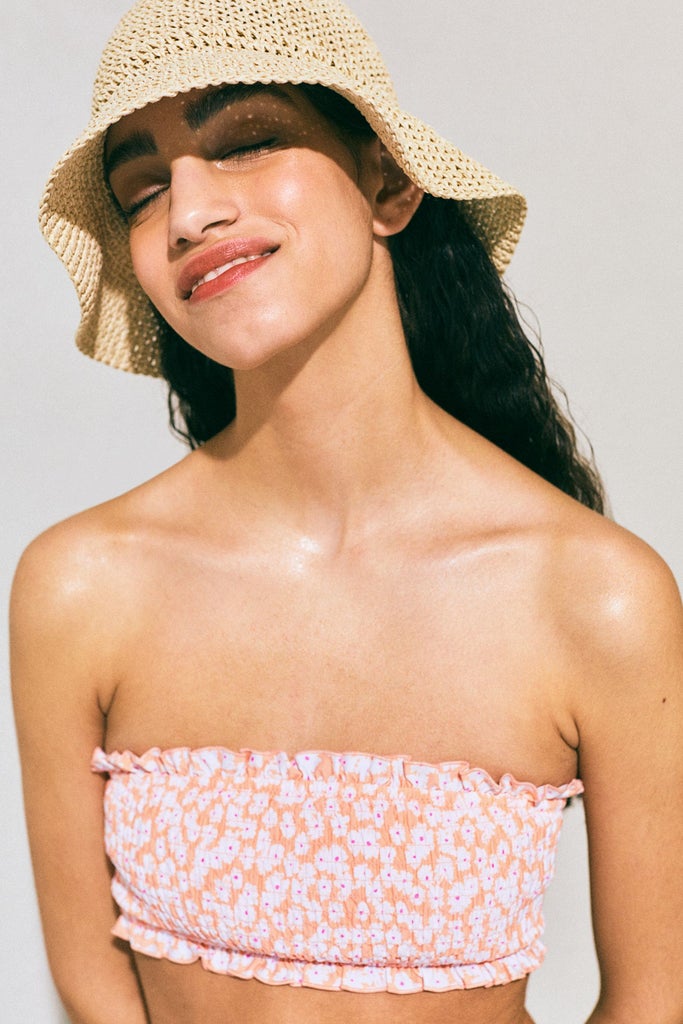 The Swedish retailer has nailed the art of all things chic and inexpensive, and their selection of swimwear is no exception. With a seemingly endless variety of on-trend prints and silhouettes, a size range that runs from XXS – 4XL on select styles, and recycled-fiber options under the brand's Conscious imprint, there are bathing togs for every type of shopper here — especially the frugal ones.
Shop swimwear at H&M
Target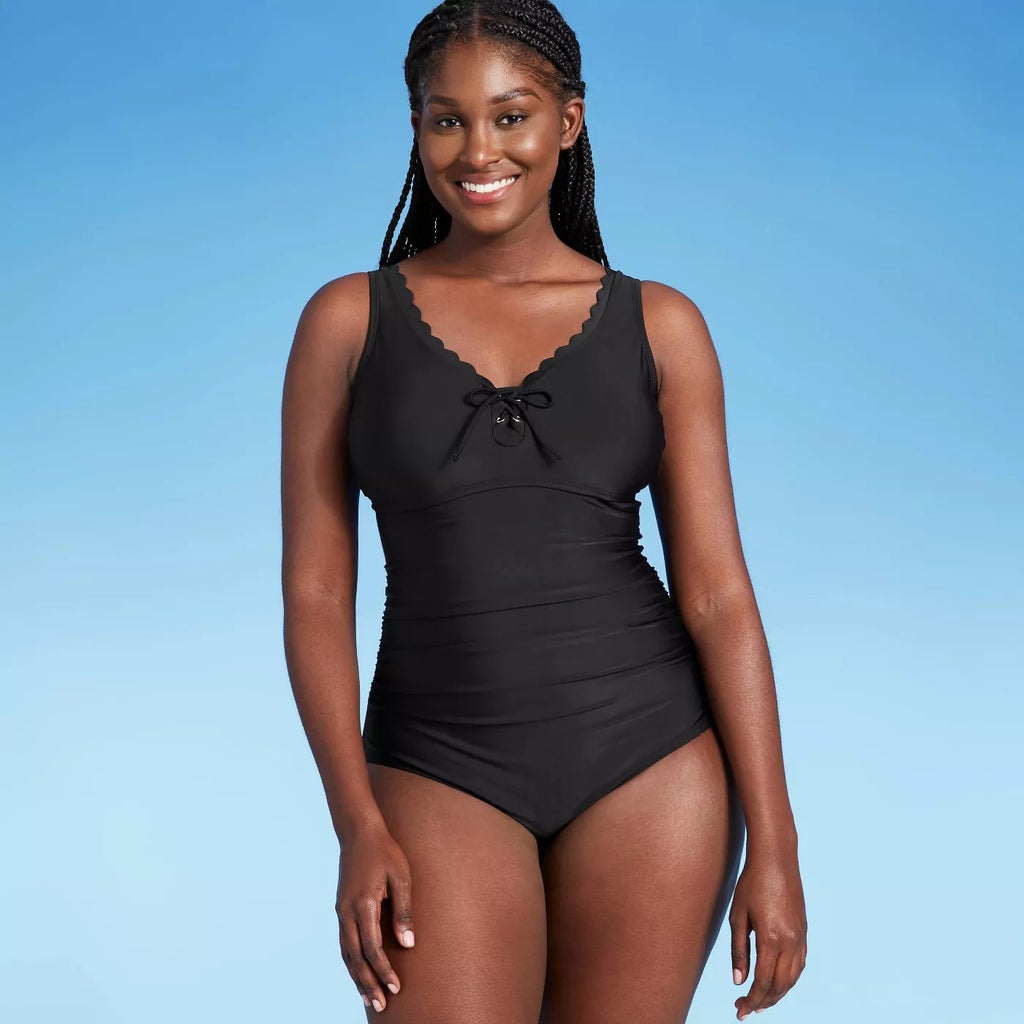 It should come as a surprise to no one that this Christopher John Rogers-collaborating, DTC-brand-peddling, affordable big-box store has a sweet array of chic, beach-ready togs in silhouettes that are reminiscent of pricier designer suits in their style and sophistication (but not in dollar signs). They also offer a wealth of plus-size bathing suits that won't break the bank.
Shop swimwear at Target
Best Plus Size Swimwear Brands
Swimsuits For All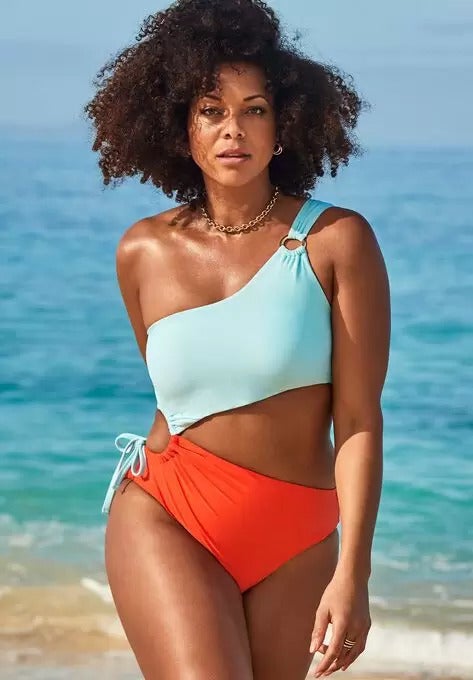 Thanks to stylish collaborations with style mavens, models, and influencers like Gabi Gregg, Ashley Graham, and Camille Kostek, this size-inclusive swim-print has become a must-visit digital destination for hotties of every shape and size. You'll find graphic patterns, pack-a-punch colors, and plenty of cutouts at this skin-friendly retailer.
Shop Swimsuits for All
Kitty & Vibe
In 2018, Kitty & Vibe founder Cameron Armstrong found herself frustrated with the fit disparities that are all too expected and accepted in the world of swimsuits. For her own brand, the former beauty marketing manager developed a unique sizing system that takes the hip and bottom measurements into account, for a fit that's tailored to a variety of different booties and bodies. The cheerful range of printed swimsuits extends to size 5XL, and the Insta-ready colors and patterns have us repeatedly smashing the like button.
Shop Kitty & Vibe
Best Bikini Brands
Frankie's Bikinis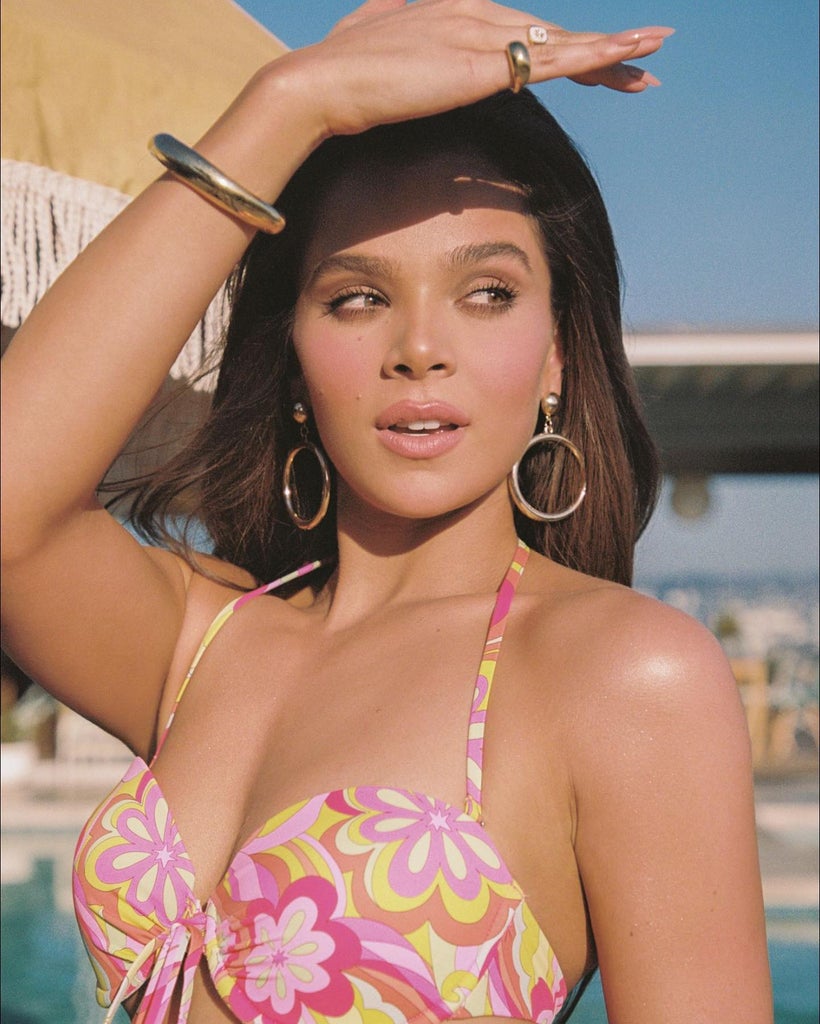 We'd be silly to leave out a brand that invokes the itsy-bitsy, teeny-weeny swimsuit in its nomenclature — and luckily, entrepreneur Francesca Aiello's swimwear label lives up to its name. Not only are the majority of Frankie's wares creatively microscopic in their coverage, but the bikinis feature cute and colorful prints created in collaboration with actually cool celebs like Hailee Steinfeld and Naomi Osaka. They also just launched a Pride collection — 15% of the sales from which will benefit the Stonewall Foundation.
Shop Frankie's Bikinis
Andrea Iyamah
It doesn't get much more sculptural than this Toronto-based designer's work-of-art swimsuits. In particular, the embellished and almost theatrical bikinis that she turns out alongside a host of equally stunning resort wear. Adorned with three-dimensional details that we rarely see in your average suit — think sweeping accordion ruffles, fruit-themed embroidery, and braided accents — Iyamah's showstopping sets will have all eyes on you at the playa this summer.
Shop Andrea Iyamah
Best Swimsuits for Large Busts
Cuup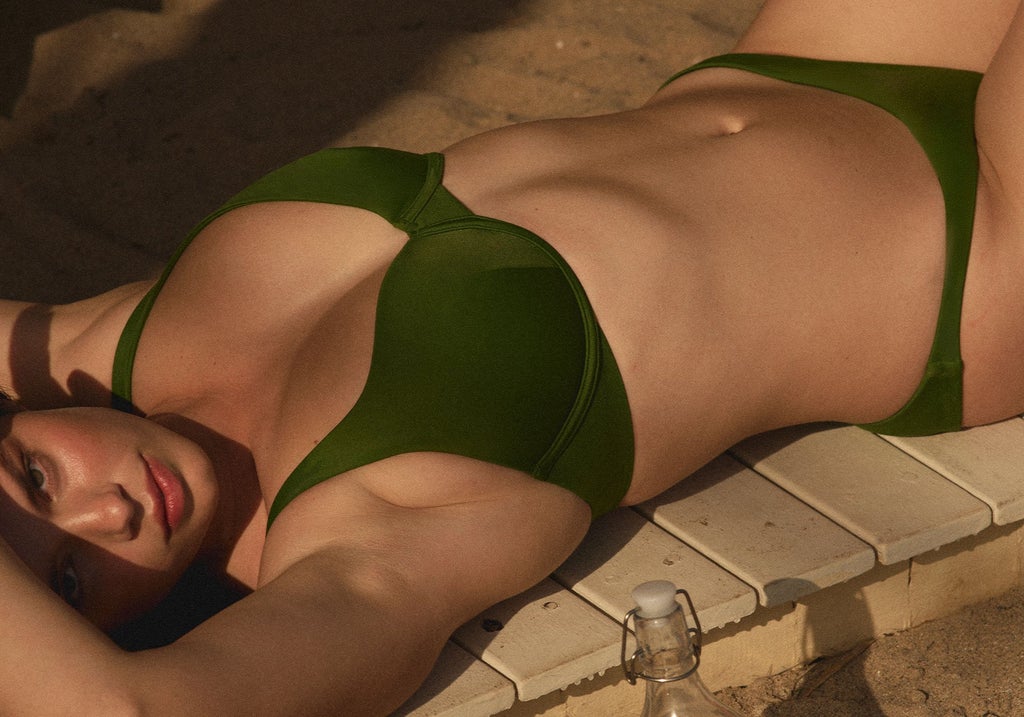 When this beloved DTC lingerie brand launched swimwear earlier this summer, we jumped for joy — and of course, everything stayed put, because we were already wearing our Cuup bras. The brand brought its expert tailoring, flattering silhouettes, band sizes 30 – 42, and cup sizes A – H to a jewel-toned collection assortment of swim separates. "This is a MUST HAVE for those who need support," wrote reviewer Allison of the Balconette Swim Top. "I have been searching for a swim top that is supportive, comfortable, and stylish for years and I've finally found it. This fits as if it was made just for me. Based on the reviews I ordered a cup size up from my Fit Quiz results and am glad I did. Thank you Cuup!" Each of the swim tops is equipped with flex wire, for move-with-you support, and the brand's "slide and set" closure for easy fit adjustment.
Shop CUUP
Best Eco-Friendly Swimwear Brands
Vitamin A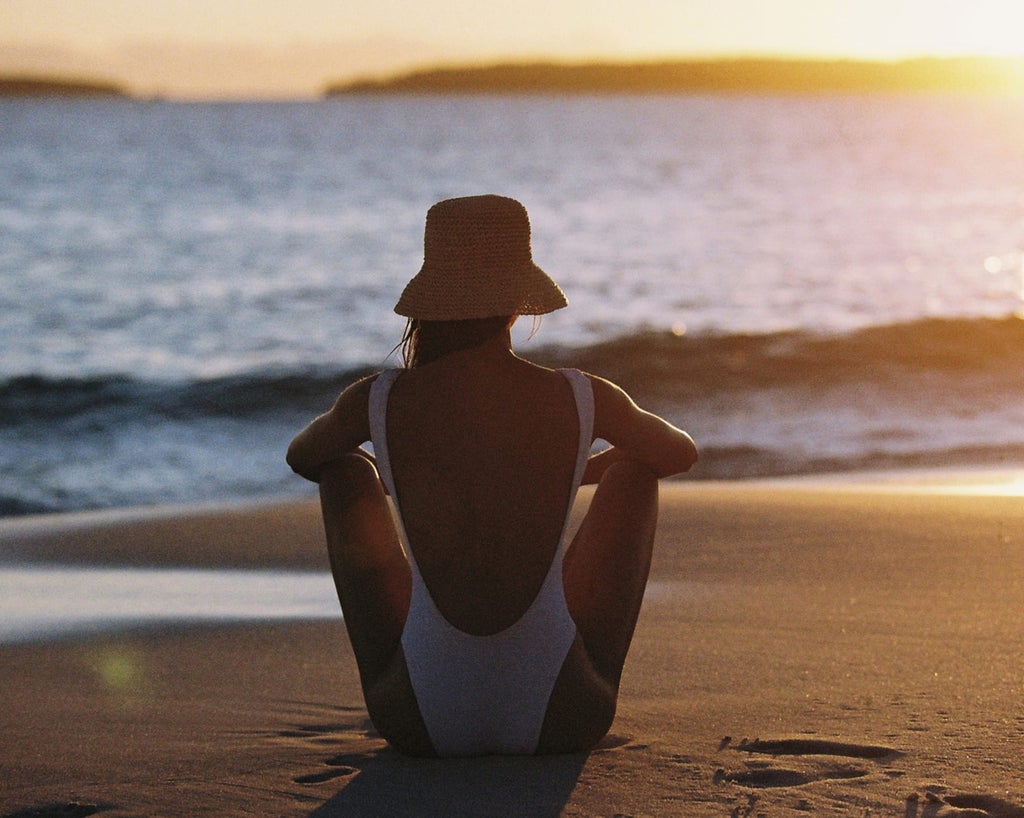 When former swimwear model and designer Amahlia Stevens consulted with eco-minded Patagonia founder Yvon Chouinard on a swimwear capsule, she saw how the company created fleece fiber from discarded plastic. Upon launching her own eco-friendly bathing-suit brand in 2000, she took a page from Chouinard's book and created Vitamin A's signature fabric, EcoLux — "a superfine matte jersey with a nearly weightless, silken texture that erases flaws and fits like a second skin," according to Vitamin A. About that second skin: California Apparel News quoted a veteran swimwear buyer who called the brand's fit "extraordinary."
Shop Vitamin A
Best Amazon Swimwear Brands
Aleumdr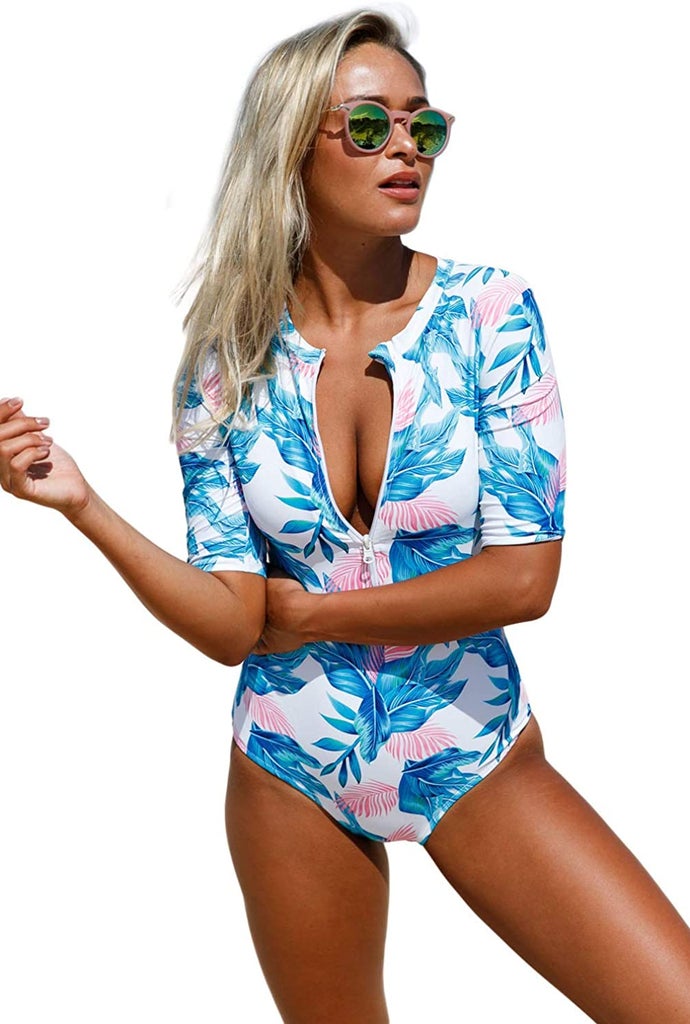 While Amazon may not be the easiest place to shop for swimwear, it can be a veritable gold mine if you know where to look. We have a handy-dandy guide to the best swimsuit brands stocked at the online behemoth — the ones you can only find on Amazon, ya know? — but there are a few standouts, in our book. Based on our anonymous internal shopping data, we happen to know that this tropical-print one-piece from Aleumdr is a reader favorite — and based on close to 4,000 reviews, it seems to have a few fans on Amazon, too.
Shop Aleumdr on Amazon
Cupshe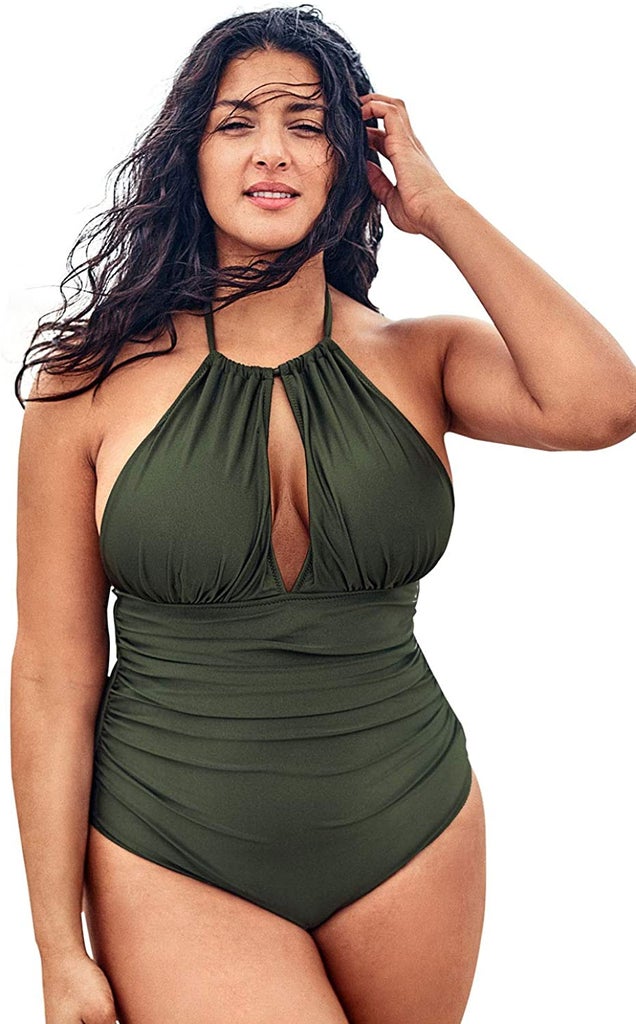 We love Amazon brand Cupshe for its range of flattering colors and styles that are offered in an inclusive size range that goes up to 4XL. The brand doesn't skimp on the romance, either — its Amazon storefront is swimming (guffaw) with suits that boast shirring, ruffles, and summer-ready mix-and-match florals.
Shop Cupshe on Amazon
Best One-Piece Swimwear Brands
Summersalt
It's hard to overestimate the scientific perfection of Summersalt's Sidestroke swimsuit, a color-blocked, one-shoulder maillot famously tailored based on "1.5 million body measurements from 10,000 women," according to the brand's website, and rendered in an ultra-compressive fabric that offers a shaping and smoothing power that's unrivaled in the swim-dustry. While this one-style-flatters-all-sizes maillot is the brand's unquestionable hero, Summersalt is responsible for a host of one-piece swimsuits that deliver equally on their promise of precise fit and summer-ready style.
Shop Summersalt
Norma Kamali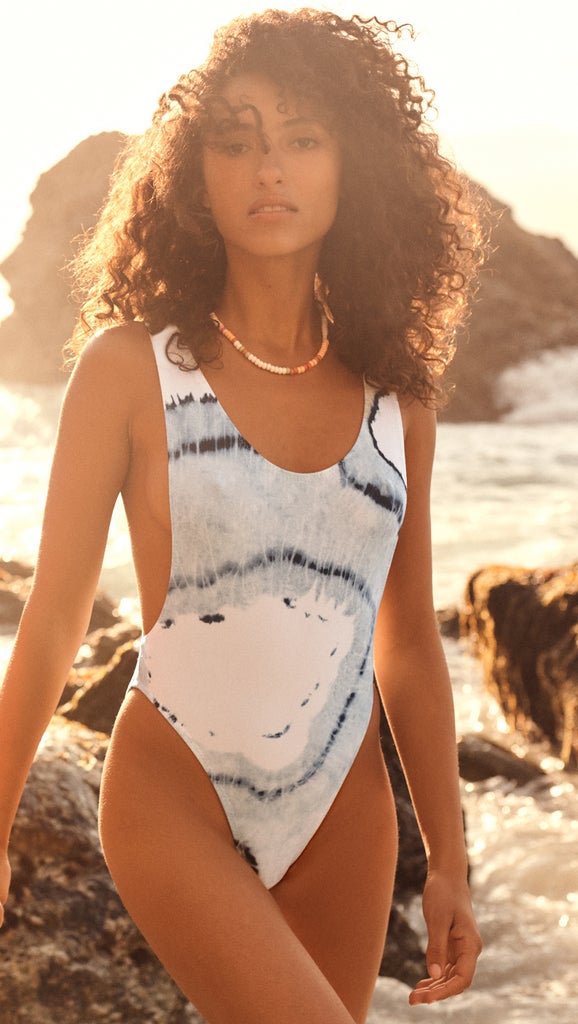 While living legend Norma Kamali is responsible for numerous contributions to the fashion canon, among her greatest hits is an ultra-high-leg, ultra-low-back maillot that challenges the definition of the one-piece as a full-coverage swimwear option. First released in the early 1970s under a different style name, the throwback silhouette was spotted in a vintage shop by an employee (named Marissa) who insisted that Kamali re-release it. "I was unsure if customers would be into that high of a leg in 2014," Kamali told us, "but I told Marissa that I'd bring it back and name it after her." Now, the Marissa is a summer must-have and has inspired legions of imitators (including a best-selling Amazon version); and the designer continues to bring serious sex appeal to the one-piece with suits like the mesh-panel Mio and the bold cut-out Chuck.
Shop Norma Kamali
Lands' End
It's not the sexiest brand on the block, but your mom's go-to swim outfitter has honed the art of fit and top-notch quality throughout decades of making swimwear — and their precisely-fitting one-piece swimsuits have racked up hundreds of glowing reviews. We found surprisingly appealing prints and patterns in the mix, including a genteel-chic collaboration with Reese Witherspoon's Draper James line. The brand's bathing togs are also notoriously long-lasting, thanks to the use of a special type of super-strong Lycra that lasts up to 10 times longer than ordinary spandex.
Shop Lands' End
Best Athletic Swimwear Brands
Athleta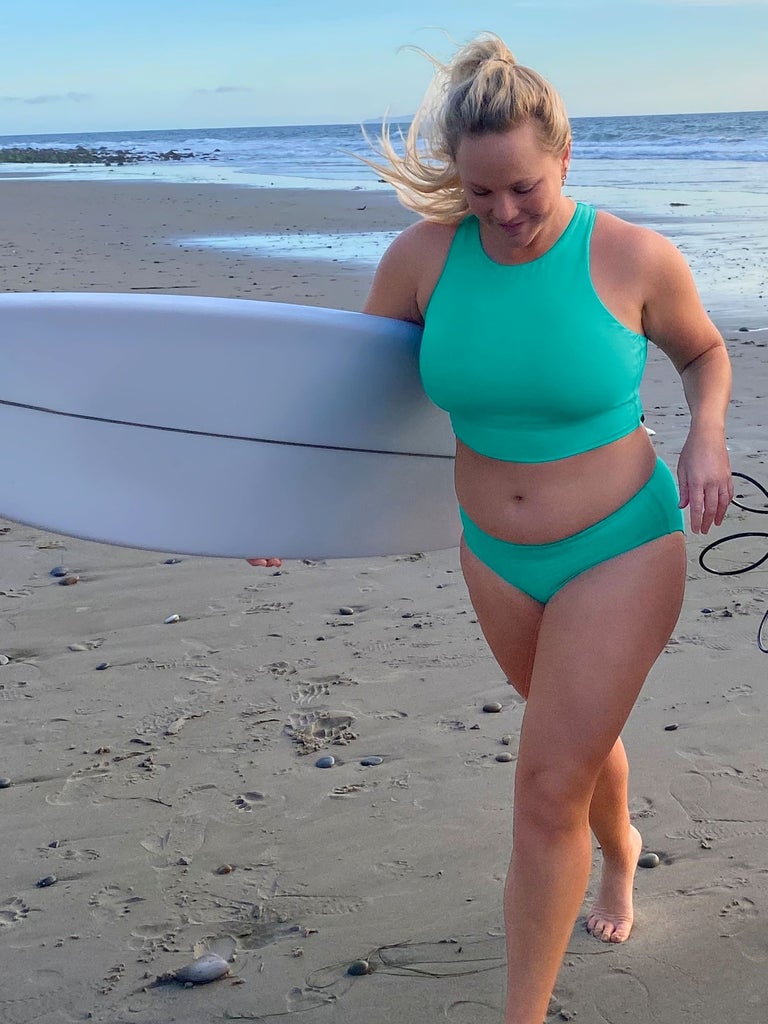 There's a lot to love about Gap's sporty sister brand. First and foremost, they achieved B Corp status in 2018, meaning that the company "meet[s] the highest standards of verified social and environmental performance, public transparency, and legal accountability to balance profit and purpose," according to the B Corporation website. As a longtime athletic-wear brand tailored especially for the ladies, it's also responsible for a host of sport-friendly swimwear that offers high-performance fits and fabrics in super-stylish silhouettes and colors.
Shop swimwear at Athleta
Speedo
You can't talk about athletic swimwear without mentioned the elder states-brand of sport-oriented suits. Founded in Australia — where many great water-ready innovations have originated — in 1914, the brand is actually credited with inventing the racerback-style maillot. (The crossover tank silhouette was thought to allow competitive swimmers more freedom of upper-body movement and therefore, speed.) And who can forget the omnipresence of the brand's Aussie-inspired boomerang logo at the Olympics throughout the 1990s and 2000s?
Shop Speedo
Best Luxury Swimwear Brands
Araks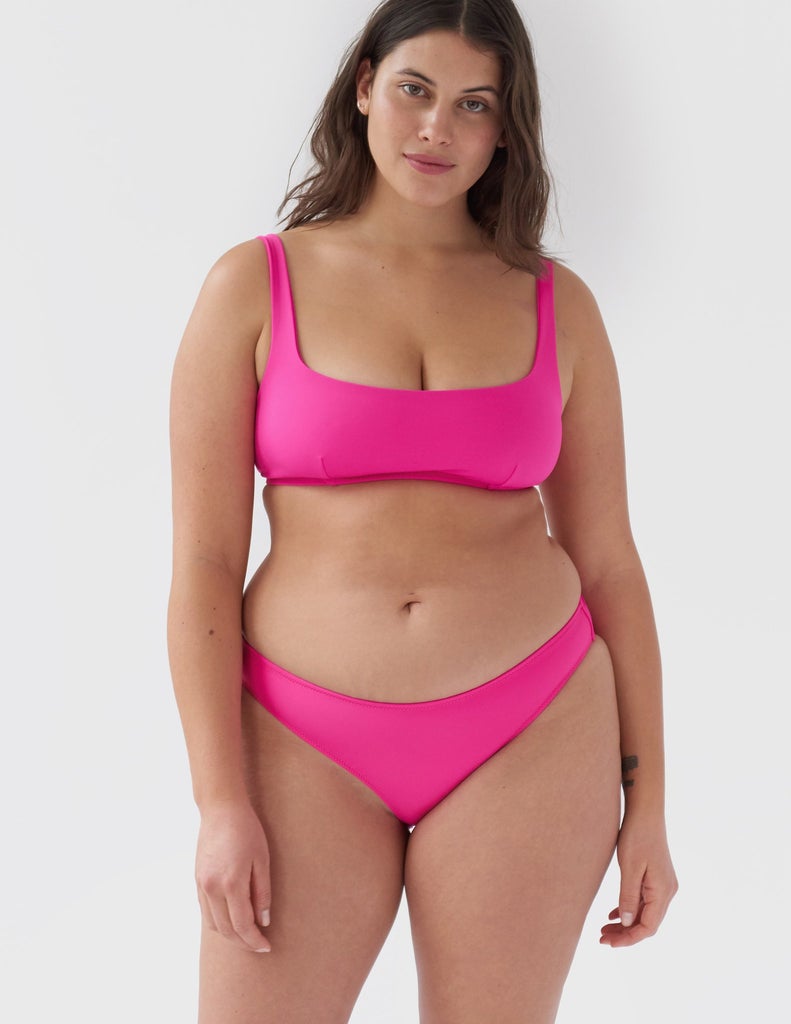 This longtime indie brand was built around founder Araks Yeramyan childhood obsession with color, which has become a hallmark of the lingerie and swimwear imprint that she founded in 2000. Simple, subtle silhouettes are jolted out of wallflower territory thanks to thoughtful and unexpected hues that are like candy for the senses. The brand is also certified by Bluesign, a third-party environmental agency that evaluates companies' sustainability efforts, and 50% of their swimwear is made with ECONYL (a recycled nylon).
Shop Araks
Lisa Marie Fernandez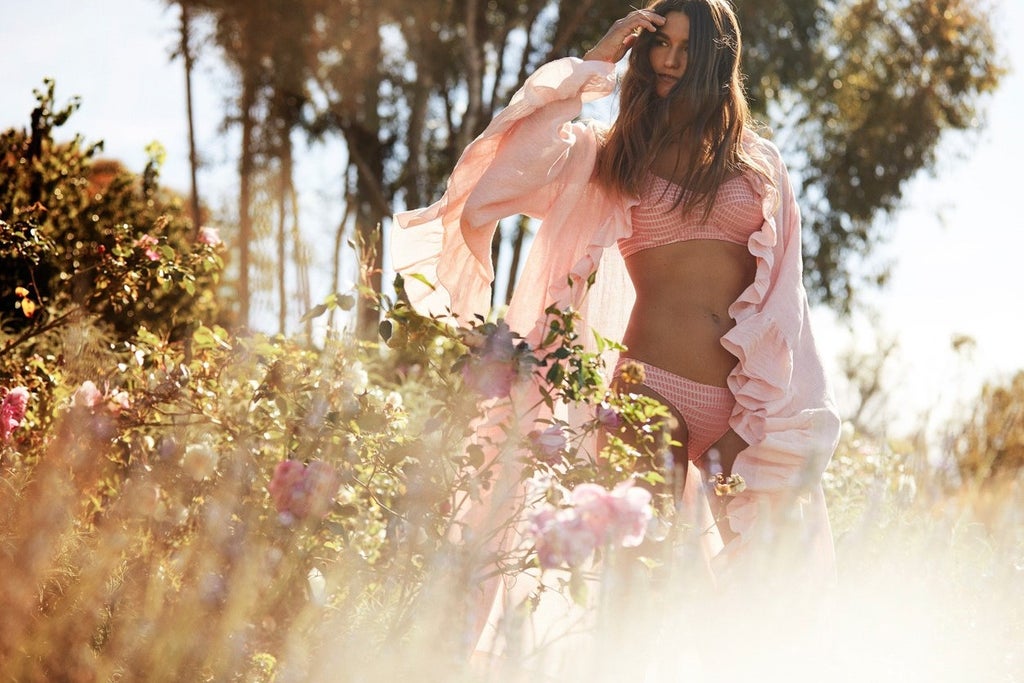 Multiple outlets have reported that former stylist Lisa Marie Fernandez owns over 380 swimsuits — a holdover from her stint as a swimwear market editor at Elle. The globe-trotting designer is known for high-fashion creations that bring unexpected fabrics (terrycloth, crepe, and seersucker) and bold findings (belts, buckles, and buttons) to her runway-minded bathing suits.
Shop Lisa Marie Fernandez at Net-a-Porter
At Refinery29, we're here to help you navigate this overwhelming world of stuff. All of our market picks are independently selected and curated by the editorial team. If you buy something we link to on our site, Refinery29 may earn commission.
Like what you see? How about some more R29 goodness, right here?
The Best Plus-Size Swimwear For Every Budget
An Exhaustive List Of Skimpy Plus-Size Bikinis