Sports
"A poet of paradise:" Tributes pour in following the death of Jimmy Buffett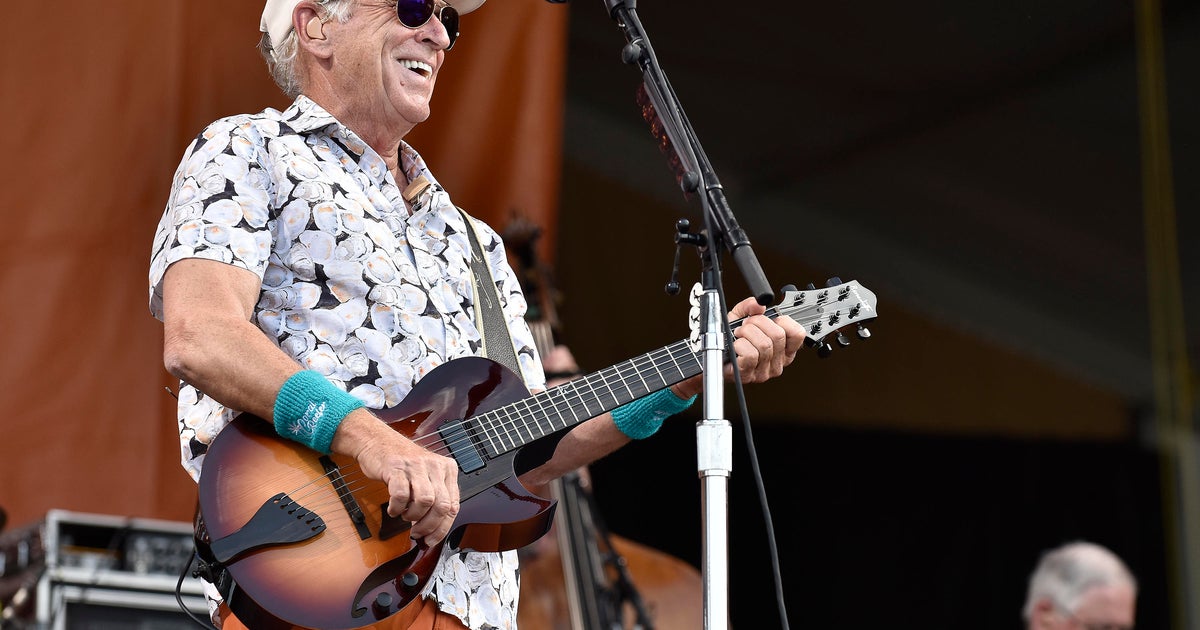 Jimmy Buffett, the soft rock artist known for the hit "Margaritaville," and numerous other beach-inspired songs, died at age 76 on Friday, shocking fans across the world. 
A statement posted to Buffett's website and social media announced the death saying he "passed away peacefully on the night of September 1st surrounded by his family, friends, music and dogs." The statement did not disclose the cause of Buffett's death, but added that he "lived his life like a song till the very last breath and will be missed beyond measure by so many." 
Dozens of celebrities, politicians and public figures have taken to social media to share heartfelt tributes for the late singer and songwriter. 
President Joe Biden wrote of Buffett's inspirational life, calling him a "poet of paradise" who was as kind a person in real life as he was on stage. "We had the honor to meet and get to know Jimmy over the years, and he was in life as he was performing on stage – full of goodwill and joy, using his gift to bring people together," Biden said on social media.
The president also offered his condolences to Buffett's wife, children, grandchildren and fans "who will continue to love him even as his ship now sails for new shores."
Admiration came from his fellow musicians. Country artist Blake Shelton reflected on Buffett's talent and shared a little known fact about a song the late singer made for one of his shows.
"Heart broken this morning hearing of Jimmy Buffett's passing," Shelton wrote on X, formerly known as Twitter. "I'll bet most of y'all don't know that he wrote the theme song for @BarmageddonUSA for me about 2 years ago."
Singer Kenny Chesney paid tribute to his friendship with Buffett, singing one of the late artist's slower ballads, "A Pirate Looks At 40," in a video posted to Instagram.
In the post, Chesney said "goodbye" and gave thanks and appreciation for their friendship and music which he said he "will carry in my heart forever."
In his tribute, television personality Andy Cohen shared a throwback photo of Buffett steering a boat, calling the late singer "The king of cool."
"Paradise was wherever Jimmy Buffett was," Cohen continued.
Texas Senator Ted Cruz shared his sentiments for Buffett on social media, wishing the artist a "well deserved #CheeseburgerInParadise." "Jimmy Buffett was a legendary musician who lived his life knowing it was always 5:00 somewhere," Cruz said. "Rest in peace to this American icon who brought happiness to so many."
Former President Bill Clinton celebrated Buffett's kindness and generosity while paying his respects to the late artist's family, friends and fans.
"Jimmy Buffett's music brought happiness to millions of people," Clinton wrote on X. "I'll always be grateful for his kindness, generosity, and great performances through the years, including at the White House in 2000."
Former First Lady and Secretary of State Hillary Clinton also posted a tribute for Buffett, wishing him "Fair winds and following seas, dear Jimmy."
Actor Miles Teller and singer Alan Jackson both shared nautical-themed lyrics by Buffett about using your sails and the stars to get to your destination.
"Shores distant shores, There's where I'm headed for," Jackson quoted on X. "I got the stars to guide my way, Sail into the light of day…" 
Buffett's brand of laid-back, paradise-themed music earned him generations of fans, self-proclaimed "parrotheads," that allowed him to build an empire that turned him into one of the highest-earning celebrities in the world.