Life Style
"Air" doesn't do justice to Sonny Vaccaro, much less sneakerheads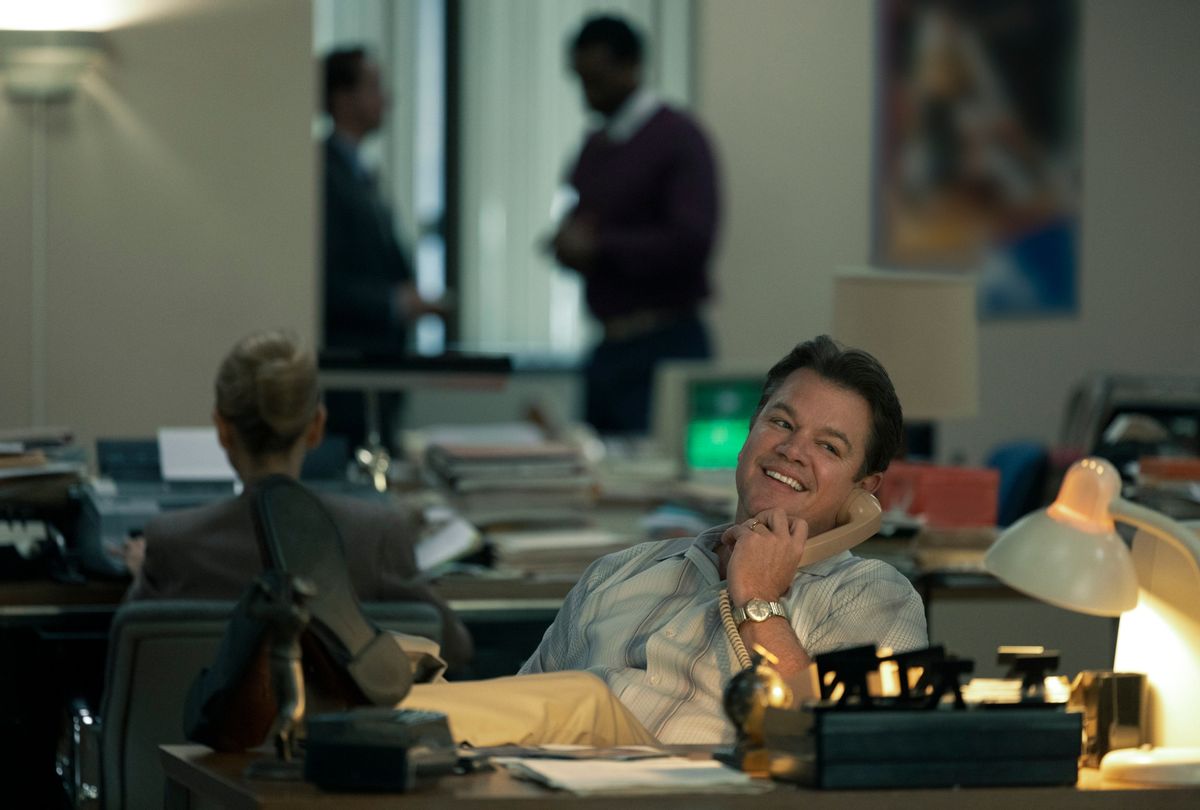 Ben Affleck's new movie "Air" is not about sneakers. 
If you are a sneakerhead or hungry for the glorious Air Jordan origin story, this film may not be for you. As a certified Jordan addict, I went in looking for the earliest members of my tribe and didn't find find them; however, I did learn about the meteoric disconnect between executives in a cool company and actual cool people, and that was entertaining. 
Nike and Jordan might not have sparked that billion-dollar empire if Vaccaro wasn't a pest.
I was born in 1980 when Magic Johnson led the Los Angeles Lakers to a championship against Julius Dr. Jay's Erving's 76ers, proving that the NBA Showtime era was real and here to stay. Jordan made his way into the league in 1984, with his signature shoe the Air Jordan 1 being released to the public in 1985 – making me the perfect age to be aware of the sneakers that drove the older kids in my neighborhood crazy. The Jordan brand does about $4 billion annually now, but raked in an impressive $162 million during their first year, when the projected sales were approximately $3 million. 
Red and black Air Jordan 1's flooded my block – almost instantly becoming a required sneaker in my neighborhood. The basketball players hooped in them, and the hustlers hustled in them. The dads paired them with blue jeans on Friday nights as soon as they got off work. Even the white kids who hung out by East Point Mall were hitting kickflips in them. So when my dad walked me into the shoe store at six years old, and then asked me what I wanted, I didn't look at the Converse and couldn't care less about shell-toe Adidas – the only logical answer was Air Jordans.
But how did we get to that moment? Ben Affleck attempts to take us there in the new Amazon film, "Air." 
"Air" is centered around basketball and sneaker deal guru Sonny Vaccaro (Matt Damon). Vaccaro has had dealings and connections to multiple sneaker brands – but "Air" zeroes in on his time at Nike basketball. Nike founder Phil Knight (Affleck) was ready to tank the basketball division because they had yet to make a dent in the market. Nike was known for making running shoes, and Knight was a runner who competed on the collegiate level durning his days at Oregon. He had initially got into the sneaker business with his college track coach Bill Bowerman and loved to hire runners, or ex-runners every chance he got. I believe it was a passion thing; Knight loved to run – not shoot hoops. 
The dude has always been slicker than a can of oil with the ability to sell snow cones in the middle of a blizzard.
But before Vaccaro could even attempt to flip Knight, he had to get past the equally talented and high-strung Rob Strasser (Jason Bateman), Nike's marketing manager, one of the company's earliest employees and a guy who didn't want to exhaust the entire budget on Michael Jordan. 
It wasn't personal. Converse already had the three best players: Dr. Jay, Magic Johnson and Larry Bird. Magic delivered a jolt into the unstable NBA with his larger-than-life smile and no-look passes in legendary battles with Boston and Detroit. But in the '80s, the NBA didn't have the same prestige as the NFL or MLB; the league was still relatively young and known as a collection of dudes that liked to fight and do cocaine.
Michael Jordan was a once-in-a-lifetime kind of athlete, but what happen to this guy once he is in the NBA? Wouldn't it be wiser to bet on a few good players than just one person who isn't even the top draft pick, a player that could potentially tank?
Vaccaro convinced both Knight and Strasser that it was worth the gamble. 
"Air" shows how Vaccaro was the driving force behind this deal. I'm always confused when people leave his name out of the Jordan conversation; he was the guy. Nike and Jordan might not have sparked that billion-dollar empire if Vaccaro wasn't a pest. I expected to see Matt Damon rock that Sonny V 'fro and maybe the use of AI technology to recreate those big sleepy eyes – but we only get the belly. I could live with Damon not looking identical to Sonny, but what the film missed was a hard dose of Vaccaro's style.
The movie is not really about sneakers, but more a tale of possibility and the American dream. 
I don't know what it is about Vaccaro, but the dude has always been slicker than a can of oil with the ability to sell snow cones in the middle of a blizzard. Add that to the fact that Black people from all over the country loved that guy. Anyone who played basketball on the AAU circuit would light up at the sight of Sonny V in the crowd because they knew his presence meant something special was about to happen. The film is based around the business dealings of Vaccaro, Knight and Michael Jordan's mom Deloris Jordan (Viola Davis) – but we wouldn't get that  exchange between Mrs. Deloris Jordan and Vaccaro without knowing what made Vaccaro, Vaccaro. 
Matt Damon as Sonny Vaccaro and Viola Davis as Deloris Jordan in "Air" (Amazon Studios)No one in life would ever mistake me for a basketball prospect; however, I saw Vaccaro twice in my hometown of Baltimore, one of the Blackest cities in America, surrounded by all Black people in places where the only white people are the ones with badges. 
The first time was during the summer league game, Sonny V was standing next to a gate at the legendary Bocek basketball court when some Dunbar players performed spectacularly against some loudmouth West side dudes who shouldn't have been on the court. Sonny mixed in with the winners like he had known them forever. On the other occasion I watched Sonny climb out of a parked car from a second-story window as he made his way across Central Avenue toward the Somerset housing projects on a 1,000-degree day to see Bear and a few other NBA prospects sink jump shots from half-court on a broken rim. Like at Boceks, he smiled, admired the talent and looked like he was home. And that is what "Air" is genuinely about: home. Sonny earning his keep at home. Mrs Jordan protecting her home. Mr Knight expanding his home. 
Sneakerheads and shoe lovers may flock to this film looking for things about the historic Jordan deal that they may not have known – but if you are in the culture, there are few surprises. Everybody knew then Michael Jordan wanted to sign with Adidas, and he almost didn't even take a meeting with Nike. Everybody knew about the $5,000 fines Nike agreed to pay if Jordan played in the banned shoes. (He played in the shoes but the NBA never fined him.) Everyone knew that his parents played a huge part in him signing with Nike. That's why the movie is not really about sneakers, but more a tale of possibility and the American dream. 
It's about Deloris Jordan wanting more for her family. It's about Phil Knight being brave enough to listen to his Nike employees despite the Board, in an effort to grow his company, which no one believed in, in the first place. It's about Sonny Vaccaro wagering his career and future along with Rob Strasser on a hunch that one kid, who also happened to be a dreamer, could accomplish the unthinkable.
---
Want a daily wrap-up of all the news and commentary Salon has to offer? Subscribe to our morning newsletter, Crash Course.
---
These are a collection of American stories through the lens of sneakers that have been worn by every single demographic in America, from the top 1% to people in public housing to the working stiffs, to the tech startup guys, to high school teachers, to nurses, to fire fighters to the good guys on packed corners – and  can even be spotted on the feet of the cops that lock people up. The Jordan Brand is an American story, "Air" is most effective in capturing the essence of extreme risk. 
If you are interested in a film that could explain how a superstar from Wilmington, North Carolina, a self-made millionaire from Portland, and a basketball whiz from Trafford, Pennsylvania, can perfectly unite and change the world because they all speak the same language of dreamers – then watch "Air," it's for you. 
Read more
stories for sneakerheads