News
Alex Murdaugh didn't cry over dead wife and son, first officer on scene testifies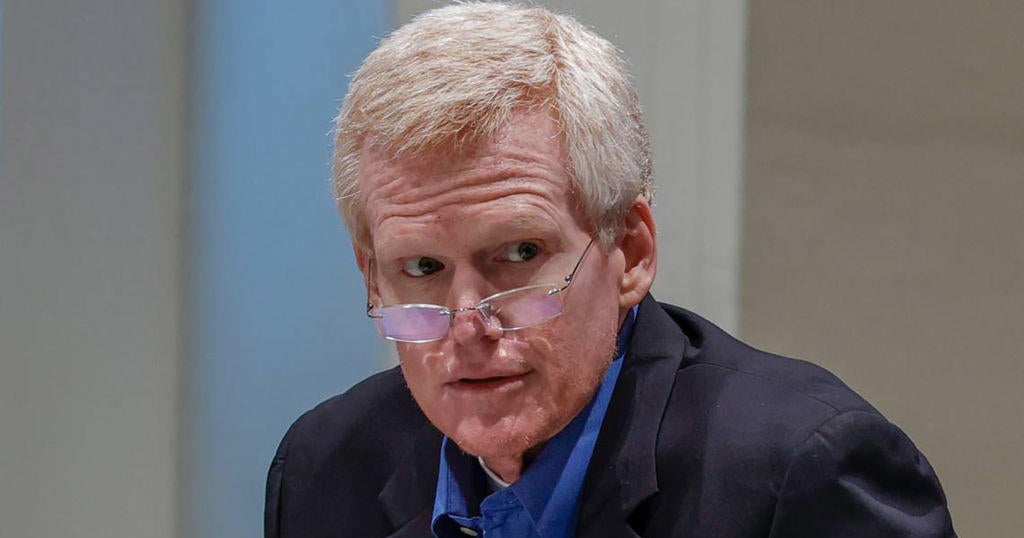 The first officer to arrive after Alex Murdaugh called 911 to report his wife and son were seriously hurt noted at the attorney's double murder trial Thursday that the suspect was upset but that he had no tears in his eyes.
During the first day of testimony, jurors watched Colleton County Sgt. Daniel Greene's body camera footage from the crime scene at Murdaugh's South Carolina hunting lodge on June 7, 2021. The footage shows Greene questioning Murdaugh and protecting the crime scene, since Paul and Maggie Murdaugh were obviously dead.
Murdaugh's lawyer questioned Greene at length on what he did at the crime scene, suggesting that officers disturbed potential evidence by walking around in the dark without flashlights, failing to look for shoe prints or tire tracks, and standing near the bodies after it had been established that they had died.
Murdaugh, 54, is standing trial on two counts of murder. Investigators said his 22-year-old son Paul was shot twice with a shotgun near kennels outside the family's Colleton County hunting lodge. His 52-year-old wife Maggie was shot four or five times with a rifle close by. Both victims were shot in the head after they were gravely wounded, authorities said.
Murdaugh faces 30 years to life in prison if convicted.
It took Greene about 20 minutes after the 911 call to get to the Murdaugh home in the rural county of 38,000 people. He testified that when he arrived, he saw Murdaugh talking on the phone, standing near where the bodies were found, with a shotgun resting against his truck that Murdaugh said he grabbed for protection.
"He was upset, but I didn't see any visible tears," Greene said.
During cross examination, defense attorney Dick Harpootlian asked Greene why he didn't indicate to state crime scene agents about possible tire tracks and footprints. Greene said it wasn't his job.
Harpootlian asked why another officer went into a feed room behind Paul Murdaugh's body. Greene said he didn't know, but that officers were doing their best to protect the evidence.
"Best? To walk in an area where there is blood, where there is brain matter?" Harpootlian said.
As images of the bodies of Murdaugh's son and wife came up on the body camera footage, a second defense lawyer used a box lid to cover the screen in front of Murdaugh so the audience couldn't see it. But Murdaugh still rocked back and forth with his head down and wiped his eyes as the condition of the bodies was discussed.
Murdaugh also faces about 100 charges related to other crimes, including money laundering, stealing millions from clients and the family law firm, tax evasion and trying to get a man to fatally shoot him so his surviving son could collect a $10 million life insurance policy. He was being held in jail without bail on those counts before he was charged with murder.
Since the killings, Murdaugh's life has seen a stunningly fast downfall. His family dominated the legal system in tiny neighboring Hampton County for generations, both as prosecutors and private attorneys known for getting life-changing settlements for accidents and negligence cases.
Scrutiny into the Murdaughs had started more than two years before the killings. Paul Murdaugh was charged with felony boating under the influence after investigators said he was driving a boat that crashed and killed 19-year-old Mallory Beach, who was on board.
Alex Murdaugh came to the emergency room and talked to others on the boat the night of the February 2019 crash. News accounts and the family of the teen killed suggested he was trying to use his influence to stymy the investigation and deflect blame from his son.
When Greene approached the night of the killings, Alex Murdaugh almost immediately brought up the crash.
"This is a long story. My son was in a boat wreck a while back. We've been getting threats, I know that's what it is," Murdaugh said on Greene's body camera.