Business
China's achievements in cyberspace governance over past 10 years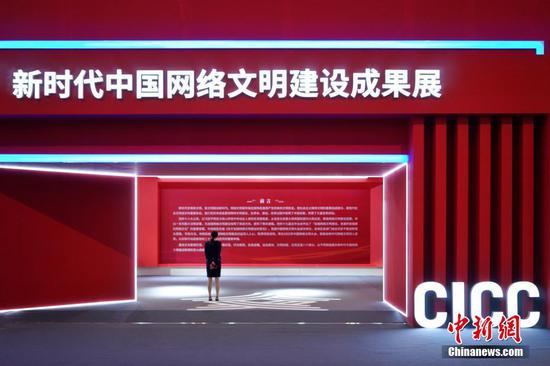 A visitor watches the exhibition of achievements of China's network civilization in the new era, Aug. 28, Tianjin. (Photo/China News Service)
(ECNS) — As cyberspace governance is necessary to promote the modernization of the national governance system and capacity, China has improved its cyberspace governance capacity.
Over the past 10 years, China has made notable achievements in cyberspace including a safer and cleaner cyberspace environment, improved internet infrastructure, digital convenience, and other aspects.
A cleaner and more secure cyberspace environment
China has been exploring ways to improve its governance to cope with cyberspace-related issues.
After 10 years of efforts, China's comprehensive cyberspace governance system has become more process-oriented and coordinated, with nationwide campaigns launched to solve prominent issues like unregulated fan-club activities, internet accounts and cyberspace violence.
In a recent campaign to purify the online environment, China removed more than 20 billion pieces of harmful information including rumors and cyber fraud, and nearly 1.4 billion accounts.
China has strengthened its construction of cyber security in a comprehensive way. Cyber security protection, key information infrastructure security, data security management, personal information, and network security reviews have been greatly promoted.
More than 1,000 laws and regulations regarding cyber and data security and personal information protection have been enacted, which has accelerated the cyberspace legalization process.
Moreover, China is developing an international vision for cyberspace governance. Compared with only focusing on domestic cyberspace governance, China also tries to provide "Chinese solutions" for global cyberspace governance.
It has held the World Internet Conference for eight years in a row. At the fourth World Internet Conference in Wuzhen, Zhejiang, in 2017, Chinese President Xi Jinping proposed a community of shared future in cyberspace.
His four principles — respect internet sovereignty, maintain peace and security, promote openness and cooperation, and cultivate good order — have been widely recognized by the world. Xi has also put forth five proposals — speed up the building of global internet infrastructure and promote interconnectivity, build an online platform for cultural exchange and mutual learning, promote innovative development of the cyber economy and common prosperity, maintain cyber security and promote orderly development, and build an internet governance system that promotes equity and justice.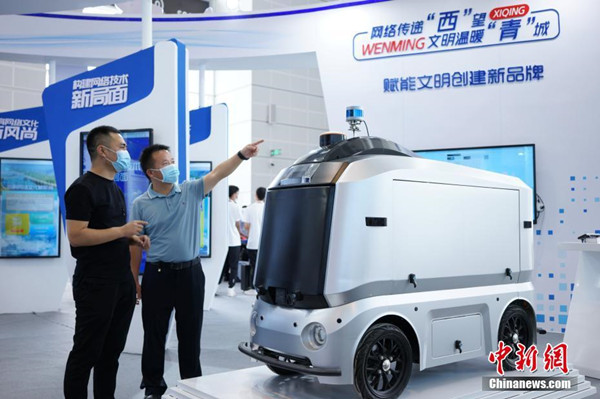 Photo shows a self-driving patrol car displayed at the 2022 China Internet Civilization Conference. (Photo/China News Service)
Progress in cyberspace infrastructure, digital economy, convenient public services
Between 2012 and 2021, the amount of China's netizens grew from 564 million to over 1.03 billion, ranking first in the world, while the internet penetration rate reached 73 percent. China has made a great leap from 3G to 5G, and deployed the world's largest 5G networks with 1,854 thousand 5G bases, radiating to 450 million users, as well as the largest fiber-optic networks.
The scale of China's digital economy rose from 11 trillion yuan (about $1.6 trillion) in 2012 to 45.5 trillion in 2021, remaining the world's second largest for several consecutive years, with its proportion in GDP growing from 21.6 percent in 2012 to 39.8 percent in 2021. So far, the country has held five digital summits.
Digital convenience has benefited more and more Chinese people. The e-government online service index has jumped to ninth in the world, with online services widely adopted by different levels of government. The national integrated government service platform has more than one billion registered users. Health codes have been widely used in China to help fight the COVID-19 pandemic.
Internet-powered education and remote medical treatment are gaining momentum in China, with more than 90 percent of counties having the access to remote medical aid.
The independent research and development capability of chips has been steadily improved, along with the performance of domestic operating systems.
Research on big data, cloud computing, artificial intelligence, and block chains have made progress. In 2021, among China's international patent applications under the frame of Patent Cooperation Treaty, patents in the network and information field exceeded 30,000, accounting for over one third of the global total.