Entertainment
City on Fire Review: An Atypical Engaging Whodunit Thriller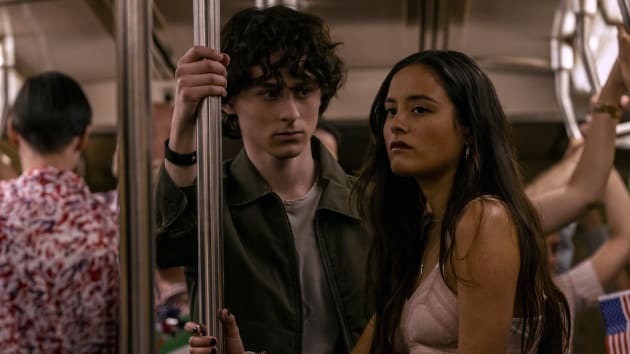 Crime entertainment media, where many people appear motivated to commit the crime, is not new.

A successful movie franchise has existed since the early 1980s, speaking to the format's success.

However, this format can fall into the pattern of shallowness where the only exciting thing that happens is the crime and its resolution.

On City on Fire, the story follows an ensemble of characters who, on the surface, seem unrelated to each other, but upon further investigation, there seems to be a connection.

That connection comes in the form of a young lady, but no one can figure that out without knowing first about a crime committed against her.

On the 4th of July 2003, Samantha leaves her favorite band's venue and goes to meet someone in Central Park but never returns.

Later, she is found shot, lying on the cold hard ground with her blood draining from her body and seeping through the ground. There are no witnesses to the shooting, and the list of potential suspects is long.

The show explores the connection between Samantha and other characters in the show and how she connects a band of misfits to a wealthy family in New York.

Chase Sui Wonders portray Samantha, and like Charlie, the boy she meets in the pilot episode, it is easy to fall in love with her.

Despite her young age, Samantha sticks out because of her radiant persona and an even more radiant eye for art. She has an honest to god demeanor, which can throw someone off when they first meet her.

For Charlie, however, it is the opposite; he is smitten with her the moment he sees her. She is an otherwise fun part of his seemingly bleak life.

As it is, Charlie is dealing with the loss of his dad during the September 11 attacks, and it had gotten so bad he had to start therapy.

Meeting Samantha was therapeutic as she introduced him to her faster-than-normal life with a bit of indulgence in vices and a few casual crimes.

Chase Sui Wonders embodies the character perfectly, and we really get to see who Samantha is in the first two episodes.

Samantha is able to leave a great impression for the short time we spend time with her because, for the remainder of the episodes, she is lost in a coma as the crime against her is investigated.

In the episodes, we get to know the flawed young woman in her who had undoubtedly made mistakes but was smart enough to realize that as soon as she sensed something was off.

You can't mention Samantha without mentioning Charlie, who, for the little time he spent with her, became totally engulfed in her charm.

A young boy fresh off the suburbs, Samantha was his first taste of what the city had to offer, and she distracted him from his life's problems.

Through knowing Samantha, Charlie can separate his innocence from naïveté, and after she is shot, he is on the front lines to help unravel the mystery surrounding that.

Wyatt Oleff portrays Charlie and brings the balance between a naïve young man and a courageous one growing into adulthood.

The rest of the cast does an exemplary job with their characters.

Jemima Kirke plays Regan, who is the definition of a superwoman. She balances raising children while working a corporate job. She can count on her husband, Keith, for support, but life's cruel joke never ends, and a discovery about him changes her life.

Nico Tortorella plays William, Regan's estranged brother. William is an artist whose ego is as big as his rebelliousness. He rejected going into the family business in pursuit of his artistic endeavors.

William struggles with addiction, which puts him in trouble with his boyfriend and the law. His support system is his artwork and Mercer.

Every other character stands out from the charismatic Chaos, villainous Amory, and even a guest character portrayed by Felix Solis.

The characters are the show's heart, each feeling as important as the next as their relationship with the city, its occupants, and Samantha is explored. Not one of them feels useless.

It's worth stating that this writer is not a fan of anything that can be categorized as a whodunit.

After sitting through a few of them, I found that I always was waiting for the reveal of the murderer, and even after that happened, I was dissatisfied with the whole thing since it felt like I'd wasted time with something a Google search could reveal.

It was pleasantly surprising when City on Fire shattered all my notions about what this sub-genre had to offer.

And that's what makes the show such a joy to watch.

There is always something to be said with many characters, and with every character, it is unique and human.

Even for characters who usually serve as creative fodder, we learn something about them that makes the viewer care a little more about them.

Set a few years post 9/11, it was expected that the show would touch on the event, and through Detective Ali, we learn how it was for American Muslims.

The show doesn't stop there because it explores Ali's deepest struggles and how something that happened to him due to his perceived religion affects him to date.

The show keeps you engaged such that you don't realize that the crime against Samantha is at the center of it all.

Constant references to the defining cultural phenomenon of the early to mid-2000s, apart from 9/11, will make for a nostalgic watch for people who grew up during that time.

This grand narrative is elevated by a great original and music score that sets the tone for many scenes.

City on Fire is billed as a limited series but towards the end, it was clear that more could be said, especially with two big cliffhangers.

That said, it was disappointing when some great conflicts developed through the season were resolved swiftly, making for an anti-climactic ending.

Some immediate ones needed resolving, but the story could have benefited from a different direction for others in case there was a second season.

City on Fire will keep you engaged throughout the ten-episode season, even if you are a whodunit skeptic like me, and it won't feel like you spent your time waiting to learn who shot Samantha.

Speaking of who shot Samantha, it is impossible to guess because whomever you think it will be, you would be wrong.

City on Fire premieres on May 12, with the first two episodes on Apple TV+ and a new episode on the same day in the subsequent weeks.
Denis Kimathi is a staff writer for TV Fanatic. He has watched more dramas and comedies than he cares to remember. Catch him on social media obsessing over [excellent] past, current, and upcoming shows or going off about the politics of representation on TV. Follow him on Twitter.