News
Cuban migration to Florida at its highest since Obama administration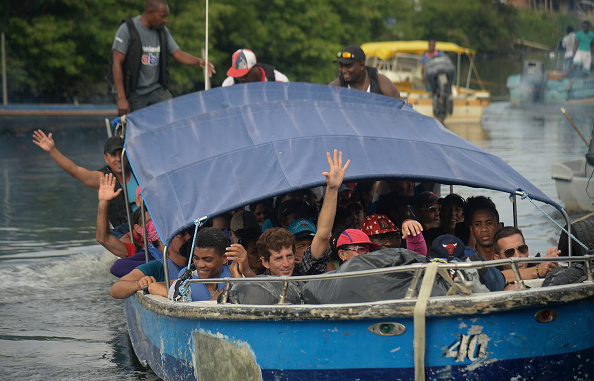 Florida Gov. Ron DeSantis last week ordered law enforcement from his state to assist with the border crisis along the boundary between Texas and Mexico. Meanwhile, his own state has seen a sharp uptick in migrants trying to make Florida the landing spot for a new way of life.
There have been more apprehensions of Cuban migrants along Florida coasts this fiscal year than any of the last three years, and the numbers keep mounting with more than three months remaining.
The fiscal year for the federal government begins October 1, and the U.S. Customs and Border Patrol (CBP) tracks border crossings by fiscal year, and FY 2021 has not seen the high number of migrants trying to enter Florida since FY 2017, when Barack Obama was the president and Joe Biden was his vice president.
Meanwhile, the southwest border between the U.S. and Mexico continues seeing its highest-ever number of illegal crossings into the United States.
Here is a breakdown of migrant apprehensions near Florida by fiscal year, according to the Miami Herald:
2016: 5,396
2017: 1,468
2018: 313
2019: 157
2020: 49
2021 (to date): 473
There are a myriad of factors that play into the migration of Cubans seeking to leave their country and trek about 90-120 miles north to freedom.
One is the Communist country's crackdown on critics of its government. Secondly, there's the country's worsening economic conditions, and third is the fact Democrats control both Congress and the White House in Washington. A surge of Cuban immigrants attempted to enter the U.S. in 2016 when they expected Obama to end the Cold War-era "wet foot, dry foot" policy, which meant that those who made it to America were allowed to stay while those caught at sea were sent back to their countries.
Many knew the risk and reward of the journey—if they make it, they can likely stay; if they get caught, then they get sent back to the old life they left.
Obama ended the "wet foot, dry foot" policy in January of 2017, just before he left office and Donald Trump took over the White House.
Some of the recent journeys have ended with Cubans getting caught and sent back, but others have ended in tragedy at sea.
In late May, a boat carrying 20 migrants capsized while crossing the Florida Straits, just south of Key West. Two people were found dead, some were rescued and 10 others were never found in a search that was eventually called off by the Coast Guard.
On Monday morning, a group of six men and two women traveled on a fishing boat and landed at Duck Key, near the Keys town of Marathon. CBP spokesman Adam Hoffner said they'll likely be sent back to Cuba aboard a U.S. Coast Guard cutter.