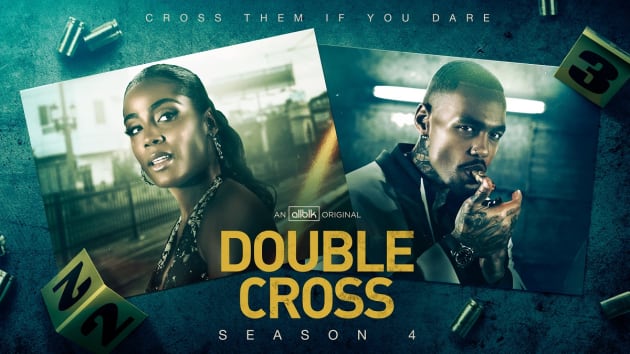 The biggest hit on ALLBLK's streaming network returns with an all-new season, and we have an exclusive first look.

Double Cross is back for its fourth season, and it promises to be one of the biggest and most thrilling yet.

What could possibly be in store for the Wonder Twins now?

There is nothing like some vigilante justice, and Double Cross always delivers a heaping dose of it with its stars, a sibling duo who decides to take matters into their own hands when their neighborhood is flooded with sex trafficking.

When a series of cases take over Erica's emergency room, she takes matters into her own hands.

It also requires enlisting the help of Eric, who happens to be the neighborhood's biggest drug pin.

In the fourth season, the sibling duo has their work cut out for them.

The synopsis for the fourth season teases that "Erica must act quickly to keep the siblings intact, as they continue their quest to eradicate child trafficking…but this time starting at the top."

It seems she's angling to go for the boss in hopes of cutting the head off of the snake.

"However, aiming high raises the stakes, making their mission more challenging than ever."

Of course, they're not the only ones dealing with some things this season.

The synopsis also teases that Nurse Brian and Tiffany are still on their path of self-destruction in addition to playing with fire and picking a fight they're bound to lose against the Cross siblings.

Amid all of this, Detective Ryan is determined to find out who is behind the human auction, but it may come at the ultimate price.

The trailer teases family first, and it appears it may not just be the Cross twins who are stirring up trouble.

There will be some more surprises to come as it relates to their family.

Ashley A. Williams and Jeff Logan star as Erica and Eric Cross.

The returning cast includes Tremayne Norris (The Young and the Restless), Jasmine Brown, Redaric Williams (The Young and the Restless) and Candice Van Beauty (Christmas Déjà Vu).

Get your first look at the fourth season of Double Cross below and sound off with your thoughts.

You can stream Double Cross on AllBLK.

The fourth season of Double Cross premieres on February 16.
Jasmine Blu is a senior staff writer for TV Fanatic. Follow her on Twitter.