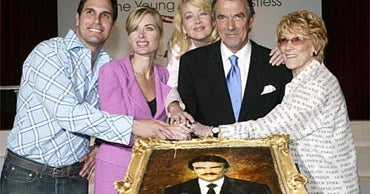 Eric Braeden, the actor best known for his role as Victor Newman on "The Young and the Restless," was recently diagnosed with cancer and is now undergoing treatment. Braeden announced the diagnosis in a video posted to Facebook on Friday.
The actor, 82, said he was receiving immunotherapy for both low-grade and high-grade cancerous cells found near his bladder. Doctors discovered the cells while treating symptoms of a prostate issue that started several months ago, when Braeden was recovering from a knee-replacement surgery, he explained.
"I hate to be this personal, but I think this may be good for some older guys who may or may not listen to this," Braeden said.
He told fans watching that doctors at Cedars-Sinai hospital in Los Angeles were able to remove the cancer while performing a UroLift surgery, which relieves pressure on the urethra. 
Braeden said that results of a subsequent biopsy revealed some high-grade cancerous cells found near the bladder, and added that he was currently undergoing immunotherapy treatment. When he recorded Friday's video, Braeden had recently received the second of six scheduled immunotherapy treatments.
The actor said that he is still able to exercise and will continue to go to work filming "The Young and the Restless." Braeden has starred as Victor on the CBS daytime soap opera since 1980. The show is now in its 50th season.
"I've learned now to listen to my body more, and not go all out," Braeden said. "So if you've seen me a little under the weather, yeah, I have been, but I will lick this. This bastard ain't going to get me, I'm going to get it."
Braeden, who has filmed thousands of episodes of "The Young and the Restless" over his decades-long turn on the soap, and who in 1998 won a Daytime Emmy for lead actor in a drama series, finished his Facebook video by thanking fans for their support.
"I still am happy to be able to go work. That I enjoy," he said. "It distracts me, I love acting, I love knowing I entertain people. I love your support – it means a lot."
Thanks for reading CBS NEWS.
Create your free account or log in
for more features.