Education
Exploring the Landscape of Structural Bracing: Innovations and Advancements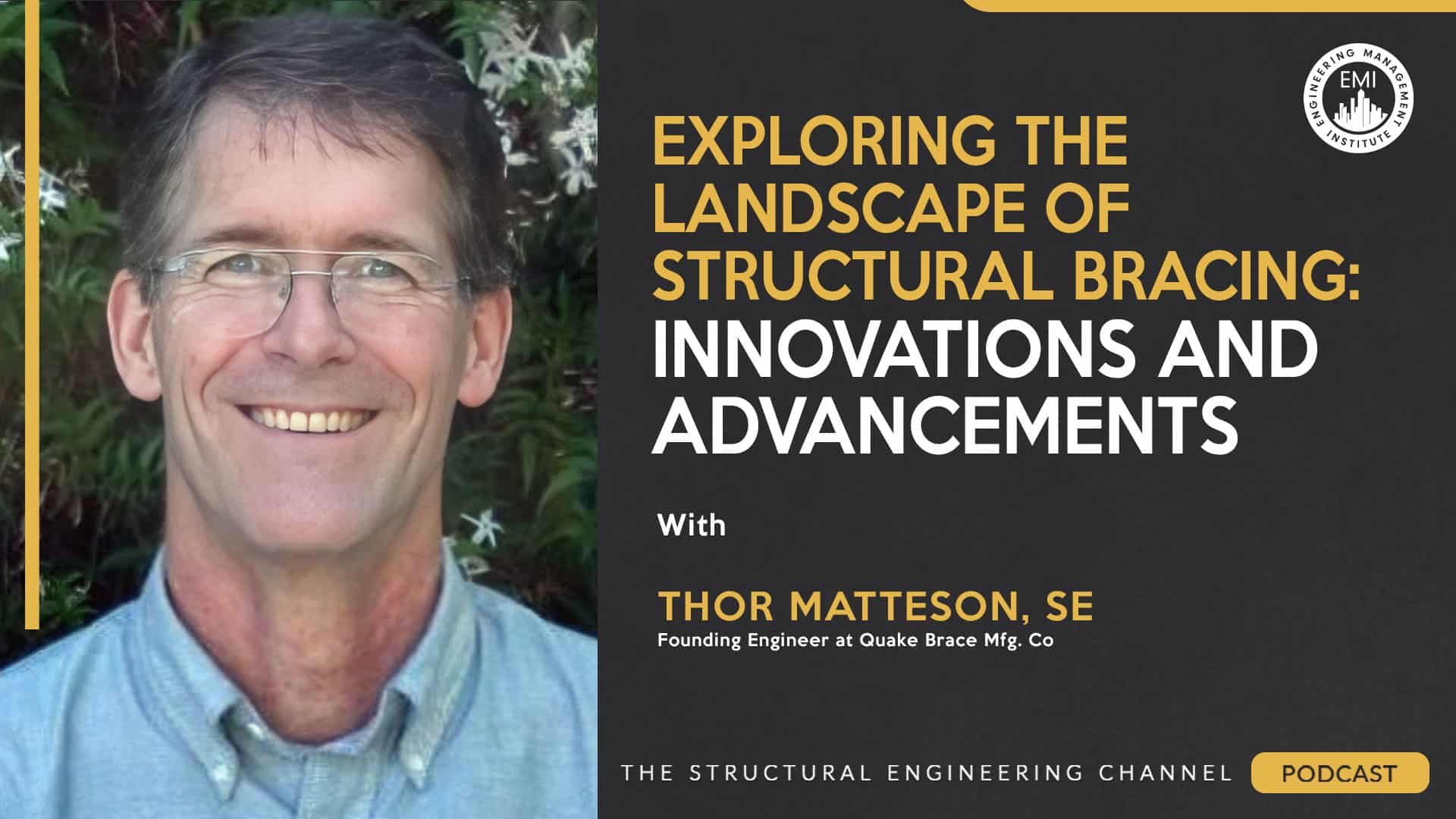 Podcast: Play in new window | Download | Embed
In this episode, we talk with Thor Matteson, SE, a structural engineer and the head of Quake Brace Manufacturing Co., based in Emeryville, CA, about a new bracing system, called SkinnyBrace, that can help in your structural bracing projects.
***The video version of this episode can be viewed here.***

Here Are Some of the Questions We Ask Thor:
Can you tell me about the process of designing and developing a new structural bracing system from scratch?
Could you explain the SkinnyBrace system and how it is different from other soft-story retrofit systems?
Is the piece of deformed metal at the top of the steel column replaceable after an earthquake?
Can you compare the SkinnyBrace system with traditional soft-story retrofit methods in terms of installation, components, and pros and cons?
You mentioned that the SkinnyBrace system is resilient and can be repaired or replaced. Can you elaborate on this?
What aspects of constructability did you consider when designing the SkinnyBrace system?
Can the SkinnyBrace system be installed by one person using a hoist?
Can you explain the code evaluation report process and how you got your SkinnyBrace system approved?
Was getting the code evaluation report the most challenging part of the development process?
What are some ways to increase the acceptance of the SkinnyBrace system in the construction industry?
What is your final advice for entrepreneurs and engineers who want to innovate their solutions?
Here Are Some of the Key Points Discussed About Exploring the Landscape of Structural Bracing: 
A new structural bracing system has been developed for soft-story retrofits in San Francisco. The system is easier to repair and fits into narrow spaces than traditional methods. It was tested using the same test protocols that are applied to wood-framed shear wall substitutes. This makes it a more feasible option for soft-story retrofits.
The SkinnyBrace system uses a structural fuse assembly that is designed to yield gradually, absorbing the energy of an earthquake over a long distance. This makes it more ductile and able to withstand more cycles of loading than other soft-story retrofit systems. In tests, the SkinnyBrace system was able to withstand 440 cycles of loading beyond 4% drift, which is much more than the FEMA requirements. This makes it a safe and reliable option for soft-story retrofits.
The SkinnyBrace system uses two structural fuses that are sandwiched between the columns. The structural fuses are designed to deform and absorb the energy of an earthquake. After an earthquake, the structural fuses can be easily replaced by removing three bolts. This makes the SkinnyBrace system a more cost-effective and sustainable option for soft-story retrofits than other systems that require the removal of 40 to 48 bolts.
The SkinnyBrace system is designed to fit into narrower spaces than traditional methods. It is a good option for buildings with utilities or other obstructions that make it difficult to install a traditional system. The SkinnyBrace system has the same strength as 13 feet of plywood shear wall with two-inch edge nailing, but it only takes up 13 inches of space.
The current building code does not require soft-story retrofits to be sustainable. This means that many buildings are made with disposable materials that are difficult to repair or replace after an earthquake. This can lead to a lot of waste and disruption when an earthquake strikes. The SkinnyBrace system is a more sustainable option for soft-story retrofits. It is made of steel, which is a recyclable material. The structural fuses in the SkinnyBrace system can also be easily replaced after an earthquake, minimizing waste.
The system uses brackets that connect between the top of the skinny brace and the wood framing. These brackets have loops that can be hooked to hoists, which allows the steel column to be hoisted into place and aligned perfectly with the bolts from the bracket. The entire installation process can be completed in about 20 minutes by a qualified contractor.
The SkinnyBrace system can be installed by a crew of two people using a hoist. The system is designed to be hoisted from the structural framing of the building, which ensures that the connections are secure. The system is lightweight and easy to transport, making it a feasible option for soft-story retrofits in existing buildings.
An accredited evaluation agency has evaluated the SkinnyBrace retrofit system and found that it meets the requirements of the California Building Code. The evaluation report was conducted by DRJ Certifications, which is an accredited evaluation agency by the American National Standards Institute. The report includes the test results, analysis, and quality control systems that demonstrate that the system is safe and reliable.
The most challenging part of developing the SkinnyBrace system was the quality control aspect. The team had to create their quality control manual from scratch to track all the parts and steel used, including the heat numbers for the structural fuses. This ensures that any problems can be traced back to the source.
The SkinnyBrace can be more widely accepted by conducting field tests, working with building departments, and educating engineers and contractors about the system's benefits.
Entrepreneurs and engineers who are innovating their solutions should be patient with the process and expect to face opposition. They should also choose a reputable evaluation agency that is widely recognized.
More Details in This Episode…

About the Guest: Thor Matteson, SE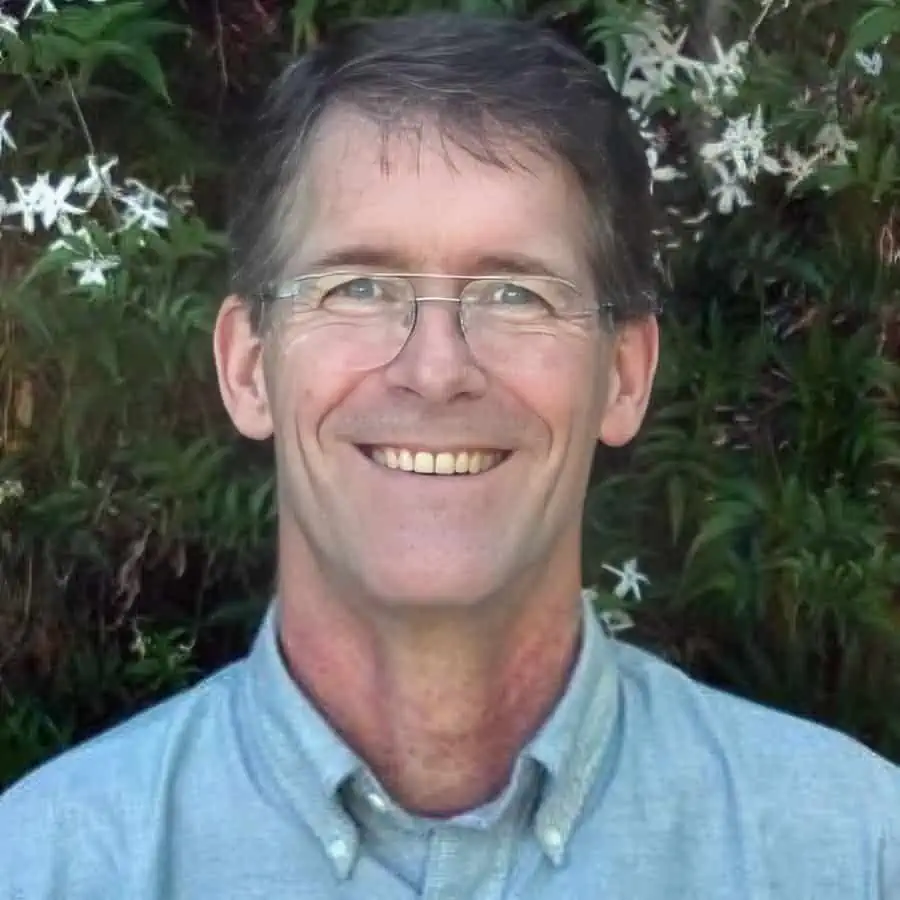 Thor Matteson began his construction career at the age of 16 when he decided a blank wall in his mother's house needed a window in it. He alternated remodeling and construction work with college and still wants to pick up a hammer and join the construction team whenever he visits a job site.
Thor wrote two books intended to bring engineering concepts to builders: "Wood-Framed Shear Wall Construction–An Illustrated Guide" and "Earthquake Strengthening for Vulnerable Homes." He has presented these topics to contractors, home inspectors, volunteer organizations, architects, engineers, and the stray homeowner. He also served on several working groups producing documents such as FEMA P-1100 and the upcoming ICC model seismic retrofit code.
Thor's respect for the real work necessary to install the components that engineers effortlessly draw on their plans encouraged him to design an easier bracing system for soft-story seismic retrofits. Other inspiration came from the dismal seismic parameters he had to use for cantilevered columns, which were the only reasonable method to brace congested existing San Francisco homes and apartments.
In 2011, Thor began inventing a "structural fuse" system that could provide seismic properties similar to wood-framed shear walls. After thousands of hours of analysis and design, dozens of tests, and two U.S. patents, the "SkinnyBrace" system was ready for independent evaluation to receive a "code evaluation report."
Mr. Matteson is now head of Quake Brace Manufacturing Co., based in Emeryville, CA. The company provides SkinnyBraces for apartment buildings, condos, and single-family homes throughout the West Coast of the U.S. and Canada.
About the Host: Mathew Picardal, P.E., SE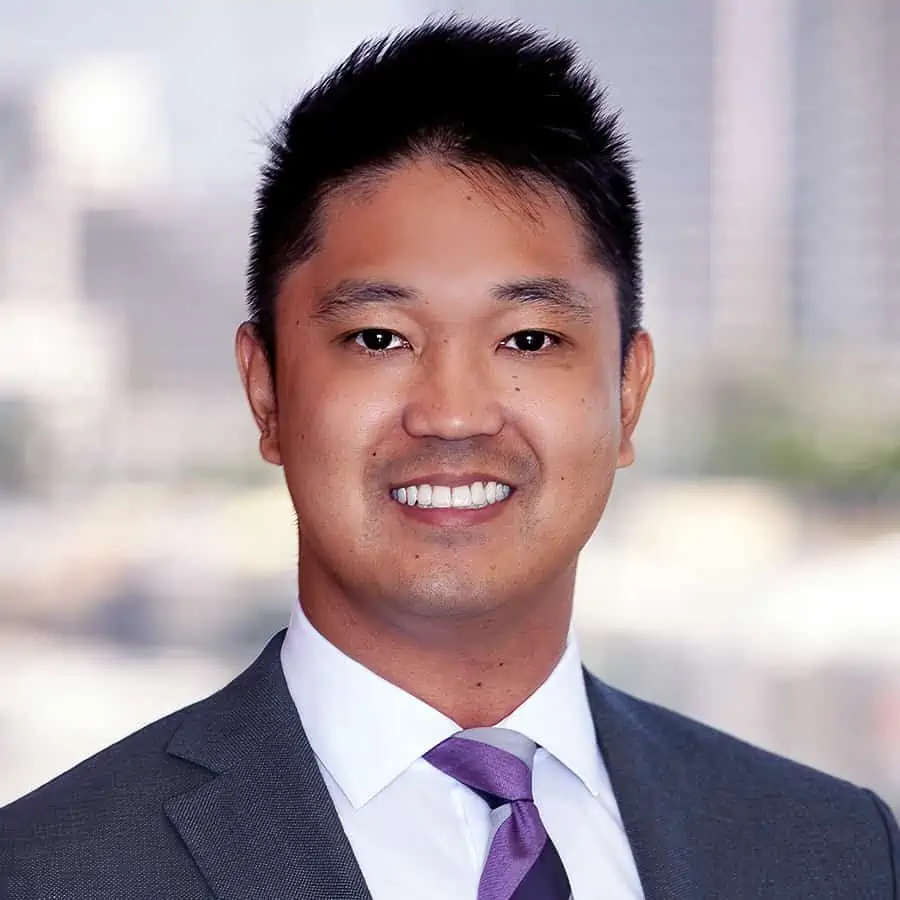 Mathew is a licensed engineer, practicing on structural projects in California, with an undergraduate degree from Cal Poly Pomona and an M.S. in Structural Engineering from UC San Diego. He has designed and managed various types of building structures, including residential wood apartment buildings, commercial steel buildings, and concrete parking structures and towers. He also hosts the new YouTube channel "Structural Engineering Life," through which he promotes the structural engineering profession to engineering students who are not familiar with the industry perspective.
Books Mentioned in This Episode:
Wood-Framed Shear Wall Construction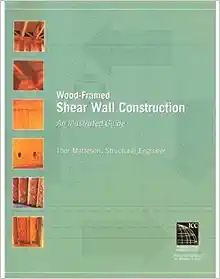 Earthquake Strengthening for Vulnerable Homes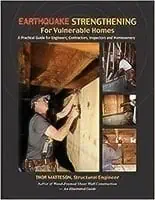 Sources/References:
Quake Brace Manufacturing Co
UC Berkeley's Laboratory
FEMA
DRJ Certifications
American National Standards Institute (ANSI)
ICC Evaluation Service
IAPMO Evaluation Service
Connect with Thor Matteson, SE, on LinkedIn
Please leave your comments or questions in the section below on innovations and advancements in the landscape of structural bracing.
To your success,
Mathew Picardal, P.E., SE, and Rachel Holland, P.E.
Hosts of The Structural Engineering Podcast