Sports
House Speaker Mike Johnson once referred to abortion as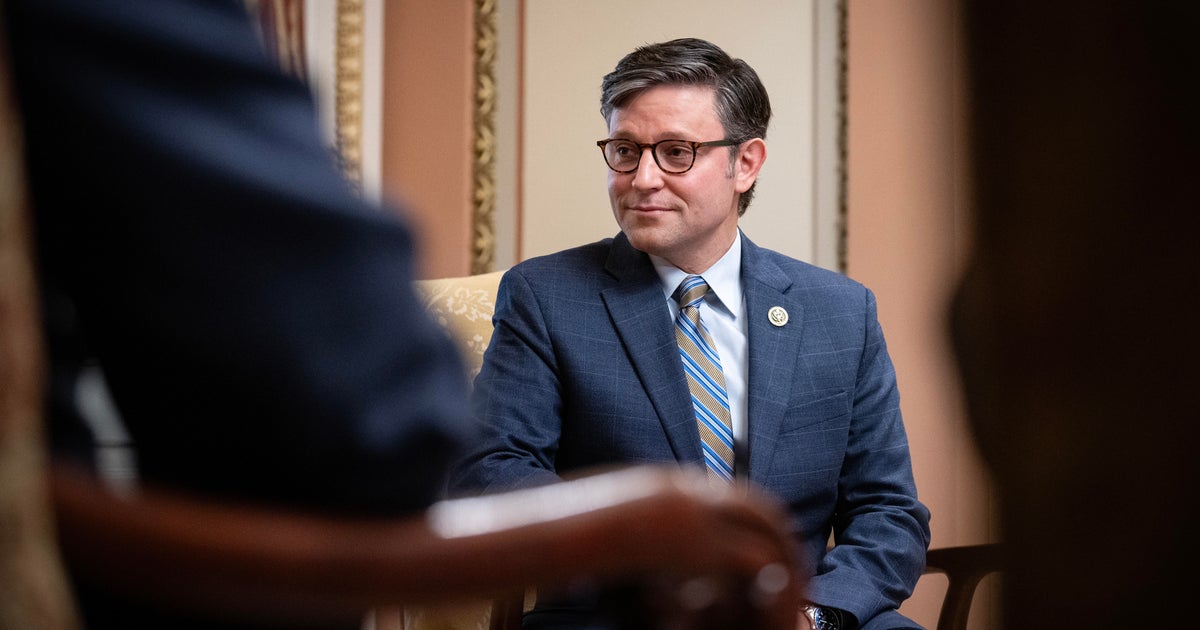 Washington — In an op-ed he wrote in 2005, newly elected House Speaker Mike Johnson called abortion "a holocaust" and linked the judicial philosophy that legalized the right to an abortion to Hitler.
The op-ed was a response to the death of Terri Schiavo, the Florida woman whose vegetative state triggered a long legal battle and federal action from Congress.
In the opinion piece published by the Shreveport Times, Johnson wrote, "The prevailing judicial philosophy is no different than Hitler's. Because the life of an unborn child (or a disabled Terri Shiavo [sic], or the elderly and infirm) may be difficult or inconvenient or even costly to society now means it can be terminated." 
He continued, "This disregard for life has been fostered by the courts. During business hours today, 4,500 innocent American children will be killed. It is a holocaust that has been repeated every day for 32 years, since 1973's Roe v. Wade."
At the time, Johnson was a lawyer for the Alliance Defense Fund, a conservative Christian advocacy group that opposes abortion and seeks to overturn pro-LGBTQ laws. The group, now called the Alliance Defending Freedom, is representing the medical associations and doctors challenging the abortion pill mifepristone's availability nationwide.  
Johnson's spokeswoman did not immediately return requests for comment.
The editorial, which did not appear to be available in the newspaper's online archive, was unearthed by the progressive watchdog group Documented and shared with CBS News. A spokesperson for the Shreveport Times confirmed its authenticity.
Johnson, who emerged rapidly and rose unexpectedly to the position of House speaker three weeks after the ouster of former Speaker Kevin McCarthy, has pushed for limits on abortion rights and celebrated the 2022 overturning of Roe v. Wade by the Supreme Court.
Johnson was little known outside his western Louisiana Congressional district until he emerged Wednesday night, 21 days into a Republican standoff over who should serve as speaker, second in line to the presidency. Johnson, a former talk-radio host and attorney who is serving his fourth term in Congress, underwent little public vetting before winning unanimous Republican support in the House floor vote Wednesday afternoon.  
Though he has consistently denounced abortion rights, the 2005 editorial uses language and analogies that are prompting strong criticism from Democrats and some advocacy groups.
In the editorial, Johnson wrote about the death of Schiavo, linking her death to the issue of abortion. Schiavo suffered severe brain-damage and was kept alive by a feeding tube for 15 years during an epic legal and medical battle. Her husband sought to remove the feeding tube, while her parents fought to keep her alive. A judge eventually permitted the removal of Schiavo's feeding tube. Schiavo died 13 days later. 
The day after Schiavo's death, Johnson's editorial was published in the Shreveport Times, which has the sixth largest circulation of all newspapers in Louisiana. A spokeswoman for the newspaper confirmed the editorial was published on April 1, 2005.
"Comparing abortion to the Holocaust is reprehensible and an insult to women across the country," said Hannah Muldavin, communications adviser for the Congressional Integrity Project, an organization launched by high-level Democratic strategists. Muldavin said, "This is yet another example of how extreme and out of touch with the country Mike Johnson is." She said the election of Johnson is "an endorsement of his extreme views that threaten our democracy and the rights of Americans."
Democrats are largely expected to campaign over the issue of abortion rights as they seek to regain the majority in the House in 2024. During a floor speech Wednesday ahead of the vote for House Speaker, Rep. Pete Aguilar, Democrat of California, said Republicans aim to "enact a nationwide abortion ban, without exceptions."
Johnson spoke at length about his thoughts on abortion and the Supreme Court ruling overturning Roe v. Wade in a 2022 appearance on Fox News.   
"There is no right to abortion in the Constitution," he said. "There never was; it's not in its text, structure, or meaning and the court said that decisively. Many of us have been working towards this day our entire adult lives and it is a joyous occasion."