Education
How Can You Show Your Company That You're Ready to Be an Engineering Manager?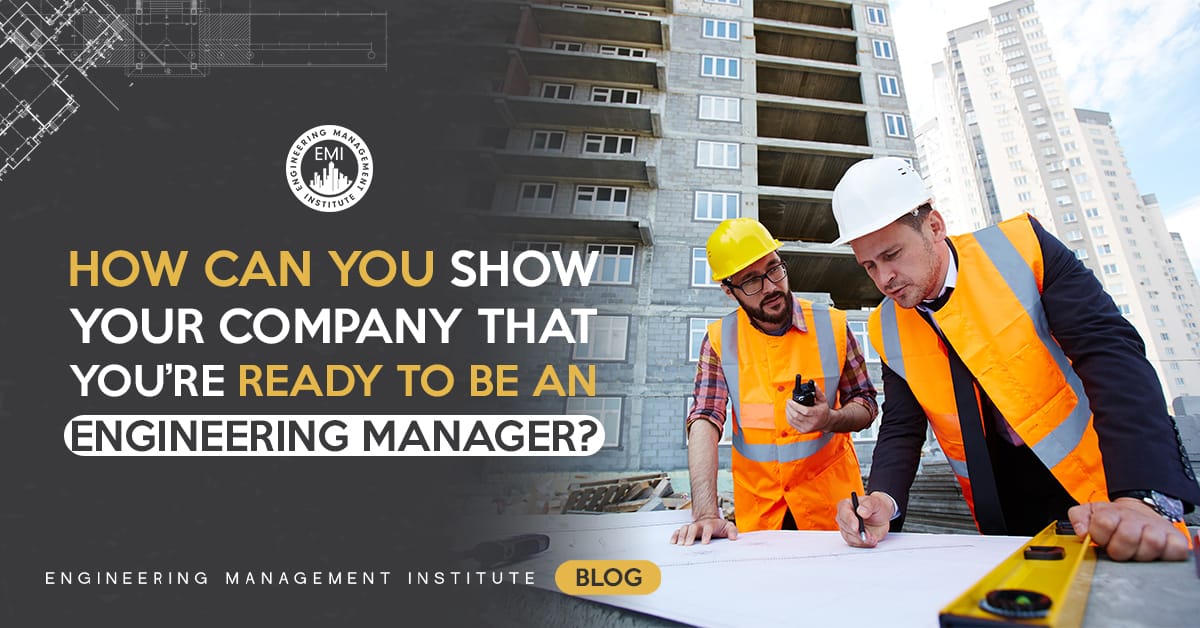 I received this question recently from a young engineer, and it's one that many young engineers struggle with. They feel like they are ready to move into an engineering manager position, whether that be managing projects or people, but they don't know how to show their companies they are ready.
I am going to offer some of my thoughts on this topic here in this article, but I would also ask you to please leave a comment at the bottom of this post with any thoughts, experiences, or advice on the topic that you can share. 
Since I am an engineer, and I always think in frameworks, I would like to offer a two-step approach to answering this question.
Step 1: Practice Makes Perfect
Firstly, even though you think you are ready for engineering management, you should confirm this by practicing some managerial-related tasks, either at work or outside of work. For example, if you are involved in a local professional association, volunteer to manage a project, like an event or a fundraiser. Doing so will force you to utilize management skills similar to the ones you might use in engineering. As part of this process, be sure to seek feedback from your peers by asking them how you performed. You will also see how well you performed based on the results of the event or project.

Another action you can take to ensure that you are ready to start managing is to observe successful managers in your company. Take note of the habits, tendencies, and actions that have contributed to their success and start to implement some of them in your day-to-day activities. I always recommend to engineers that I am coaching (and also my own children) to constantly build better habits. For example, you might find that great managers in your company tend to hold highly productive meetings that are short, focused, and provide a clear list of to-do items upon completion. If that's the case, in your association volunteer position or any other areas, run your meetings in a similar manner and cultivate that habit.
Step 2: Let Them Know You're Ready to Be an Engineering Manager by Following These Actions
At this point, after observing other great managers and starting to build your managerial skills, you are ready to start managing. How do you let your company know?
Easy. You can just tell your manager that you are ready to become an engineering manager, right? Think about it. How would you feel if a young engineer that you were managing told you that? I am sure there would be some doubt in your mind. OK, maybe more than some doubt.
I would recommend that instead of telling, you SHOW your manager that you are ready by performing actions that a manager performs any way that you can. Here are a few actions you might consider:
Volunteer to attend client meetings or presentations that your company is making, and don't charge for your time. Just observe the participants and take note of what's working for them. When I was a practicing civil engineer, I attended many Planning Board meetings on my own time to learn about the process and see what tactics helped projects move through the approval process quicker. My company appreciated the effort and saw that I was interested in the success of my projects, even as a young engineer, so much so that I was willing to sacrifice some of my weeknights.
Make presentations on technical topics at local association events and trade conferences. Public speaking is a skill that will really help you as a manager, and showing your company that you can speak effectively sends a message to them that you are on the management path. This action will also build your expertise and credibility in the field and gain exposure for your company.
Volunteer to coordinate an office party or other activity. Coordinating anything is a direct reflection on your project and people management skills. It's an easy way to show your company that you can be trusted with managing projects that contain several variables.
Learn about the financial side of engineering projects in your field. What are the typical profit margins? How does your company price out proposals? Ask your current managers how they learned about these concepts. Any insight into the business side of engineering will give you an advantage as a young engineering manager.
I could go on, but I would like to hear what you can offer in terms of preparing to be an engineering manager and letting your company know when you are ready.
The Next Session of the Engineering Management Accelerator Remote Workshop Starts Soon…
If you're an engineer looking to develop your managerial skills, or an engineering leader looking to build the management skills of your team members, please consider enrollment in the next session of the Engineering Management Accelerator remote workshop. You can find details here or contact our office at 800-920-4007.
We would love to hear any questions you might have or stories you might share on the steps you take to show your company that you are ready to be an engineering manager.
This article was originally posted on LinkedIn here. 
Please leave your comments, feedback or questions in the section below.
Anthony Fasano, PE, LEED AP
Engineering Management Institute
Author of Engineer Your Own Success