Sports
Lakers' Ham on trade buzz: 'We love our roster'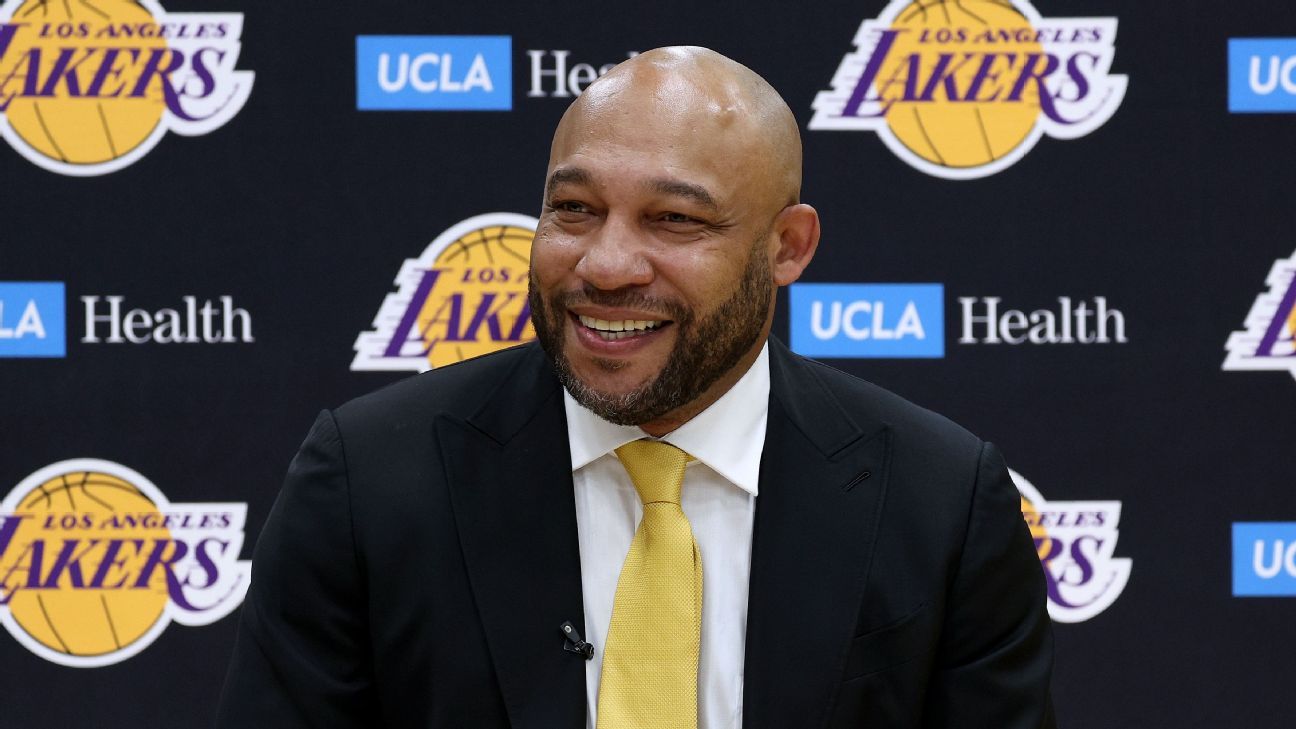 LAS VEGAS — Los Angeles Lakers coach Darvin Ham knows that the team he has now could look significantly different by the time he is coaching games that count in the fall, but he is embracing his current group just the same.
"We love everyone on our roster," Ham told reporters Friday at halftime of L.A.'s 104-84 summer league loss to the Phoenix Suns on Friday. "And until you're not on our roster, you're ours and we're going to try to get better with the group that we have. That's just the bottom line of it.
"I don't know a player that's come through this league in my 26 years that hasn't had their name part of a trade rumor a time or two. But, it is what it is. It's the nature of the beast of our business. And so, again, the guys we have on our roster I'm very thankful for, I'm proud of and we want to maximize everything they can do to help us get to that ultimate goal."
If the Lakers attempt to run it back with the same core of LeBron James, Anthony Davis and Russell Westbrook that, in their first season together last year, contributed to one of the most disappointing campaigns in franchise history, Ham's vote of confidence can only help him with player relationships down the line.
But that remains a big if.
The Lakers' summer league squad might have been on the court playing the Suns, but all eyes were on the sidelines at Thomas & Mack Arena, where James and Westbrook couldn't have been farther apart.
James sat on the south baseline flanked by his agent, Rich Paul of Klutch Sports, and his longtime friend and Lakers executive administrator, Randy Mims. Meanwhile, Westbrook positioned himself beside the Lakers' bench on the opposite sideline.
In between the first and second quarter, Ham and Lakers vice president of basketball operations and general manager Rob Pelinka walked over from their seats at half-court to greet James. Pelinka and the L.A. star shared a quick conversation, covering their mouths with their hands for discretion.
With the Lakers engaged in trade talks with the Brooklyn Nets and the Indiana Pacers in the last week — with sources telling ESPN that both scenarios involve sending Westbrook out — the positioning of James and Westbrook was notable.
Several other Lakers players in attendance — Talen Horton-Tucker, Wenyen Gabriel and Thomas Bryant — made their way to James.
But James and Westbrook stayed in their respective corners, with Westbrook exiting at halftime out of one tunnel and James leaving after the third quarter out of another.
Ham, when asked if he has attempted to build camaraderie among the Lakers' marquee names in James, Westbrook and Davis since being named head coach last month, said that their summer schedules has made it difficult.
"This is a funny time of year," Ham said. "AD has a newborn on the way. These guys have busy schedules. They're busy guys. Russ is doing his fashion thing. LeBron has a zillion things going on. Absolutely, we've been lockstep in communication. But it's hard when guys have business outside of basketball. But they do a good job of staying connected in terms of whenever I need them, whenever I need thoughts from all three of them, they're right there with me."
Westbrook and James might have been stationed far away Friday, but they both had their impact on the action, particularly with rookie guard Scotty Pippen Jr., who signed a two-way contract with L.A. last month.
Pippen led L.A. with 19 points but also had five turnovers, with Phoenix's defense targeting him as the Lakers' primary playmaker.
"He gave me some pointers and I ended up using them," Pippen said of advice Westbrook offered up on how to thwart the Suns' defensive pressure.
James offered a different type of assist, literally helping to lift Pippen off the floor after he absorbed contact at the rim in the first half and took a tumble near James' feet.
"I guess that was cool," Pippen said, before adding with a laugh, "he kind of threw me up a little too high."