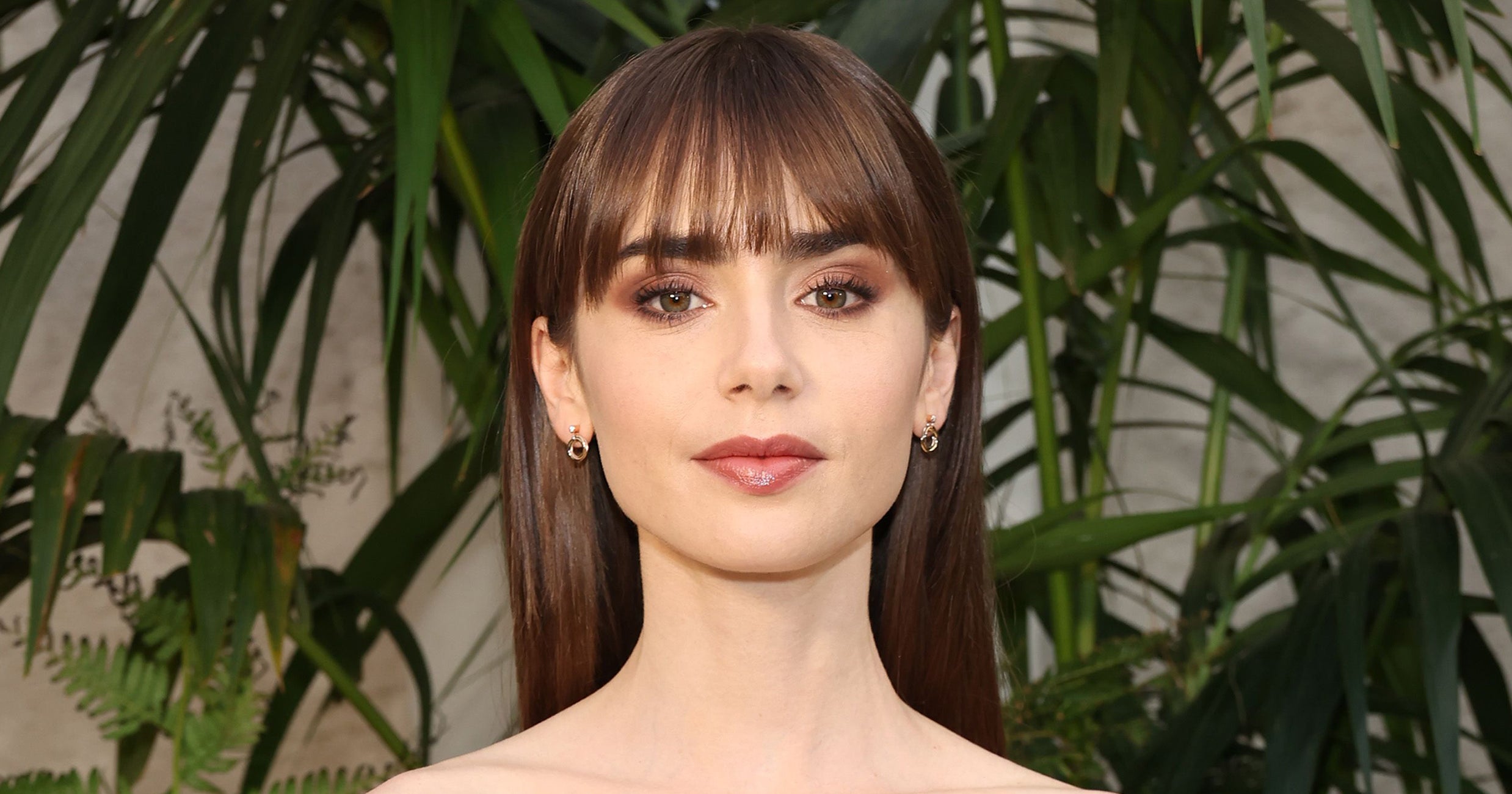 While Lily Collins is not Emily in Paris, the protagonist she plays on Netflix's hit show that just wrapped its third season, she does share a lot of Emily-isms.
Like Emily, the 33-year-old actor identifies as a "constant optimist." I can attest, having had the pleasure of interviewing her in Boston at the corporate offices of Living Proof, the hair-care brand that counts Collins as its ambassador. It's an apt brand partnership, as Collins has a famous new haircut (but don't call them "trauma bangs").
Ahead, we get into Collins' relationship to Emily, Instagram, personal style, and the real story behind le bang.
The following interview was told to Megan Decker and edited for length and clarity.
On her relationship to Emily
"What I loved about Emily when I first read the pilot is that she's constantly optimistic and unapologetically work driven. She's passionate; she's a good listener; she's a loyal friend. There were these qualities that I loved about her that felt very close to home, with things that I focus on as a friend, as a human being, as someone who is a constant optimist. I love her and find a lot to relate to her on. I love the fashion, too. She's definitely more bold and daring with fashion, but she's taught me a lot about my own style."
On how to make Instagram fun again
"I have always loved sharing my life with young people in order to connect. I try to be mindful of the usage. It's easy to start reading comments and go down that rabbit hole. But I think if you're mindful of the time you're spending and why, you can [mitigate] those negatives. For me, Instagram [is a way] to show photos and videos, curate. You can choose captions that you find are tongue in cheek or funny or informational. Whatever it is, you can create it. It's also just fun."
On The Five Minute Journal
"I write in my Five Minute Journal every morning and every night. It helps me put my day in perspective in terms of what to be grateful for. It's five minutes of your life in the morning and before you go to bed and it totally reframes your mentality. This morning, it was [gratitude for] my health, this cozy bed, the coffee I'm about to have. Now, I've had it going for six years and I can see how drastically my life has changed since that first page."
On her morning routine
"I'm a less-is-more person in my free time. When I'm working, it's such a process with hair and makeup and glam. But it's wake up, cold water, serum, moisturizer, always a sunscreen, 50+ because I'm quite fair and I'm in the sun a lot living in California. I also wear lip balm. I wear the tiniest bit of mascara, unless I'm traveling, in which case I don't want to deal with it."
On the Emily in Paris bangs
"They came from my personal life. I've wanted them for years, but I never had the guts to do it, because it's a dedicated choice. I was dreaming about it, so knew it was meant to be. Then it was just deciding the type of bang, because there are so many different styles. Once I did it I was like, okay, now I can go heavier and heavier."
"I was asked if I wanted to keep them for the show and I said yes. I felt like going into a season three, we already know who [Emily] is, she can handle a switch up. And she's going through a bit of a crisis of decisions. It felt appropriate that within a life change, there would be a life change. It's funny, when you change your hair, everyone thinks something is happening. But I love that Emily's just like, "Everything's fine! Stop asking!" There was a humor to it."
On favorite beauty products
"With my hair, I'm an air drier. I let it do its thing. Then I'll put in some dry shampoo. Living Proof's Dry Shampoo has always been my favorite and it helps me to not have to wash my hair for a couple of days, which is always a plus. I'll go 3+ days. If it feels cleans and smells clean and I love what's going on, I'm just using the dry shampoo and not washing it. I love that this brand is led by scientists who are working on this stuff in a lab. They prove that it's cleaning your hair, so I don't feel bad about not washing it.
I've also worked with Lancôme for like ten years now and I love their Génifique products. I have Génifique masks shipped in by the box because I use them everyday. They help keep moisture locked in when I'm applying makeup every day."
On personal style
"It's ever evolving. I get inspired by the characters I play. Through acting, I find out what colors and shapes work for me. But as I've gotten older, comfort is more important to me. When I was younger, I was like, I don't want to be comfortable, I want to be cute. I've been bringing the two together more recently. I've been wearing a lot of sneakers. I have a bunch of different color New Balances.
I also love the slightly oversized chicness of some of the pantsuits in Scandinavian design. There's this incredible company called Devold and they're from Norway and they have a smaller brand called O.A.D. and they make the most cozy, warm, beautiful sweaters that are handmade. I love everything."
On tips for a good selfie
"If the lighting is bad, you can move your face in a million different angles and it's never going to look good with the shadows. So it's lighting. Honestly, if you're feeling yourself, take a selfie. If you're taking it to take it, it might not work. But if you're in the mood, bank a few, throw on a different sweater. Then you have them for your photo dump."
Shop Lily Collins' must-haves:
At Refinery29, we're here to help you navigate this overwhelming world of stuff. All of our market picks are independently selected and curated by the editorial team. If you buy something we link to on our site, Refinery29 may earn commission.
Like what you see? How about some more R29 goodness, right here?
Emily Ratajkowski On Her Beauty Highs & Lows
Kim Kardashian Can't Live Without This One Product
Hailey Bieber On How To Get Good Skin