Life Style
Long ago, younger viewers wanted their MTV News. Can we learn from what it did right in its prime?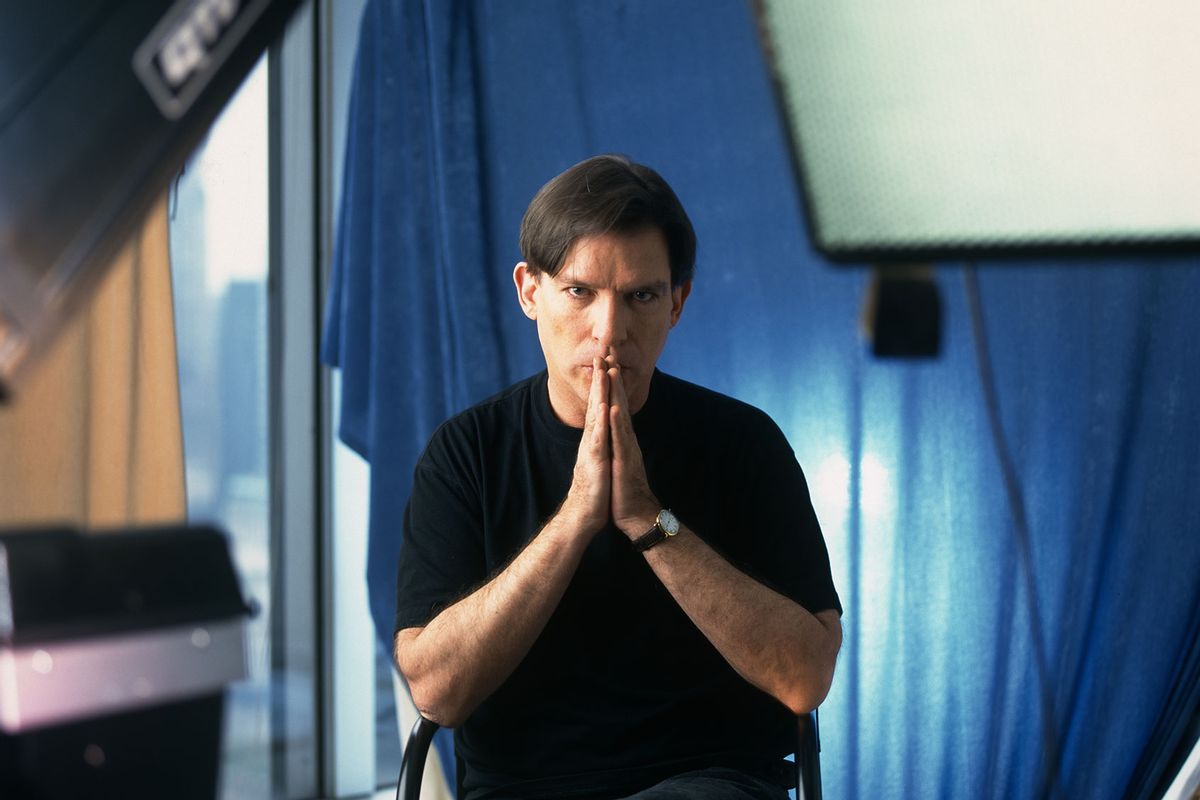 On Tuesday MTV News became the latest outlet to shut down after 36 years, prompting a bouquet of eulogies posted across social media, which abetted its demise.
Remembrances arose in the immediate wake of its termination by Paramount, its parent company, with erstwhile regular viewers pausing to acknowledge the roles Sway Calloway, Kurt Loder, Tabitha Soren and others once played in their youths.
Lengthier lamentations ruminated on the newsroom's role in cultural touchstones the network either made possible or contributed to, shaping the conversation to suit their audience. The odes took on a greatest hits feel – the way they held their viewers' hands through 9/11, the terrible moment Loder, the former Rolling Stone editor turned MTV anchor, broke it to Generation X that Kurt Cobain was dead. Years later it would be Tupac, then Biggie Smalls. 
Longing has driven the coverage's direction, which is proper, but also a symptom of why it closed down in the first place – one doesn't generally yearn for something they regularly patronize.
MTV News deserves praise for placing hip-hop on equal footing with rock and pop in its recording from its opening broadcasts, proof that the newsroom's producer Dave Sirulnick would not repeat the mistake the network made when it launched and excluded Black musicians.
Presidential hopeful U.S. Sen. Barack Obama (D-IL) and MTV news correspondent Sway Calloway speaks to veterans of the Iraq war during MTV's "Choose Or Lose" taping at Whistle Pub on March 17, 2008 in Scranton, Pennsylvania. (Scott Gries/Getty Images)
It also became the first major TV news organization to actively engage young people with politics instead of assuming they grow into their understanding of civic duty with Choose or Lose in 1992, credited as a key factor driving the largest turnout among young voters in 20 years.
Can MTV News' be upcycled to inform an audience that is increasingly avoidant of headlines?
The 1972 election swept Nixon into office in the middle of the war in Vietnam. The 1992 election was preceded by a campaign trail on which MTV became a crucial stop for candidates, and Bill Clinton revealed he was a briefs man.
Remembering the departed's highlights is kind and certainly nicer than pointing to the hard and harrowing fact that MTV News' closure joins a list of shutdowns that includes BuzzFeed's chopping of its news division and the cancellation of "Vice News Tonight," two outlets that owe a substantial debt to the music channel's reporters for creating the architecture they would build upon.
BuzzFeed earned an international reporting Pulitzer in 2021. "Vice News Tonight" won a news coverage Peabody Award in 2017 for its coverage of the Unite the Right rally. Choose or Lose netted MTV News recognition from the Peabody Board as well. Journalists were still doing great work with and for these organizations.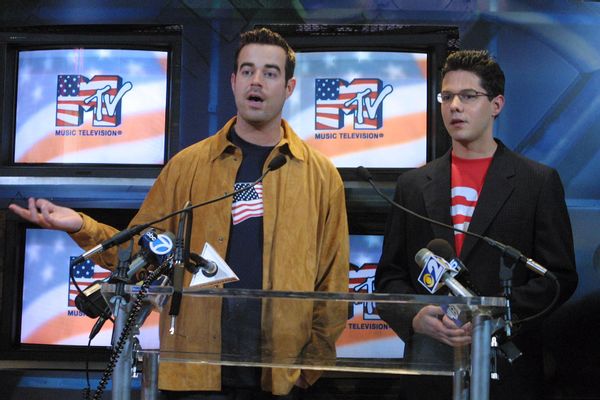 MTV Host Carson Daly, and MTV News correspondent Gideon Yago, speaking at the MTV Studios in New York City during an MTV Town Hall forum with young people to discuss how the events of September 11th affect them. (Todd Plitt/ImageDirect)
Awards and acclaim are no matter for the economic headwinds battering the media industry with brute force. Chris McCarthy, the head of Paramount Media Networks, MTV and Showtime, invoked that term in his memo announcing the 25% reduction of his company's U.S. workforce along with axing MTV News.
Vox Media, NBC News, NPR, The Washington Post and CNN are among other new organizations that have laid off staff in recent months as well. Apart from Vox, legacy news organizations don't naturally or specifically cater to the under-35 demographic that was MTV News' bread and butter in its heyday.  
Can its strengths and those of outlets like it be upcycled to inform an audience that is increasingly avoidant of headlines? That's work examining more fully once the memorializing fades out.
There have been many referring to the newsroom's shuttering as the end of an. era, but that era ended long ago
Part of this requires an entire overhaul of the way cable, broadcast, and online newsroom process politics. If CNN's attempt to rein in Donald Trump at its disastrous town hall indicates how that's going, that's not happening anytime soon.
But MTV News and personalities such as Soren, Gideon Yago, and SuChin Pak were doing something singularly effective in the way they connected teenage and 20-something viewers to current events, politics and politicians without coming off as pandering. I haven't seen anyone pinpoint what that was, other than remembering their more freewheeling presentation and the staff's favoring of streetwear over suits and ties.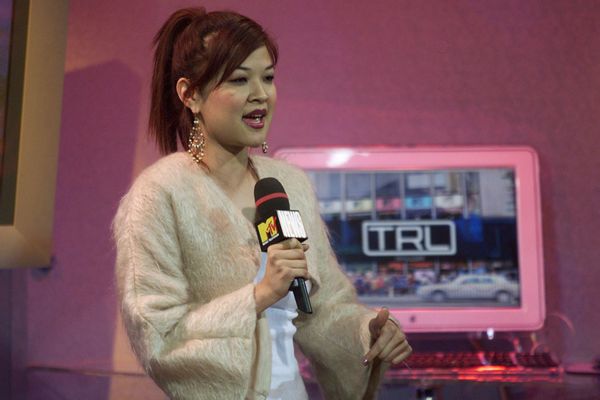 MTV News Correspondent Suchin Pak on MTV TRL in the MTV Studio in New York City, 2/15/02. (Frank Micelotta/ImageDirect)
It's simpler to remember these reporters and VJs with wistful remembrance of what used to be, since they were the first of a kind and filled a niche that didn't previously exist. But the history is recent enough to trace what happened once the cable landscape expanded and the Internet became a common tool. In the '90s and aughts E! seized the celebrity feature and awards red carpet racket, loosening MTV's exclusive claim to celebrity access.
YouTube further dwindled the network's prominence and its newsroom's urgency; Twitch, Tik Tok, Twitter, Telegram and their like slowly bled MTV of its power as a pop culture conduit. With videos accessible by Google search and influencers covering the genres, artists, and issues they value above all others, and with celebrities able to serve information about tour dates and record releases on their own social media feeds and on their own timeline, MTV News as we used to know it was no longer essential.
---
Want a daily wrap-up of all the news and commentary Salon has to offer? Subscribe to our morning newsletter, Crash Course.
---
A thornier obstacle, though, is that Gen Z is demonstrably less loyal to any single information resource than its predecessors.
Nevertheless, this cohort also recognizes that the news social media serves to them isn't necessarily trustworthy.  This is particularly the case when it comes to understanding politics and government, two areas the MTV News staff figured out how to translate for people who view network nightly newscast as TV for old people. How to pierce the social media veil of misinformation and obfuscation is an industry-wide frustration.
A 2021 report on how young people consume news commissioned by the Reuters Institute for the Study of Journalism and Oxford University contains some promising signals. The topmost of the findings is the wake-up call that young audiences don't subscribe to the traditional "what you should know" model of news but respond more keenly to news that useful to know, that is interesting to know and that is fun to know.
The study further found that people under 35 are drawn to so-called "softer" news topics including entertainment and celebrity news, culture and arts news, and education news – all topics well within MTV News' wheelhouse at the peak of its influence.
The MTV News anchor's time has long since passed; most acknowledge that. There have been many referring to the newsroom's shuttering as the end of an era, but that era ended long ago. Once we've sufficiently appreciated what was, hopefully people will respectfully brush aside the cobwebs of nostalgia and conduct a respectful autopsy for the sake of the next generation  – one that may be long past wanting their MTV but still clamors to be informed.
Read more
about this topic