News
Manchin says he'll meet with Texas Dems after missing DC meeting to discuss voting laws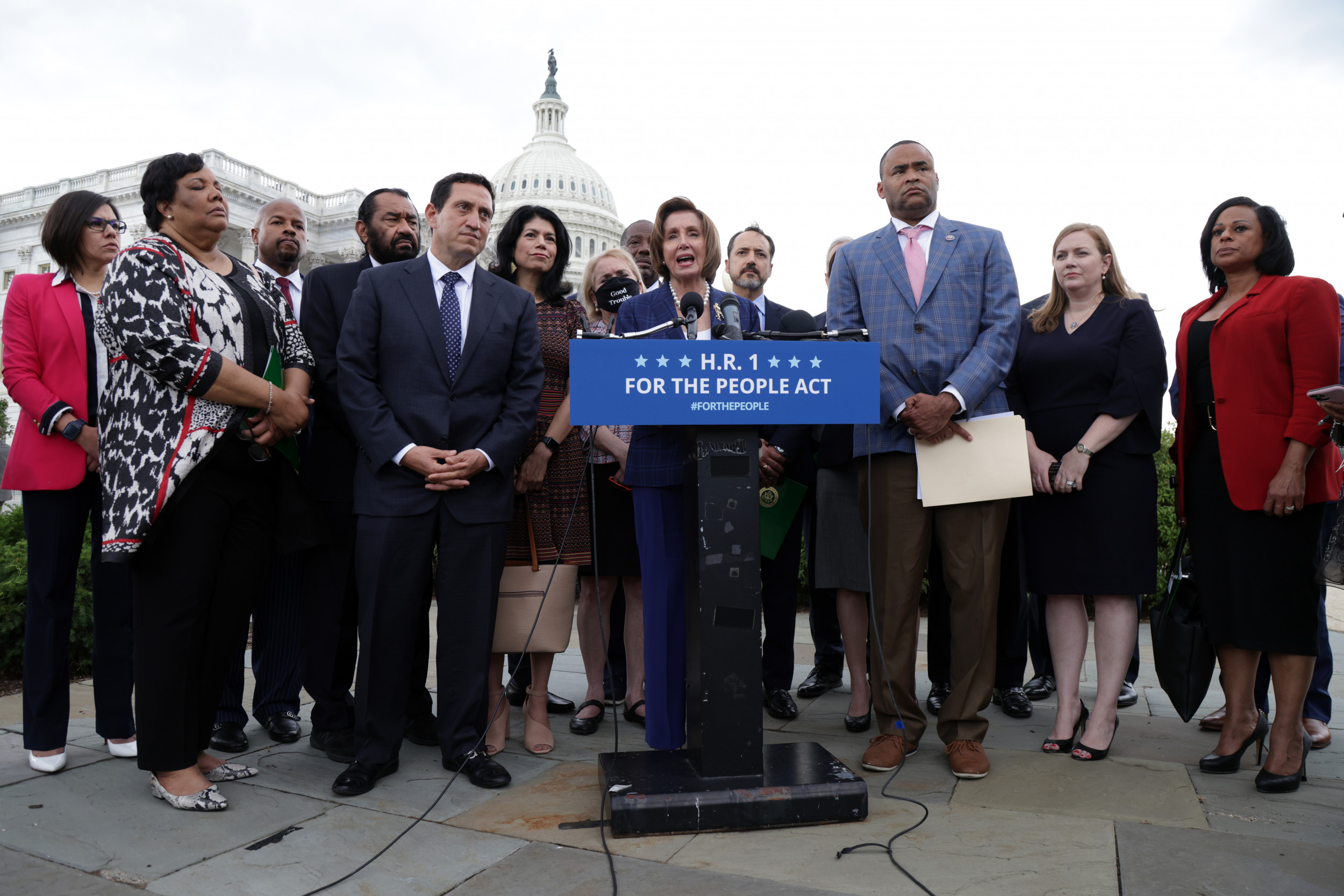 U.S. Sen. Joe Manchin, a West Virginia Democrat who has been a roadblock for Democrats who want to pass sweeping voting legislation, missed out on a meeting with a group of Democrats from the Texas Legislature on the topic this week—sending top aides in his place.
But Manchin, a former West Virginia secretary of state, denied it was an intentional dodge on a thorny issue and said he still hopes to meet with the group of lawmakers who blocked a Texas voting law before they depart Washington, D.C. this week.
"They're trying to work that out," Manchin told reporters at the Capitol on Wednesday, while the Texas group was meeting with Vice President Kamala Harris on the same topic. "I'll meet with anybody and everybody."
Manchin said he wanted to catch up with the group to listen to their concerns and talk through differences.
"I think all of us should be transparent enough to tell you exactly what we agree with, we don't agree with," he said.
Manchin later released details about his own compromise proposals, that several members of Congress told reporters they were reviewing but saw as a good first step in negotiations.
Democrats, who hold narrow majorities in the U.S. House and the Senate, have been trying to advance two proposals they say are aimed at protecting voting rights, as several states have worked to place new restrictions on voting. House Resolution 1, dubbed the For the People Act, would require states to allow same-day and online voter registration, mandate early voting periods, make Election Day a federal holiday and expand vote-by-mail options, among other provisions.
House Resolution 4, named in honor of the late Civil Rights leader and Congressman John Lewis, would restore parts of the Voting Rights Act of 1965 that have been pared back through the courts.
Manchin's latest proposal, according to a summary document from his office, would include several of those priorities, including Election Day as a holiday, expanded early voting and more voter registration options. Manchin's proposals also include some Republican priorities, including mandatory voter identification.
"I think I have an obligation to my colleagues on both sides to let them know where I stand," Manchin said of his proposal. "I think I did that."
Democrats say they want legislation that would stop states like Texas from being able to end new voter access practices adopted during the coronavirus pandemic, such as drive-thru voting and 24-hour voting periods.
"We need Congress and the president to finally put an end to this," Texas State Rep. Chris Turner told reporters at the Capitol this week.
The Texas delegation held meetings with several lawmakers, including House Speaker Nancy Pelosi, a California Democrat who has been pushing both H.R. 1 and H.R. 4 in weekly meetings. On Wednesday, they met with Harris, who President Joe Biden has tasked with leading the push for voting rights legislation.
Texas Rep. Trey Martinez Fischer told reporters he was one of two lawmakers in the group who met with Manchin's chief of staff and legislative adviser on Tuesday for about 45 minutes.
"It was a real meeting, and I'm grateful for that," Martinez Fischer said. "We had an opportunity to understand the legislation, understand what the thinking is of Sen. Manchin."
He said the meeting was encouraging.
"We're willing to come back on our own nickel to meet with anybody who will meet with us because one thing was very clear from that meeting with Sen. Manchin's office—voting practices in West Virginia are way different than voting practices in Texas," Martinez Fischer said. "Once they understood exactly how high the hurdles are and how low the tripwire is to make voting practically a crime in Texas…no voter deserves to go through that."