Entertainment
Minx: The Magazine Soars to Dizzying Heights in Season 2 Trailer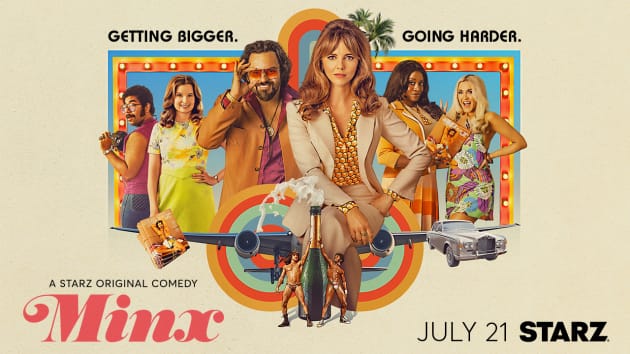 Minx is thriving under Joyce's (Ophelia Lovibond) leadership, and we can't wait to see what's on tap for everyone.

Starz went public with the trailer for Minx Season 2 on Wednesday, and it shows the magazine reaching dizzying heights.

There's even a perfectly timed bit of dialogue from Jake Johnson's Doug at the beginning:

"A lot of people counted us out. But we are back and better than ever!"

Many did count the show out after HBO Max canceled Minx after one season.

We have Starz to thank for picking up Minx Season 2 because this show is a true gem, and the story deserves to be told.

It's a rarity to have such a refreshing show on the air, and thankfully, we'll have fresh episodes when Minx Season 2 debuts Friday, July 21.

The trailer promises to up the ante both on the show and for the magazine.

Set in 1970s Los Angeles, Minx centers around Joyce (Ophelia Lovibond), an earnest young feminist who joins forces with a low-rent publisher (Jake Johnson) to create the first erotic magazine for women.

On Minx Season 2, Doug and Joyce grapple with Minx's explosive success, which brings more money, fame, and temptation than either of them knows how to handle.

The hit comedy stars Ophelia Lovibond (Guardians of the Galaxy, Rocketman) as Joyce Prigger, Jake Johnson (New Girl, Spider-Man: Into the Spider-Verse) as Doug Renetti, Idara Victor (Shameless, Turn) as Tina, and Jessica Lowe (Righteous Gemstones, Miracle Workers) as Bambi.

The cast also includes Lennon Parham (Bless This Mess, Better Things) as Shelly, Oscar Montoya (Dimension 20, "Bless the Hearts) as Richie, and Elizabeth Perkins (The After Party, Barry) as Constance.

Minx was created by Ellen Rapoport, who also serves as showrunner and executive producer, alongside Paul Feig and Dan Magnante for Feigco Entertainment, Ben Karlin and Rachel Lee Goldenberg, who also directed the pilot.

Check out the Minx Season 2 trailer below,
Paul Dailly is the Associate Editor for TV Fanatic. Follow him on Twitter.