News
New, limited edition Ford Bronco, Bronco Sport give a nod to nostalgia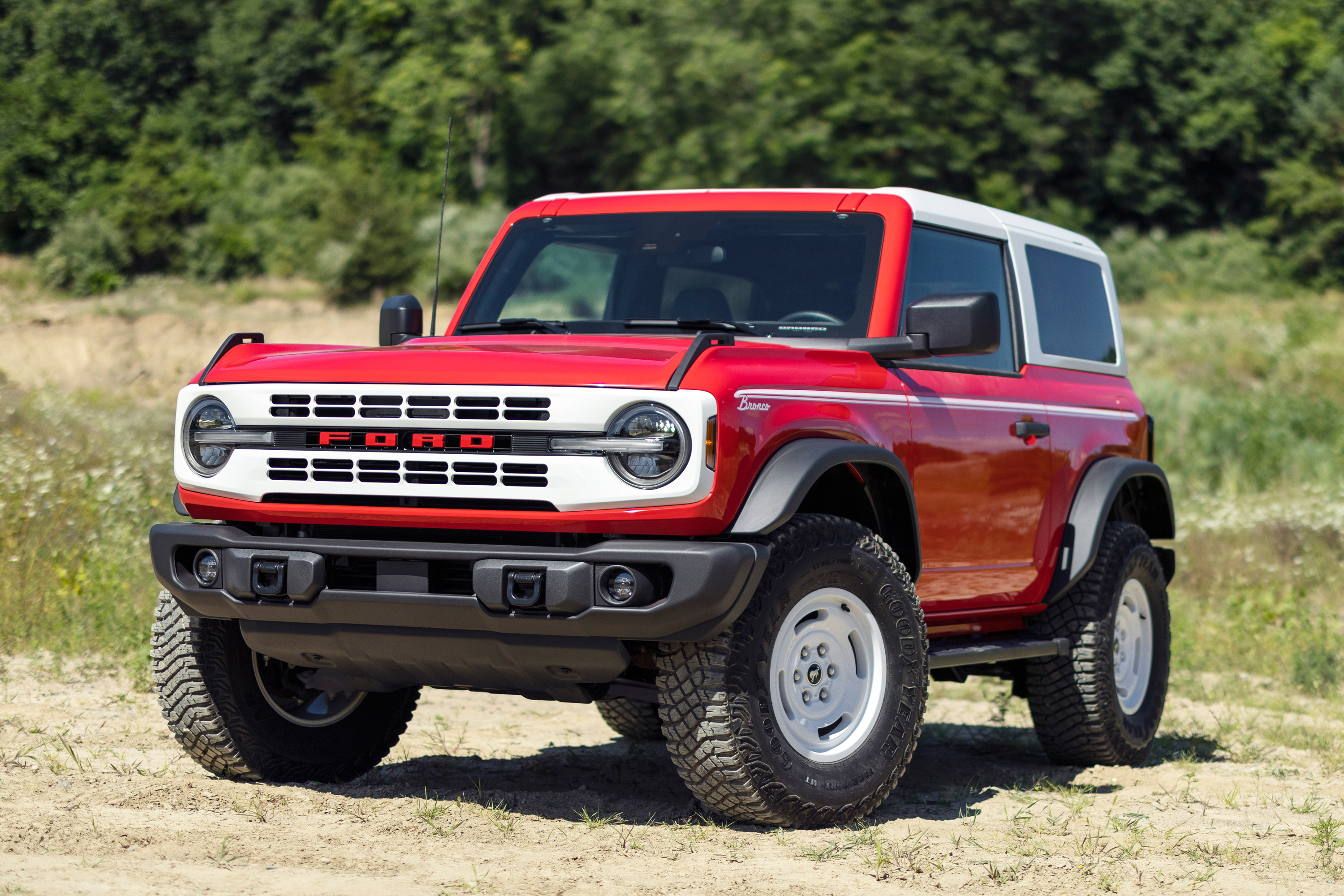 New 2023 Ford Bronco and Bronco Sport Heritage and Heritage Limited editions put the past into the present. The special editions are part of an expanding Bronco family lineup that now includes the Bronco Raptor R and Bronco Everglades.
Unlike those specifications, the Bronco Heritage and Heritage Limited models will be offered across the Bronco stable, though in limited numbers. Just 1,966 units of each will be made, paying homage to the year the original Bronco debuted.
"Bronco captivated America in the mid-'60s with its rugged style and uncompromising off-road agility, a legacy that is still prevalent today," said Mark Grueber, Ford's Bronco marketing manager.
"With these new Heritage and Heritage Limited editions, we're paying respect to Bronco's roots with nods to some of the signature design cues from the first-generation vehicle, while continuing to build the Bronco Brand with more special editions that our customers want."
2023 Ford Bronco Heritage and Heritage Limited
Ford's first step toward the Bronco Heritage models was shown publicly last year with the debut of the Bronco Pope Francis Center Edition. The one-off two-door Bronco was inspired by the Popemobile that was used during a 1979 tour of the U.S. That special model wears the same 17-inch aluminum wheels painted Oxford White and white/red instrument panel color scheme as the 2023 Ford Bronco Heritage SUV.
The new two- and four-door Bronco Heritage models are differentiated from previously seen packaging with fresh paint, bumper, grille, roof and interior treatments. Up front an Oxford White grille with Race Red "Ford" lettering takes center stage. A bodyside stripe and throwback "Bronco" emblems carry forward the Bronco brand legacy onto the new SUV.
Squared fenders and a two-inch wider track than traditional Bronco give a grounded appearance. The front bumper is made of powder-coated steel and has built-in recovery points and integrated fog lamps.
Bronco Heritage models gets cloth seats that feature what Ford describes as a plaid design, but in reality its more of a take on plaid, in a vein similar to how the recently retired United States Air Force Airman Battle Uniform relates to traditional camouflage.
Exclusive center console badging and front and rear seat liners complete the look.
Bumping up to the Heritage Limited edition version of the SUV will get buyers gloss black painted 17-inch wheels with "dog dish" centers and an Oxford White-painted lip that conveys a whitewall nostalgia. It gets metal "Bronco" script fender badging, unique center console badging and leather-trimmed/vinyl plaid seats with white and Race Red accent stitching.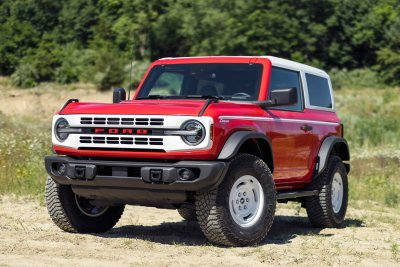 Bronco Heritage models are built with Bronco Big Bend features and equipment. Under the hood is a standard 2.3-liter EcoBoost engine paired with the buyer's choice of a seven-speed manual or 10-speed automatic transmission. Up to 300 horsepower (hp) and 325 pound-feet (lb-ft) of torque comes courtesy of the powertrain.
Ford's Sasquatch Package, which includes the company's impressive High-Performance Off-Road Stability Suspension (H.O.S.S.) is standard, as are 35-inch Goodyear mud-terrain tires and Dana front and rear electronic locking axles.
Buyers who go for the more expensive Heritage Limited Edition version of the SUV get a model with Bronco Badlands equipment, which includes a more powerful 2.7-liter EcoBoost V6 engine that delivers 330 hp and 415 lb-ft of torque. That engine is only available paired with a 10-speed automatic transmission.
Five paint colors are available on Bronco Heritage SUVs, including Race Red. The Bronco Heritage Limited Edition only comes in Robin's Egg Blue at launch. The color is based on Arcadian Blue, which was available on the original Bronco in 1966.
A Yellowstone Metallic paint color, which is passed on the 1971 Ford color Prairie Yellow, is planned for the 2023 model year. The Peak Blue color option will arrive in time for the 2024 model year.
2023 Ford Bronco Sport Heritage and Heritage Limited
The Bronco Sport Heritage and Heritage Limited models take their design cue from their big brothers. All feature Oxford White accents including an all-white roof and grille. Race Red "Bronco" lettering is in place of the Bronco's "Ford". Oxford White 17-inch aluminum wheels and body side stripes give a nod to nostalgia.
Both versions have Navy Pier "plaid" cloth seats with Race Red and Robin's Egg Blue accent stitching. The color of the seats was inspired by an upholstery color available in '80s Broncos.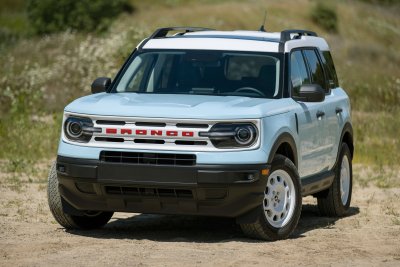 Ford's designers have pulled in the Navy Pier color from existing Bronco Sport models for the interior, featuring it alongside Oxford White accenting on the car's door ring and center console storage bin.
The Bronco Sport MOLLE strap storage system on front seatbacks has Navy Pier-colored straps and Race Red zipper grips.
Heritage Limited Edition models step up the game, adding metal adding "Bronco" script front fender badging and larger 29-inch all-terrain off-road tires with more aggressive treads to the mix. They also get leather-trimmed seats and have Oxford White door inserts and unique center console badging.
Each Bronco Sport Heritage edition is built on a Bronco Sport Big Bend series model and powered by a 1.5-liter EcoBoost engine that delivers 181 hp and 190 lb-ft of torque for use. It also has Ford's H.O.S.S. system and an increased ride height. Five G.O.A.T. drive modes are standard: Normal, Eco, Sport, Slippery and Sand.
Paying more for the Bronco Sport Heritage Limited edition adds considerable oomph by way of a 250-hp 2.0-liter EcoBoost engine that delivers 277 lb-ft of torque. An advanced 4×4 system with a twin-clutch rear-drive unit with a differential lock comes standard, and drivers get seven G.O.A.T. modes with the addition of Mud/Ruts and Rock Crawl.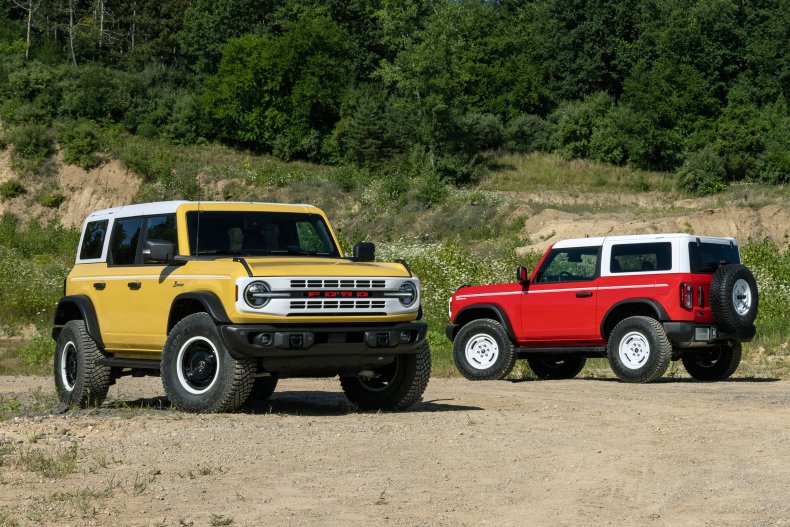 Bronco Sport Heritage Edition is available in seven paint options including Robin's Egg Blue, but the Heritage Limited Edition take is exclusively available in Robin's Egg Blue, Yellowstone Metallic and Peak Blue.
How to get yours
The 2023 Ford Bronco Sport Heritage and Heritage Limited edition models will be first off the line and are available to be ordered today. Ford will open order banks for two- and four-door Bronco versions of the editions later this year to current Bronco order holders that are still awaiting delivery of their model. Next year, orders will open to all customers, regardless of reservation status.
Ford promises a rollout of the limited edition models that is similar to the way the company sells its Shelby cars. The deliberate attempt to curb major dealerships from grabbing up a large percentage of the SUVs for themselves is indicative of lessons learned from past launches, a Bronco marketing team member told Newsweek.
The 2023 Ford Bronco Heritage starts at $44,305 and the Heritage Limited starts at $66,895.
Ford's 2023 Bronco Sport Heritage and Heritage Limited come in at $34,245 and $44,655, respectively.