Sports
Next few months crucial for Ukraine's spring counteroffensive, top Pentagon officials say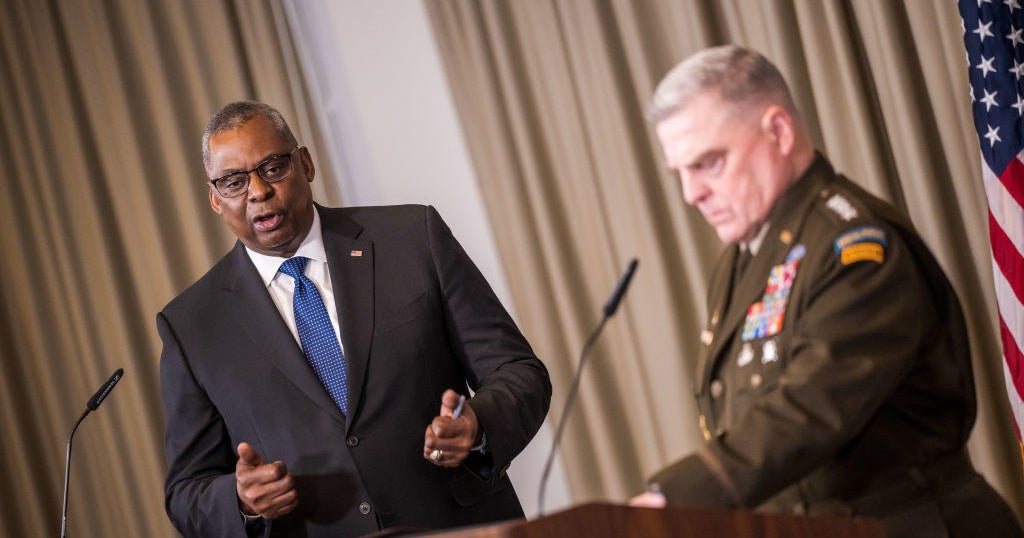 The next few months are crucial to the success of any Ukrainian counteroffensive in the spring, according to the top officials at the Pentagon. 
Defense Secretary Lloyd Austin on Friday said there is "a window of opportunity" ahead of the spring to get Ukraine the capabilities they need to go on the offensive. 
Austin and Chairman of the Joint Chiefs of Staff Gen. Mark Milley were at Ramstein air base in Germany this week to attend a meeting of the Ukraine Defense Contact Group, where representatives from 54 nations gathered to discuss the equipment and training Ukraine would need to expel Russia from its territory. 
Milley told reporters after the meeting that militarily it would be "very, very difficult" for Ukraine to completely push Russia out of Ukraine this year.
However, he suggested that Ukrainians could execute a successful operation to reclaim some of the Russian-occupied territory, depending on the training and new equipment they receive in the next few months. 
He also said it would be a "very heavy lift" to get the equipment to the Ukrainians and then trained on both how to use the equipment and how to maneuver together on the battlefield. 
Last weekend, the U.S. started its training of approximately 500 Ukrainians per month on combined arms maneuvers — that is, how to operate among battalion-sized groups and coordinate between air and ground. 
The latest U.S. assistance package, valued at $2.5 billion and released on Thursday, includes more air defense capabilities and additional armored fighting vehicles, but no tanks. 
Some expected the meeting of the Ukraine Defense Contact Group to pressure Germany to provide or allow the third-party export of German-made Leopard tanks to Ukraine. There are about 2,000 Leopard tanks around NATO, and some countries have signaled they would be willing to provide them to Ukraine but need Germany to approve the transfer. 
Austin told reporters the German defense minister has not yet made a decision on the Leopard tanks. He also clarified that Germany's decision is not dependent on the U.S. providing Abrams tanks to Ukraine. U.S. officials have argued that the Abrams tanks, which run on jet fuel that is more difficult to acquire, are too hard to maintain, while the Leopards, which use diesel, are more accessible and easier to use. 
"We have a window of opportunity here, you know, between now and the spring when they commence their operation, their counteroffensive," Austin said Friday. "And that's not a long time, and we have to pull together the right capabilities."