News
Our Home Chef meal delivery service review: Perfect for simple, nutritious dinners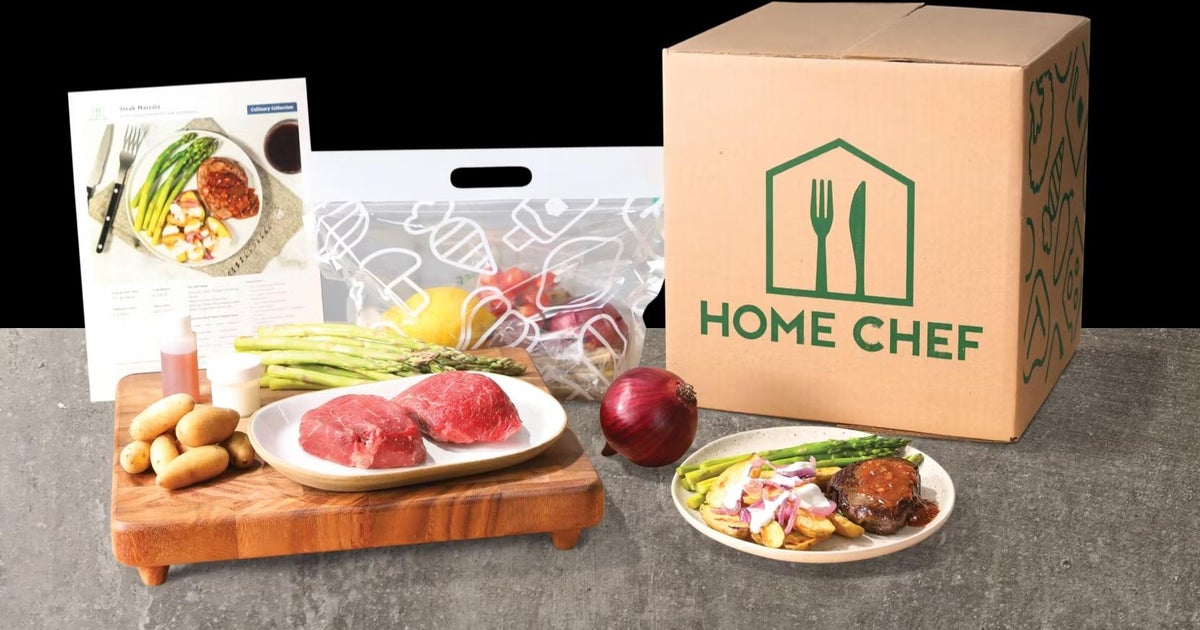 We get it: Dinnertime is best when it's easy and effortless — while still being delicious and nutritious. That's why we love meal delivery services, which replace time-consuming shopping trips and lengthy cook times with pre-prepped or pre-made meals, boxed up and shipped to your front door. 
With so many options to choose from, you may be wondering which meal kit would be the best fit for you and your family. That's why I've reviewed meal kits like Blue Apron, which is perfect for the chef-to-be, and Factor, which can help to stack your fridge with lean, nutritious, ready-to-eat meals. Due to its reputation for meal kits that are as accessible as they are tasty, I decided to give family-friendly Home Chef a try next. 
With high marks from other reviewers for delicious meal kit recipes that are a breeze to handle on your own (as well as other offerings like oven-ready meals), Home Chef stood out to me as a nice balance between convenient and nutritious. I placed an order for five meals (three traditional meal kits, one "express plus" meal kit, and one oven-ready meal). Check out my honest review below, plus learn more about what Home Chef truly has to offer new customers. 
In this Home Chef review

Cut down on time spent cooking elaborate meals by reading my Home Chef breakdown below. You have questions and, after a few nights of cooking my own Home Chef meals, I have answers. Now let's dive into this Home Chef review.
What is Home Chef?
Up there with HelloFresh and Sunbasket, Home Chef is a popular meal kit that aims to simplify dinnertime with recipes that are varied, simple to prepare, and easily customized to suit your needs. 
Home Chef serves up more than 30 weekly recipes to choose from, which makes it one of the more accessible meal kits out there. After making an account, customers go through a process anyone who's subscribed to a meal delivery service before will recognize. Setting up your preferences lets you customize your weekly menu options, but the meal kit company's full menu will still be available.
Speaking of customization, one of the first things that stuck out to me while I built my Home Chef meal plan was the ability to customize meals on the fly. Not into pork chops? Swap 'em out with sirloin steaks or boneless chicken breast. Most recipes come with one or more choices to swap the protein for alternatives, including meatless options — you can even leave out the protein from some dishes.
Home Chef meal kit pros and cons
Most of the menu options I browsed boasted relatively short cook times (30 to 40 minutes on average, with many below 20) and a button to "customize it." Recipes like the jerk-style tofu and coconut rice bowl and Sicilian-style scallops were appealing, reflecting a varied recipe list that balanced out other more straightforward dishes and somewhat small portions with variety and beginner-friendly cooking instructions.
After breezing through the account setup and meal preferences rigmarole, which I found to be quick and painless, I only had to wait a few days for my Home Chef meal delivery. The box itself came neatly filled with insulated packages (which are recyclable) and a small ice pack filled with kitchen sink-friendly gel. Ingredients were separated by zip-locked bags — one per meal. It was super easy to move everything to the fridge or freezer. Another small detail I appreciated was the recipe cards, which were printed to last, and came three-hole-punched (ideal for storing them in a binder for later use). 
Check out my full breakdown of Home Chef pros and cons below:
Pros:
Meals are accessible and reliable, with just enough variety to keep you coming back each week.
The ability to customize certain meals.
Flexible scheduling options are easy to follow: you're charged every Friday for the following week's delivery and have until then to make changes, swap out recipes, or pause your delivery.
Recipes are straightforward, recipe cards are easy to follow, and cook times are by and large shorter than other meal kits. 
Cons: 
Some meals and ingredients are somewhat basic, especially when compared to offerings by other meal kit companies such as Blue Apron. Consider this the (small) price of enjoying recipes that are mostly quick and easy to prepare.
Pricing. While Home Chef is great if you're cooking for a family or buying in bulk, things can get pricey if you're considering smaller quantities. $11 per serving can be a lot for someone living alone, and the $10 shipping fee per box doesn't help.
There was a bit more plastic used in packaging than I would have liked, but Home Chef's approach of grouping ingredients according to recipe was worlds ahead of some other meal kits I've reviewed (I've seen individually wrapped and bagged ingredients next to plastic bottles and containers made to hold a few ounces of sauce, for instance). 
Home Chef recipes and meal choices
Navigating Home Chef's website and menu options is pretty easy. Every meal is tagged with a color-coded label that tells you exactly what you're in for: "express" meals are quick to prepare, for example, while "fast and fresh" meals can go right from bag to microwave to dinnerplate. Here is the full list of categories:
Culinary collection: Find premium proteins and ingredients that are a step above your typical meal kit recipe (think filet mignon or lamb chops). 
Express*: These meals are billed as being ready in 15 minutes or less. They might contain pre-chopped ingredients to help speed things along in the kitchen.
Oven-ready*: If all you want to do for dinner is fill a pan with ingredients and let your oven do the rest, these are the recipes for you. These are typically ready to eat within 45 minutes or less.
Fast and fresh*: These recipes are unmatched when it comes to convenience — just heat everything up in your microwave for a quick weeknight dinner (microwave/oven-safe cooking tray included).
Family meal: These family meals can only be purchased in four-serving increments, so they're best ordered by anyone cooking for the whole family. Look for "fast and fresh" and "oven-ready" versions as well.
*Several categories also have an upgraded version. "Express plus" and "oven-ready plus" meals are elevated recipes that are made with premium ingredients.
There are also two or more calorie-conscious and carb-conscious meals to choose from each week — just look for a red heart icon or golden bread slice icon.
I appreciated Home Chef's variety when it comes to weekly recipes. There were also a number of diet-friendly recipes to choose from (more on those below), such as gluten-smart meals. 
Is Home Chef good for people with dietary limitations?
Home Chef caters to a number of dietary restrictions with its weekly menu. While other meal kits may be better options for certain diets such as Purple Carrot, which is centered around vegan and vegetarian recipes, Home Chef takes the "little bit of everything" approach to diet-friendly recipes.
I mentioned that there are "calorie-conscious" and "carb-conscious" meals. Calorie-conscious meals come with fewer than 635 calories per serving, and carb-conscious meals cap carbohydrates to no more than 35 grams per serving. If you want to combine these categories and fill up on protein, there are "fresh-start" meals as well. These are calorie- and carb-conscious meals that also come with a minimum of 30 grams of protein.
Home Chef's "gluten-smart" meals offer customers with a gluten sensitivity a bit of relief as well. Meals with this label are devoid of naturally occurring (or intentionally added) gluten, according to Home Chef. Although it's worth noting that Home Chef meals are made in facilities that process gluten, so cross-contamination could potentially lead to trace amounts of gluten finding their way into some meal ingredients. People with Celiac disease or a severe gluten intolerance may want to consider other options for allergy-friendly meal kits.
Two more diet-specific labels you can look for each week include "keto-friendly," which promises 15 grams or less of net carbs (carbohydrates minus fiber) per serving, and "vegetarian." Home Chef promised six or more vegetarian recipes per week, but you can also customize regular meals for even more veggie-based meal choices.
How much does Home Chef cost?
Ah yes, the question of the hour: How much will Home Chef cost? Prices start at $10 per serving for most meals, but that's not a guarantee for everything you see on the menu. Some recipes cost more, such as "express plus" meals that could cost between $12 and $14 per serving. Also look out for "culinary collection" labels — these appealing dishes come with premium ingredients and therefore typically cost around $13 per serving. 
Some family meals, on the other hand, cost as low as $8 per serving. While building my meal plan, I only saw two family dinner recipes below $10 per serving. If you're interested in Home Chef's small but intriguing lunch menu, you can get single-serving meals for around $9 each.
Currently, new customers signing up can snag a free promo code for $10 off their second order. This may be underwhelming to savvy shoppers used to big savings for new meal kit subscriptions, but deals are common — keep an eye out for even bigger savings, there may be a new ongoing promotion when you do sign up. Total box prices range from $48 (two two-serving meals) all the way to $360 (six meals, six servings each), plus $11 in shipping fees. 
The reviews are in: This is what customers are saying about Home Chef
When it comes to customer reviews, Home Chef consistently scores high marks in two categories: recipe variety and an easy learning curve. Home Chef's dedication to offering weekly recipes that cater to different needs — from soy-free or dairy-free picks to calorie-conscious, salmon-centered, and more — means that there's truly something for everyone. 
Home Chef's biggest win across most customer reviews (mine included) is this: The recipes really are on the easier end of the difficulty scale. Other meal delivery services may catch your eye with flashy, chef-approved meals, but they can take a bit of time to whip up. Home Chef is the answer to anyone that doesn't have the time (or energy, let's be honest with our weeknight selves) to turn their kitchen upside down cooking a weeknight meal. 
My first home cooked Home Chef affair was to prepare a dish with Dijon-fig sauce-covered pork medallions and feat asparagus. Labeled as an "express plus" recipe, which is tacked onto Home Chef meals that take 30 minutes or less to cook, this dish lived up to expectations — and while I sampled other recipes that were more involved (like the brown butter and parmesan risotto with brussels sprouts and pecans), cook times were less laborious and more convenient than other meal kit services.
On the other side of the kitchen island, customers by and large have a few shared dislikes — namely, uncreative recipes and somewhat steep prices. It's true that there are cheaper meal kits out there with low prices (and $11 in shipping per box is a lot). However, it's worth noting that $10 per serving (the starting point for standard meals) is pretty average for meal kits. HelloFresh and Blue Apron, two of the biggest names in the meal kit game, both come with higher price points. 
Who should try out Home Chef? Our final verdict
After a week of whipping up Home Chef meals in the kitchen, I can say that Home Chef is great for anyone interested in beginner-friendly meal delivery services. Kit recipes like pork chop and cranberry demi with brussels sprouts were tasty without being too much of a hassle to prepare. I was impressed with the oven-ready onion-crusted chicken with broccoli, but the "express plus" meal I sampled (pork medallions with asparagus) was a bit too far on the simplistic scale for me.
Home Chef offers meal kits that are easy without sacrificing quality. There is a nice variety of recipes to choose from each week, including some limited options for certain diet restrictions. Considering the prices of some meals, customers with families stand to save the most money by signing up.
---
Related content from CBS Essentials