News
Performative Juneteenth pieties are not enough. We want real change | Opinion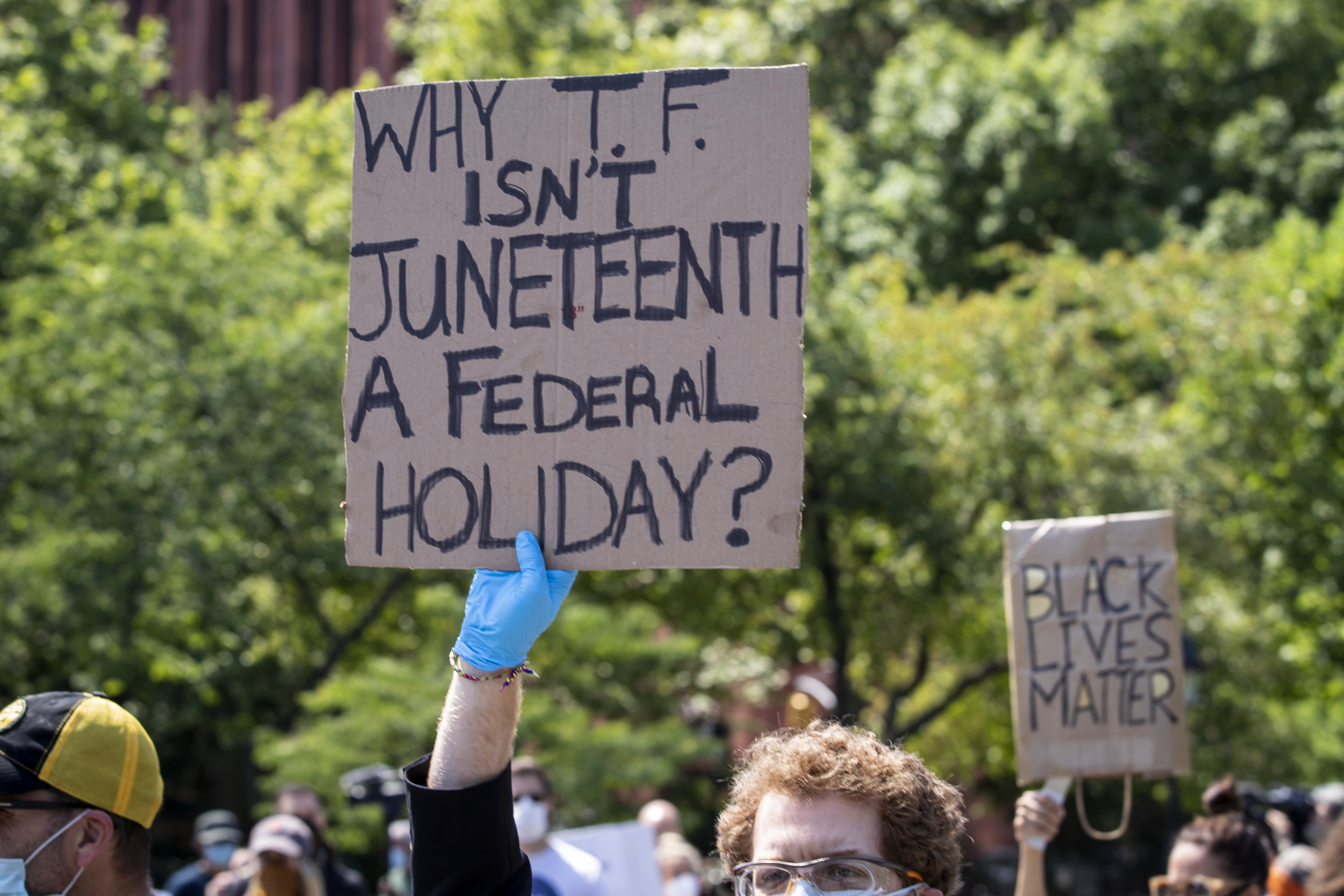 The United States just got a new holiday. Congress just voted overwhelmingly to make Juneteenth a holiday, in commemoration of June 19, 1865, when enslaved people in Galveston, Texas were finally informed of their freedom. The vote comes in the wake of the social justice movement ignited by the May 2020 murder of George Floyd, which inspired among other things a rise in proclamations of allyship for the Black community. But there's an irony to this symbolic recognition when you consider all the work that still needs to be done in terms of real world policy.
This irony also manifests in many statements in support of racial justice from consumer brands, professional service firms, and even educational institutions. All too often, these announcements, like the new national holiday, remain performative lip service that fails to materialize into substantive progress.
I know I've already lost a few readers who may think this piece is bashing those brave enough to show commitment to making a difference. In fact, it's quite the opposite. I commend the drive to make an impact and as a researcher and marketing practitioner, I personally champion those brands who actually care about the issue. I wish to help them do better at achieving both meaningful change and brand value.
What I believe many brands are missing is taking this moment as an opportunity to look inward.
Most announcements focus on fleeting activities, or they offer up donations or provide new products targeted to the Black community, or they tell you about events. Still others provide opportunities for education and reflection to drive short-term awareness. But few if any touch on internal operations. And almost all brands have missed what is a crucial opportunity to materially improve the experience of their most important consumer and influencer segment: their employees.
One of the major outcomes of 2020 was an opportunity to recognize the deeper biases and underlying systemic racism embedded into the way we operate in society. And every organization has a chance to make a difference just by improving their own teams, processes, and internal operating philosophies.
But while we are awash in press releases championing Black life, where are the press releases announcing the end of pay inequity and a promise to be inclusive in all aspects of business operations?
The easy answer is that promising to change acknowledges a problem that you have the power to fix. It's much easier to point the spotlight elsewhere to avoid scrutiny or accountability. But focusing on external promises doesn't save a company from potential backlash. Many firms have made pledges to racial justice initiatives or to support Black-owned businesses and employees, yet employees still find themselves having to out inequitable practices and shareholders still need to sue over discriminatory practices citing breaches in fiduciary responsibility.
While companies have been eager to show support for marginalized communities outside their company walls, the lack of internal reform can leave their own employees feeling confused, isolated, and even angry.
I speak to over a thousand consumers and hundreds of business executives annually. Employees, like all brand stakeholders, are also finding their power in social media and it's becoming more important than ever to have congruence in both public messaging and internal operating philosophies to avoid these kinds of events.
What should brands be doing to make good on their external promises?
Acknowledge and work to close the pay gap. Census Bureau data tells us that for every $1 a white man makes, a Black man makes 87 cents, a white woman makes 75 cents, a Black woman makes 62 cents, and a Latinx woman makes 54 cents. Creating equitable compensation systems is in your control, so change it. Hire an auditor, find the gaps, and recalibrate the salary ranges.
Moreover, companies should prioritize inclusive recruiting. When it comes to finding Black talent, some companies singularly focus on building relationships with HBCUs. This is a missed opportunity; when they are looking for female talent, they don't singularly focus on women's colleges. Remember that HBCUs represent only about 20 percent of all Black college students and alumni. Effectively reaching the vast majority of Black talent requires making existing recruiting programs more inclusive.
Finally, companies must treat diversity, equity and inclusion efforts as a way to innovate. DEI is interdisciplinary. It's not just something that lives in HR, because bias can exist in every aspect of a business. Take it out of HR and other siloed activities and let it live and breathe throughout the organization so it can be leveraged to improve the workplace and the marketplace.
Performative activism creates a false sense that we're seeing something happen in response to the public outcry for change. While I'm not asking companies to stop donating or creating events, I am asking leaders to pair their external initiatives with internal organizational transformation. It's only through this change that we can give communities what it's really asking for, and in exchange boost engagement with the companies that truly care about the people they employ and serve.
Janelle James is a marketing strategist, consumer expert, and DEI Specialist. She has a BA in Sociology and African American Studies and an MBA from Harvard. Currently she's a Qualitative Consultant at Kantar and Co-Chair of The ARF's Cultural Effectiveness Council.
The views in this article are the writer's own.