Business
Poverty relief exchanges help ASEAN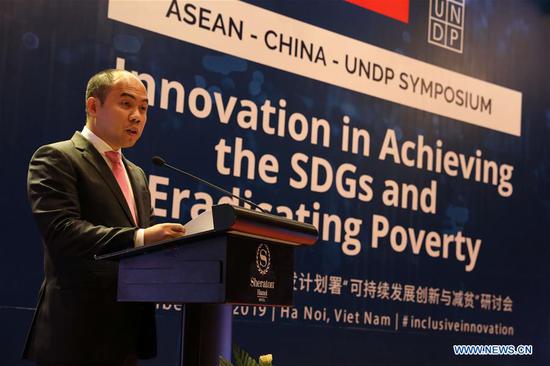 Kung Phoak, deputy secretary-general of ASEAN for the ASEAN Socio-Cultural Community, delivers a speech at the opening ceremony of the ASEAN-China-UNDP symposium in Hanoi, capital of Vietnam, Sept. 4, 2019. (Xinhua/Wang Di)
Special: 100 Years of the CPC
Bloc's 10 member states have 'learned tremendously from China's success'
ASEAN Secretary-General Lim Jock Hoi has hailed poverty relief exchanges between China and the regional body as being crucial to Southeast Asian countries' recovery from the COVID-19 pandemic.
The global novel coronavirus outbreak is reversing progress made in curbing poverty in the region in recent decades, putting its people at "heightened risk of falling back into deeper poverty", he said in a video speech at the 15th ASEAN-China Forum on Social Development and Poverty Reduction on Tuesday.
"Far more than a health crisis, it is evident that the ongoing pandemic has jeopardized our gains and successes in economic, social and human development," Lim told the annual forum, which opened in Beijing on Tuesday. It has previously been held in Vietnam, Indonesia, Myanmar, Laos, Cambodia and the Philippines.
Citing a 2020 report on the region's fulfillment of the United Nation's 2030 Sustainable Development Goals, the ASEAN chief said member nations had been gaining ground in curbing poverty over the past 30 years, both individually and collectively.
However, 18 percent of the region's rural population is still labeled as poor, with women being more vulnerable, and that means poverty remains to be "systematically tackled", he said.
Adding to complications are rapid urbanization, demographic shifts and climate change, he said.
Lim said that fortifying partnerships and forging ahead optimistically are the only ways to recover from pandemic-induced disruptions for ASEAN members and China, which are all committed to peaceful development, stability and multilateralism.
He said ASEAN countries have "learned tremendously from China's success in eradicating poverty" thanks to meaningful exchanges in recent decades, and China's success in ending domestic poverty early this year is an inspiration for countries wishing to emulate that achievement.
Deng Xijun, China's ambassador to ASEAN, told the forum that China and the region's traditional collaboration previously focused on agriculture, transportation and health. That had, over time, expanded to a wider range of areas such as trade, tourism, poverty monitoring and evaluation, and environmental governance.
The developments have bolstered local poverty reduction and rural development, helping the region deliver the 2030 goals in advance, he said.
Wang Zhengpu, head of the National Rural Vitalization Administration, a forum organizer, said the forum was created to bolster high-level exchanges, institutional interaction and practical cooperation, and over time has become a key regional platform for dialogue and a "treasure trove of wisdom "for solving problems.
He said the 15 years since the first forum was held have marked a crucial era in China's poverty reduction cause.
Over the period, the Communist Party of China, which celebrates its 100th anniversary on July 1, has ramped up anti-poverty efforts and eliminated absolute poverty on the Chinese mainland. Since late 2012, the Chinese government has managed to pull almost 100 million rural residents out of dire poverty and made sure they have access to food and clothing, compulsory education, basic healthcare, housing and safe drinking water.
Wang said China has contributed wisdom, practice and strength to global poverty reduction by hitting the zero poverty goal set out in the UN's Agenda for Sustainable Development 10 years ahead of schedule, despite pandemic-induced uncertainties.
The forum's organizers also include the International Poverty Reduction Center in China, the ASEAN Secretariat, and the United Nations Development Programme. The attendees include government officials from eight of the 10 ASEAN countries and representatives from international organizations.