News
Putin gains little from taking Bakhmut as forces appear to break through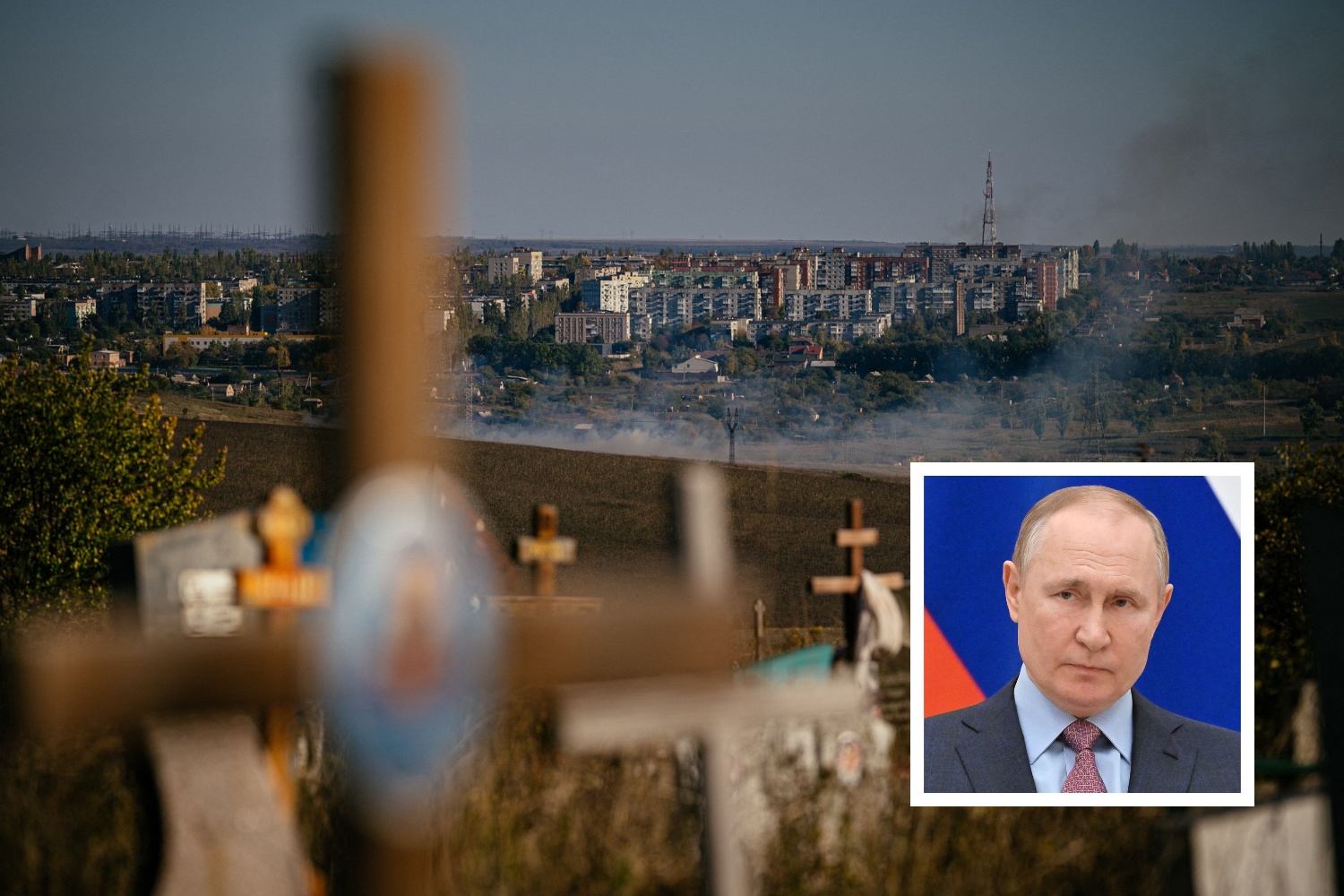 Russian forces have reportedly penetrated the eastern lines of Bakhmut in Ukraine's Donetsk region, though its overarching impact is perceived by experts to be minimal on a tactical level and mostly symbolic.
Pro-Russian Telegram channel Rybar reported Wednesday that Russians breached the lines, mere days after Ukrainian President Volodymyr Zelensky declared that Russian shelling had turned the city into ruins. Donetsk is one of the four regions annexed by Moscow in September.
Though the report could not be independently verified by Newsweek, the Washington-based think tank the Institute for the Study of War (ISW) confirmed that Russian military forces have continued an offensive in the region, stopping short of confirming or denying whether the eastern outskirts have been breached.
The ISW cited Rybar when mentioning that Russian mercenaries, part of the Wagner Group, established full control of the Bakhmut Champagne Winery and Siniat enterprise in Bakhmut.
The Wagner Group is a paramilitary group that includes mercenaries from the Russia state-linked Wagner private military company, formed in 2014 during the war in Donbas in eastern Ukraine and Russia's annexation of Crimea.
An unnamed senior Pentagon official said Tuesday that intense "heavy" combat in the Donbas region continues as Russians continue attempts to take control of Bakhmut. Prior to Russia's annexation, Donetsk and Luhansk composed the Donbas.
"Russia continues to employ missile and drone strikes against Ukraine's energy grid and civilian infrastructure, inflicting significant damage and killing innocent civilians as part of Russia's illegal invasion and brutal occupation," the official said.
Maria Popova, associate professor of political science at McGill University, told Newsweek that Bakhmut isn't important strategically or militarily.
"The political significance of controlling Bakhmut overall is minor too—capturing a small, destroyed city after a prolonged battle will not indicate that Russia has regained momentum in the war," Popova said. "Even with control of Bakhmut, Russia will still be losing ground overall."
She said the significance relates to Putin ally Yevgeny Prigozhin, founder of the Wagner Group, and the group's ability to change the course of the war.
"Whether he succeeds or not could be politically consequential to internal regime dynamics—a captured Bakhmut strengthens Prigozhin's hand, though not decisively because it'd be a rather pyrrhic victory," she added.
William Reno, professor and chair of the political science department at Northwestern University, told Newsweek that small advances could be perceived as minor tactical victories for Russia.
"That 'win' comes at the expense of ammunition and personnel, which draws from Russian efforts to establish defensive positions elsewhere across the front," Reno said. "Russian activities around Bakhmut may point to differences within the Russian military and political leadership."
While Prigozhin may view the situation as bolstering his own position in Moscow, Reno said, Russian Defense Minister Sergei Shoigu appears to support establishing a stable defensive posture.
Chris Jensen, associate professor of political science at the University of Nevada, Las Vegas, echoed the perspective of Russian leaders like Putin and Prigozhin taking any win they can to beef up their own status through state media.
Jensen also told Newsweek that Europe "is more unified than ever in seeing Russia as a threat," pointing to the enlargement of NATO with the inclusion of Finland and Sweden, increases in European military spending, a rapid shift away from dependence on Russian oil and gas, and direct financial and military aid to Ukraine.
"A tactical win in Bakhmut, assuming the reports from Russian sources prove reliable, won't change the big picture much….A Russian win in Bakhmut [even if they take the entire town], is unlikely to change any of that," Jensen said.
Javed Ali, an associate professor in the Gerald R. Ford School of Public Policy at the University of Michigan, told Newsweek that Bakhmut is a microcosm of the ebbs and flows of the ongoing conflict.
"Over the past year both the Ukrainians and the Russians have demonstrated an ability to make advances, hold territory, but then withdraw to different locations in order to regroup from losses and consolidate for future operations," Ali said. "Putin will likely promote Russian gains in Bakhmut as a strategic sign of renewed momentum that can carry over into different parts of the campaign.
"The reality, however, will probably be far different as the war has shown thus far. And Ukraine is very likely to push against Russian formations there or elsewhere in the near future."