Entertainment
SEAL Team Season 7: Cast, Release Date, and Everything Else You Need to Know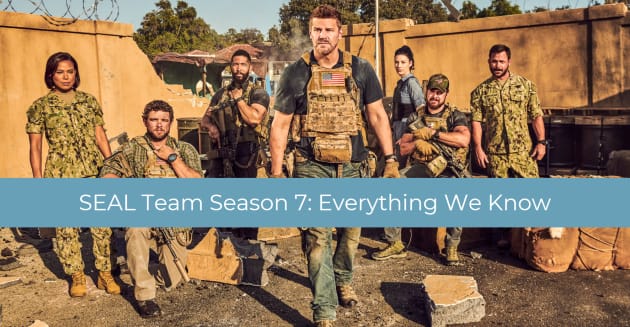 We've been waiting for SEAL Team Season 7 updates since SEAL Team Season 6 went off the air in November.

The series has consistently delivered plenty of action as we follow the lives of the Bravo Team and those in their orbit.

Unfortunately, it doesn't seem like SEAL Team Season 7 will be on the air soon, but we TV Fanatics have rounded up everything to know about the season ahead.

SEAL Team Season 7 Renewal Status

It was the most expected TV news, but Paramount+ officially picked up SEAL Team Season 7 in January.

Yes, it occurred a little later than we expected, but there was no way the streaming service would leave us hanging after the conclusion of SEAL Team Season 6 Episode 10.

It's good knowing that our favorite show is returning, but there were some concerns that the streaming service held off longer than usual for an official announcement.

How Many Episodes Have Been Ordered for Seal Team Season 7?

SEAL Team Season 6 clocked in at just ten episodes, making fans question the streaming service's decision.

However, ten episodes align with the norm for seasons of streaming TV series.

SEAL Team started its life on CBS, but the streaming landscape is completely different from broadcast, so we should be looking at another ten episodes.

SEAL Team Season 6 did struggle to serve all of the characters we've grown to love, so hopefully, SEAL Team Season 7 will be able to switch things up to get the show back to its former glory.

Who Will Be on the SEAL Team Season 7 Cast?

The end of SEAL Team Season 6 Episode 10 left us with the sense that Bravo Team will look completely different on SEAL Team Season 7.

We'll start with the obvious: Max Thieriot will not return as Clay Spenser.

Clay was brutally killed off towards the end of SEAL Team Season 6 as he tried to help a struggling war veteran at a recruitment facility.

It was a harrowing turn of events, but it wasn't all that surprising. Thieriot has moved on to Fire Country, which has emerged as a bonafide hit for CBS.

If anything, fans counted their blessings every time Max appeared on-screen because it must have been difficult shooting two shows simultaneously.

It remains possible that Thieriot could pop up in flashbacks or as a vision for one of the other characters. Anything's possible.

Beyond that, the cast should remain relatively intact. David Boreanaz's Jason Hayes shocked his peers when he revealed the truth about suffering from the effects of a TBI.

Just when it seemed Jason's time on the team was over, his colleagues marched into the room to reveal their own ailments.

It was an empowering scene filled with raw emotion as these men revealed everything.

Neil Brown Jr. (Ray Perry), A.J. Buckley (Sonny Quinn), Toni Trucks (Lisa Davis), Judd Lormand (Eric Blackburn), and Raffi Barsoumian (Omar Hamza) should all be back.

Omar didn't get off to the best start with Bravo Team at the beginning of SEAL Team Season 6, but he profoundly impacted the team by the end.

The biggest question mark is Jessica Paré as Mandy Ellis. Mandy was a pivotal part of the series' first four seasons but elected to leave the show as a series regular.

Thankfully, Paré has continued as a guest star, so fans have been able to watch Mandy and Jason's relationship grow.

When Will SEAL Team Season 7 Premiere?

In one of the most surprising developments, details have been scarce since the series landed a renewal for Season 7.

If we look at prior seasons, the show should be premiering around the third quarter of 2023.

It's unclear how the WGA strike affected that, and now, we have a SAG-AFTRA strike.

There's a chance that some episodes were filmed before the strikes, but without a complete season in the can, it's unlikely Paramount+ will debut the season in the near future.

Unfortunately, this kind of show doesn't benefit from lengthy hiatus.

Hopefully, a fair deal is reached for the writers and actors so that they can return to doing what they love.

It's also possible production didn't have any episodes in the can, so if the strikes go on for another couple of months, our best guess is that SEAL Team Season 7 won't be on the air before mid-2024.

What Will SEAL Team Season 7 Be About?

The series will have to pick up in the aftermath of SEAL Team Season 6 Episode 10 to tell the story of how everyone is moving on from helping Jason in his time of need.

Bravo Team has become a brotherhood, with everyone hinging on each other for help, like a family.

We know Ray plans to leave the team, but things may have changed by the time SEAL Team Season 7 Episode 1 airs.

It's also possible that Bravo Team won't even be intact when the series gets underway.

It's interesting because so much is up in the air, so this storyline could go in several directions.

Is the SEAL Team Movie Still Happening?

Paramount+ ordered a SEAL Team movie in early 2022, but no details had been shared about it by the end of SEAL Team Season 6, leading to questions about whether it will actually happen.

In an interview with TV Insider at the beginning of SEAL Team Season 6, showrunner Spencer Hednut revealed he couldn't share many details about the project.

"We just wrapped Season 6 a week ago in Jordan. So we're just kind of focused on having a great launch of this and hopefully giving the fans a great season," he told the outlet.

"And then after that, movie, Season 7, there's a lot more stories to tell and we're excited to tell them — hopefully have the opportunity to tell them, I should say."

What are your thoughts on everything we know about SEAL Team Season 7 so far?

We'll update this post every time there's a new development on the TV news front, so keep it bookmarked to keep up to speed.

Stream the first six seasons on Paramount+.
Paul Dailly is the Associate Editor for TV Fanatic. Follow him on Twitter.