News
Southwest Airlines passengers are still missing bags days after canceled flights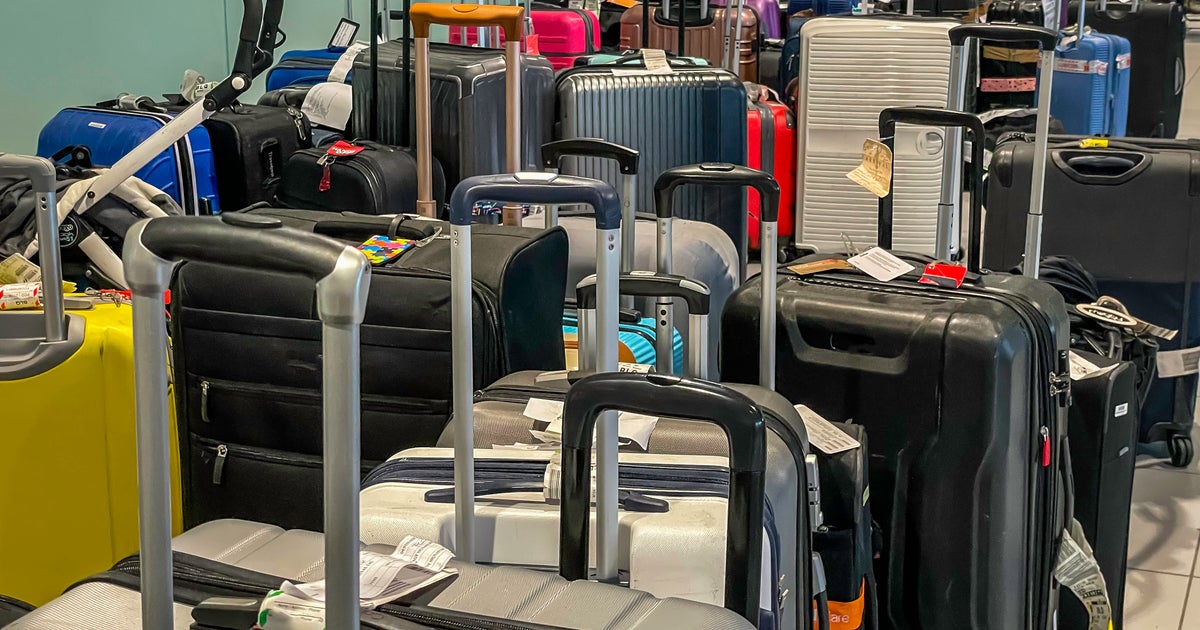 Some Southwest Airlines passengers whose bags went missing during the carrier's scheduling meltdown in December are still struggling to locate their belongings — more than a week after their original flights were canceled. 
Although the airline claims it has returned to a normal flight schedule, passengers whose holiday trips were canceled or delayed remain incensed, expressing frustration that the airline has still not reunited them with their checked bags. 
Southwest customer Patti Foster told CBS MoneyWatch it took over a week for the airline to track down her checked luggage after her Dec. 25 flight from Chicago Midway International Airport to Reno, Nevada, to visit her son, was canceled. She caught a connecting flight in Kansas City, Missouri, but was unable to catch a flight to complete her journey, eventually abandoning her plans altogether and returning to Chicago. 
Foster, who had checked two bags, said that in landing back in Chicago she saw "thousands of pieces of luggage, some of which were falling off the conveyer belt." None of them belonged to her, she said.
"I'm shocked that people weren't getting injured," Foster said, noting that over the following days she returned to Midway Airport to look for her luggage — to no avail. 
More than a week after her initial trip, Foster's bags were finally returned to her.
"They called me from Kansas City and told me it was there and it never got on a plane," she said. "So it got on a flight eight days later. They found the other one at Midway, and I went to pick it up on Jan. 2."
Social media was also alight with posts from angry Southwest customers describing their struggles to find their lost bags. One Twitter user who said his Dec. 22 Southwest flight from Boston to Denver was canceled and that his luggage remains missing, called his experience with the airline "absurd." 
"I really have no words for the complete end-to-end issues I've had with @SouthwestAir over the past two weeks," the peeved customer wrote on Monday. 
Nine days after he was first scheduled to fly, he said he still had not been reunited with his checked bag.
Southwest did not indicate how many pieces of checked luggage it has returned to customers, nor how many bags remain stranded. 
"Our people are making significant progress reuniting customers with their bags as quickly as possible," a company spokesperson said in a statement to CBS MoneyWatch. "Teams are in the process of scanning bags and contacting those customers to work out logistics to get their luggage back to them using a variety of methods — whether it's picking it up at a nearby airport or shipping it to them." 
Customers are advised to visit Southwest.com/traveldisruption to report missing luggage. 
Some air travelers have stopped relying on airlines altogether to keep track of their bags, opting either to use a carry-on or to place Apple AirTags in their luggage for relatively accurate, real-time tracking. 
"Bags are being lost left, right and center, and more often than not the airline hasn't simply lost the bag, but is also unable to tell you whether the bag is at its origin, destination or somewhere else," said aviation analyst Alex Macheras, who has been using AirTags to track his belongings since Apple released the devices in April of 2021. 
"This is a small area of air travel that people can take under their control when so much of the experience, like weather and delays, cannot be controlled," he added. "Anything that can give you that sense of control helps you have a smoother experience."