Entertainment
Stephen Hill Talks About Magnum P.I., His Good-Guy Character, and the Break That Landed Him in Hawaii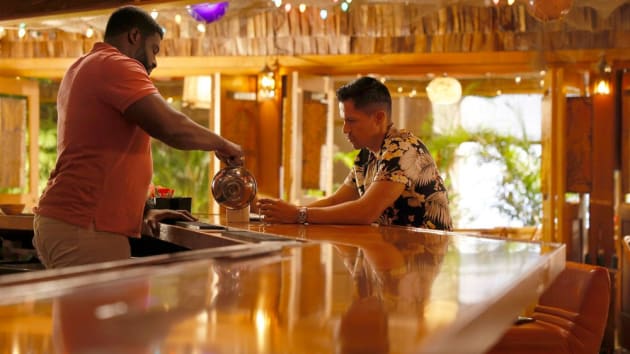 Stephen Hill is happy to be soaring in the skies above Oahu again.

That's a bit of an exaggeration as Hill's character, Theodore Calvin, is a chopper pilot on the NBC drama Magnum P.I.

But recently, he found himself up in the air as CBS canceled the series after four seasons, only to have NBC scoop it up about six weeks later.

In an exclusive interview, the cordial Hill said that he never doubted that the tales of T.C. and the rest of the Magnum gang would continue.

"There was something in me that felt so unfinished with this project and this character," Hill recalled. "It felt unnatural not to be working on it. I also knew they were working on bringing it back behind the scenes. The fact they were even working on it gave us hope from the very beginning."

And when word of the pick-up came down, "My reaction was, 'Great! Now I get to explore more of this character,'" he said. "I love the character and felt like there was so much more to explore."

Also, Hill felt for the ohana that the Magnum production team has become.

"To be honest with you, I know so many people here on the ground now, and we have become a big family," he added. "It was great to know that everybody was going to work again."

The night before the interview, Hill watched episodes of the original Magnum, which aired in the 1980s, and he felt it had held up well.

He can't believe he's now a part of the Magnum canon.

"I'm so blessed, I'm so tickled, to be watching it because it's been great to see Roger Mosley and Larry Manetti," he explained. "I've gotten to meet and hang out and have meals and meet the families of both of them. It's really cool to go back and nostalgically see how they blazed the trail for me to carry on the torch for them."

He also enjoys seeing the changes in Oahu itself.

"It's fun to see the island and see how it's changed," he explained. "Waikiki Beach, which is one block away from me, used to be wider. The water is closer to the shore now. Little things like that are so cool to see."

Timing is everything when it comes to rebooting a classic, Hill said.

"The beauty is that we came along more than 30 years later," he added. "I think if we had tried to reboot Magnum 10 years after, it wouldn't have worked. What is it they say? Every 30 years, every generation, things come back in style. We went from skinny jeans to bell bottoms again. And Magnum P.I. is back on the air."

Hill, an NYC theater actor at the time, landed the T.C. role being in the right place at the right time. He had just landed a part on Manifest when he was sent to New York to read for T.C.

"I ended up booking the role and was in Hawaii within 72 hours off of one audition," he reminisced. "It was absolutely incredible, like I had hit the lottery."

That was when Hill met two people who would be essential to his next project: Jay Hernandez (Magnum) and Zachary Knighton (Rick).

"When I first got here, I had been an actor hoofing it to auditions in New York City and doing plays for $1,000 for three weeks," he explained. "When I first got to Hawaii, which is very expensive, I couldn't afford apartments out here."

Knighton, living at Hernandez's house then, suggested that Hill call Hernandez, who had an empty guest room. And the rest was T.V. history.

"I got to move in with them, and we all got really close," he recalled. "By the time I got paid and moved out, we just had a bond that was unbreakable."

Living in Hawaii is another bonus, Hill said.

"I'm glad I got out here in my 40s instead of my 30s," he mused. "In my 30s, me being a New Yorker who is used to that fast pace in New York, I don't know how I would have fared with the slower pace of Hawaii. I'm at that point in my life where the slower pace is welcome."

The flip side of that is the leisurely drivers in Hawaii.

"The thing I don't like is how people like to drive in the passing lane on the highway," Hill said. "They seem to think it's the opposite: the passing lane is the cruising lane. Other than that, this location is great."

On the series, T.C. often has had to be the adult of his team, although Thomas and Rick are maturing this season. Hill doesn't mind playing that role.

"T.C. is a great character to play," he said. "Television has many characters that are villainous, that will do anything for themselves by hook or crook. We know those characters. You don't very often get the good guy like T.C. I like playing the good guy because I don't have to go home with a heavy heart, based on the work I'm doing.

"Next, after T.C., I might end up playing the role of a character that isn't such a nice guy, who doesn't take care of everyone, that doesn't have the moral compass that T.C. has," he added. "So I'm enjoying it while I can. I think it's a great and rare opportunity to play a character with such a moral high ground. I can learn a lot from T.C."

T.C. has developed quite a family on the show, with foster son Cade, girlfriend Mahina, and most recently, mother Verna, who abandoned him as a child to deal with her mental illness before returning to his life on Magnum P.I. Season 5 Episode 7. How about a T.C. spinoff?

"Spinoff is a funny choice of word because TC is a chopper pilot," Hill joked. "Anything is possible in the film and television world. I love to watch the show Snowfall, and a couple of the supporting characters are supposedly getting a spinoff. I would love to continue with this character. But we'll see what happens."

Of his many roles, Hill finds being Verna's son the hardest for T.C.

"We'll see going forward in the season that they still have challenges," he said. "It wasn't wrapped up in a nice bow. There's more to come."

More family members mean more people to protect from the hit squad hunting former black-ops team members Magnum, Rick, and T.C. So how does he protect his people?

"T.C. is fortifying his surveillance at Island Hoppers," Hill said. "Mahina's helped him with that. They've put more cameras up in La Mariana. These guys are trying to get their forts together. Their heads are on a swivel all the time now. They're not doing the recreational things they've done in previous seasons. They're a little more buttoned up."

Hill was evasive about what the future holds for T.C.

"It gets very interesting and very dangerous for T.C.," he promised. "Some things will happen that might take the audience's breath away. It's coming very soon."

Magnum has gotten middling ratings since its return in February. But Hill remains optimistic.

"I like to put things out into the universe and speak things into existence," he explained. "I want to compete with the Hawaii 5-0s of the world. I want to go ten seasons. I'll take all the seasons I can get. I love it here in Hawaii."

Magnum P.I. airs at 9/8c on NBC, and you can watch Magnum P.I. online right here via T.V. Fanatic.
Dale McGarrigle is a staff writer for TV Fanatic. Follow him on Twitter.