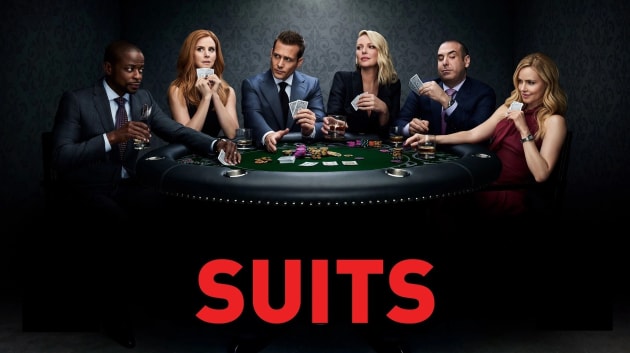 Suits won fans over with witty banter and tense drama in and out of the courtroom.

The series lasted Nine seasons and even spawned a short-lived spinoff series revolving around Gina Torres's character.

With a show lasting over 130 episodes, fans may wonder what the cast is doing now.

While some of the cast has had their name all over the news in the years following the show's end, others haven't seen such a large spotlight.

Find out what the cast is doing below!

Katherine Heigl – Samantha Wheeler

Heigl's character got introduced in the eighth season of the television series.

She became known as a ruthless lawyer and was involved in the money laundering investigation at Jarvis, Green, Ellis LLP.

Whether or not you're a big Heigl fan, Katherine Heigl is no stranger to the TV screen, and that won't stop anytime soon.

She played Dr. Izzie Stevens on Grey's Anatomy for over 100 episodes and a leading role in multiple short-lived series.

Since her 26-episode stint on Suits, she's starred in Netflix's adaptation of Firefly Lane's two-season run.

Firefly Lane was based on the book of the same name by Kristin Hannah. The novel follows the friendship and bond of Tully Hart and Kate Mularkey throughout the years.

Her role on Firefly Lane was her most successful since Suits, as her other shows, like Doubt and State of Affairs, got canceled after only one season.

She is also set to play the lead in the miniseries Woodhull, based on the book The Woman Who Ran for President by Lois Beachy Underhill.

Rachael Harris – Sheila Sazs

Rachael Harris appeared in multiple episodes starting on Suits Season 2 Episode 3.

Sheila got introduced as a Harvard University employee tasked with investigating associate satisfaction.

She eventually got involved with discovering Mike's false Harvard credentials, even though she tried to stay anonymous during her claims.

Harris had dueling jobs when appearing on her 28 episodes of Suits.

She started on the Network fantasy series Lucifer in 2016 before Suits ended in 2019.

She finished Lucifer's 93-Episode run, staying with the show through its shift to Netflix. The series did great on Netflix, running three more seasons after Fox's preemptive cancelation.

Everyone loved Dr. Martin; her character was a welcomed presence throughout Lucifer's entire run. Watching her form a bond with Lucifer proved very interesting, as his trust in the therapist grew throughout the show.

She's also had seven episodes on the over-the-top comedy series Reno 911, which airs on Comedy Central.

Aloma Wright – Gretchen

Aloma Wright appeared in 34 episodes, starting on Suits Season 5 Episode 2.

She appeared sporadically throughout the series up until the final episode.

Aloma Wright has starred in a few Christmas TV movies since Suits ended; she's also guest-starred in the Nickelodeon series Young Dylan (also known as Tyler Perry's Young Dylan).

Before her stint on Suits, she became a very successful actress. She starred in over 90 episodes of Scrubs and over 240 episodes of one of the few remaining soap operas, Days of Our Lives. Days of Our Lives is still a TV Fanatic favorite, with spoiler articles, reviews, and/or roundtables happening weekly!

Dulé Hill – Alex Williams

Before Hill's 35-episode run on Suits, he starred alongside James Roday Rodriguez for over 100 episodes on Psych. His run on Psych earned him critical acclaim and a significant fanbase.

After Suits, he reprised his Psych role for the three movies on Peacock! Psych is a fan-favorite show, so seeing him and Rodriguez back on the screen in the three (brilliant) movies was a treat for all.

He also stars as Bill Williams in the reboot of The Wonder Years, which airs on ABC. The series has performed well on ABC, receiving acclaim for the performances and new take on the story.

There is no current confirmation of a 4th Psych movie, but the characters remain popular, so a fourth outing may come sometime soon.

Wendell Pierce – Robert Zane

Wendell Pierce is a prolific actor, having worked on TV for a while.

He portrayed Robert Zane, Rachael Zane's father.

He repeatedly appeared throughout the series, starting with Suits Season 2 Episode 13.

Wendell Pierce was no stranger to TV and saw success before he appeared on 36 episodes of Suits, starring in The Wire and Treme.

He continued to see success after his run on Suits. He's quite the in-demand actor!

Post-Suits, he had a ten-episode run on Chicago P.D. and seven episodes as the voice of Death on The Watch.

Starting in 2018, he can be seen as James Greer in Amazon Prime's Tom Clancy's Jack Ryan, and he has appeared in all of the episodes so far!

Jack Ryan has been a popular show for Amazon, and Pierce has been a welcomed presence on the show as Ryan's former boss and close friend.

He also had a guest spot on the new hit drama Accused, which airs on Fox. Thankfully, Accused has been renewed for a second season because we cannot get enough of this new show!

Amanda Schull – Katrina Bennett

Amanda Schull worked on her 49 episodes of Suits while doing 47 episodes of Syfy's 12 Monkeys. 12 Monkeys lasted for four seasons, which is a great run by Syfy standards!

The 12 Monkeys TV series often got compared to its predecessor, the 1995 movie of the same name. While the argument of the best version remains, we agree that she performed Dr. Railly wonderfully.

After Suits, Schull could be seen starring in multiple Hallmark Channel movies, including Marry Go Round and Project Christmas Wish.

She's also had short guest runs on NCIS, MacGuyver, and The Recruit, along with a five-episode stint on 9-1-1: Lone Star. Most recently, she can be seen in the TV Movie The Blessing Bracelet.

Gina Torres – Jessica Pearson

Gina Torres's portrayal of Jessica Pearson won over fans.

Her can-do attitude, paired with her cunning actions, led her to quickly become a partner and a fan-favorite character.

Gina Torres took her character from Suits and ran with it.

Following the end of Suits, Torres starred in the shortlived spinoff Pearson as the eponymous character Jessica Pearson.

The spin-off premiered immediately after the series finale of Suits.

Following the cancelation of her characters' spinoff, she had multiple guest roles in shows like Riverdale and Westworld.

Torres can now be seen on 9-1-1: Lone Star as Tommy Vega, and her addition has been welcomed.

We love her as Tommy Vega here at TV Fanatic. She's a badass paramedic captain that took over for Liv Tyler on 9-1-1: Lone Star Season 2 Episode 1, and we are delighted she's part of the series.

Rick Hoffman – Louis Litt

Even with all the mudding, Louis Litt matured greatly throughout Suits' Nine Seasons.

Rick Hoffman was one of only three actors to appear in every episode of the series.

His character is often memorable for his weird one-liners and his unique interests.

During Suits' run, he had one episode on HBO's Ballers.

Rick Hoffman reprised his role on one episode of the Pearson spinoff.

After his short Pearson stint, he had four episodes in the Showtime series Billions.

He is currently in production for Thanksgiving (directed by Eli Roth), a feature film version of the Grindhouse trailer (which we are very excited for).

Sarah Rafferty –  Donna Paulsen

Sarah Rafferty was the second of three actors to appear in every episode of the series.

Donna started working with/for Harvey but got many different jobs throughout the series.

Donna and Harvey seemingly ended up together at the end of the series.

Starring in 134 episodes of Suits, Sarah Rafferty found success through the show and continued after (thankfully, because she was one of our favorites on Suits).

She had a three-episode guest run on the long-running network medical drama Grey's Anatomy.

She then moved to another network medical show, Chicago Med, where she starred for 17 episodes as Dr. Pamela Blake. Dr. Pamela Blake had become an interesting character before her health took a turn.

Her character had surgery on Chicago Med Season 7 Episode 22 and only appeared briefly in the premiere of Season 8. Her character seems to have been written off the show for now, but she's still alive, so who knows!

She is currently in production for the television series My Life with the Walter Boys for Netflix.

Meghan Markle, Duchess of Sussex – Rachel Zane

Rachel Zane was the daughter of Robert Zane.

Meghan Markle left the series simultaneously as Patrick J. Adams but for different reasons.

Rachel and Mike moved to Seattle at the end of season seven to open their firm, but she did not return for the final season as Adams did.

Meghan Markle got thrust into the spotlight when she started dating Prince Harry, and it didn't stop after their marriage.

After public dealings with the palace, they opened their own production company Archewell. They have produced a podcast called Archetypes and a Netflix docuseries, Harry & Meghan.

She and Prince Harry worked on another Netflix docuseries entitled Live to Lead. Their production company also produces a series entitled Heart of Invictus, which is projected to release during the summer of 2023.

Meghan Markle also has two children with Prince Harry. We hope they continue to live their loving lives and hope that we see more of the happy family.

We also are excited to see what else their production company can produce.

Patrick J. Adams – Mike Ross

Mike's story in the series snagged viewers in on Suits Season 1 Episode 1.

Mike has passed the Bar exam many times but never as an official college student. He never became a legitimate lawyer until Season 6.

At the end of Season Seven, Adams left the show, and Mike went off to create his firm in Seattle with Rachel.

Before Suits finished its run on USA Network, Adams appeared in five episodes of Prime Video's Sneaky Pete.

After his run on Suits, Patrick J. Adams went on to star in the Disney+ series The Right Stuff as John Glenn, the first American to orbit the Earth.

He's also had a four-episode run on Prime Video's A League of Their Own.

He had a starring role in the TV miniseries Plan B, which aired in Canada, based on the Québécois series of the same name. The show follows a young lawyer discovering how to travel through time to fix his relationships and create his perfect life.

There are (currently) no plans to bring Plan B over to the States, but the international rights have been bought, and we would love to see Adams in this time-traveling science-fiction series.

Gabriel Macht – Harvey Specter

Gabriel Macht is the final actor to appear in every episode of Suits.

He was the main character of the series, and Harvey broke many rules during his time as a lawyer.

Following the end of Suits, Harvey appeared on Pearson Season 1 Episode 5, but he's been absent from on-screen projects since then. We assume he's living happily after his successful run on one of USA Network's most prestigious shows.

He did spend a little time in the limelight attending Harry and Meghan's wedding as a guest of Meghan Markle.

So Fanatics, have you seen the cast of Suits in their other projects?

Who would you want to see in a new show?

Let us know your thoughts in the comments below!
Michael Stack is a staff writer for TV Fanatic. Follow him on Twitter.