Sports
'Terio at Popeyes' kid, now a CFB player, signs NIL deal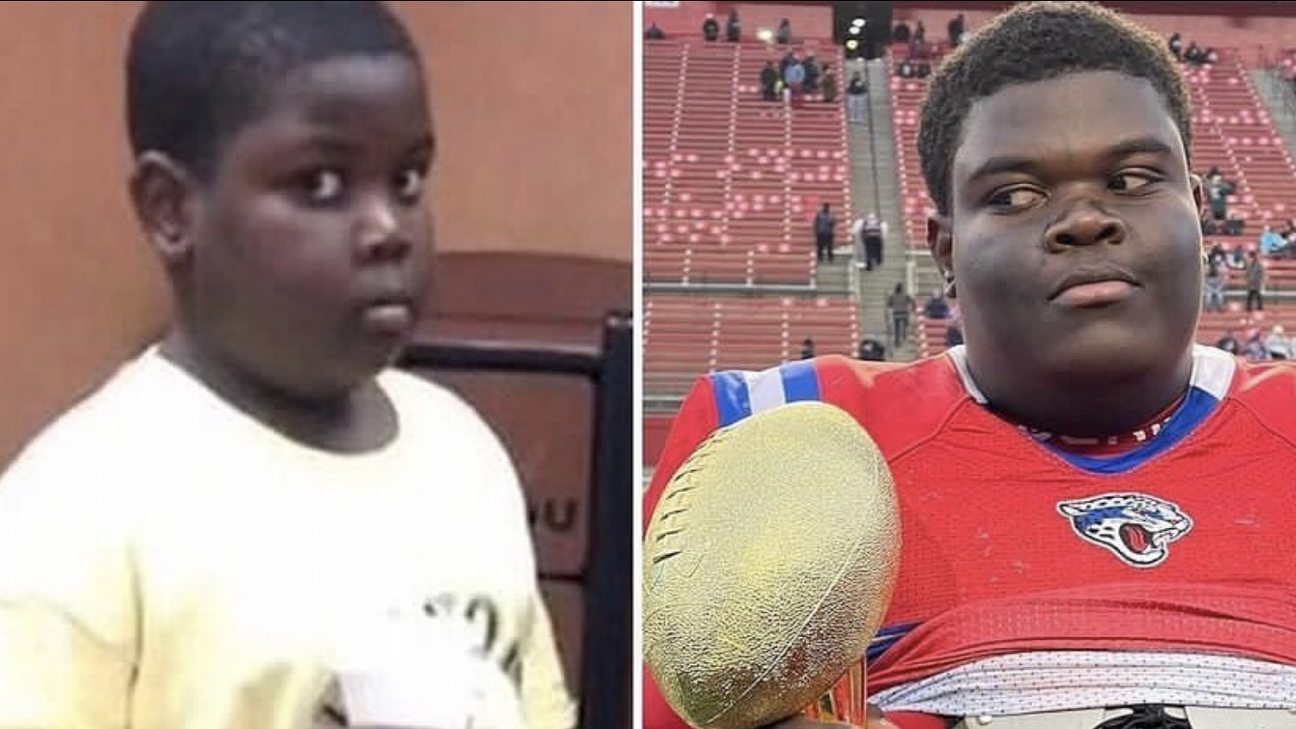 When Dieunerst Collin was nine years old, he inadvertently became a meme. As a young boy, he was holding a Popeyes drink cup looking suspiciously at the camera as the cameraman teased him about his resemblance to the viral star "Lil TeRio." The video took off, and Collin's likeness appeared in memes expressing uncertainty or awkwardness.
At the time, he didn't like that he was gaining attention and he didn't fully understand why everyone knew who he was. It wasn't until recently that he came to appreciate the notoriety, and just days ago, Collin capitalized on his image.
On Tuesday, SportsCenter posted a photo of Collin winning a state championship with his East Orange High School football team next to the original meme image. Collin, now a redshirt freshman center at Lake Erie College in Ohio, thought he would take a chance and use the moment to benefit himself.
Because of new rules within the NCAA, Collin is allowed to profit off of his name, image and likeness. He tagged Popeyes on social media and he caught their attention with how he once again went viral.
"I thought this is probably the opportunity I can get with Popeyes to at least reach out," Collin said. "I went on Instagram and decided to post asking everyone to repost and tag Popeyes, not knowing that I would get all the support I got. People just started to join, on my post and people that were on the SportsCenter post, and I believe Monday afternoon was when Popeyes DM'ed me and said we actually want to work with you."
Collin said that Popeyes has offered him an NIL deal, but he has not yet signed the contract and couldn't disclose the details. He will help promote the restaurant chain and because the news of his deal has also spread across the internet, Collin is already starting to hear from other companies on potential contracts.
"I had Dude Wipes, they talked to me and they're sending me some products," Collin said. "I have one company that I've been with called Lock1N. It's an athletic brand from a football player I used to play with in high school."
Being from a small school such as Lake Erie, he is among the only football players there to have a name, image and likeness deal, but that hasn't stopped his teammates from supporting his reclaimed fame.
"My teammates were excited for me, because they believed I should be doing what I'm doing now with it," Collin said. "The fact that every teammate of mine [said] congratulations, asked if I was OK and they're rooting for me to make this bigger than what it is now."
Collin didn't feel comfortable with being a meme until he was in seventh grade. But once he did, he fully embraced it and took in the positive feedback he received.
He never meant to seek attention from it and as a young child, never thought he could make money off a silly video. But he has been presented with an opportunity to partner with the famous brand and he owes it all to the power of social media and the internet.
"I just want to thank everyone for going in the comments and tagging Popeyes," Collin said. "That actually led me to where I'm at now, so I'm grateful for that."