News
The best Amazon October Prime Day 2023 headphone deals: Last chance to save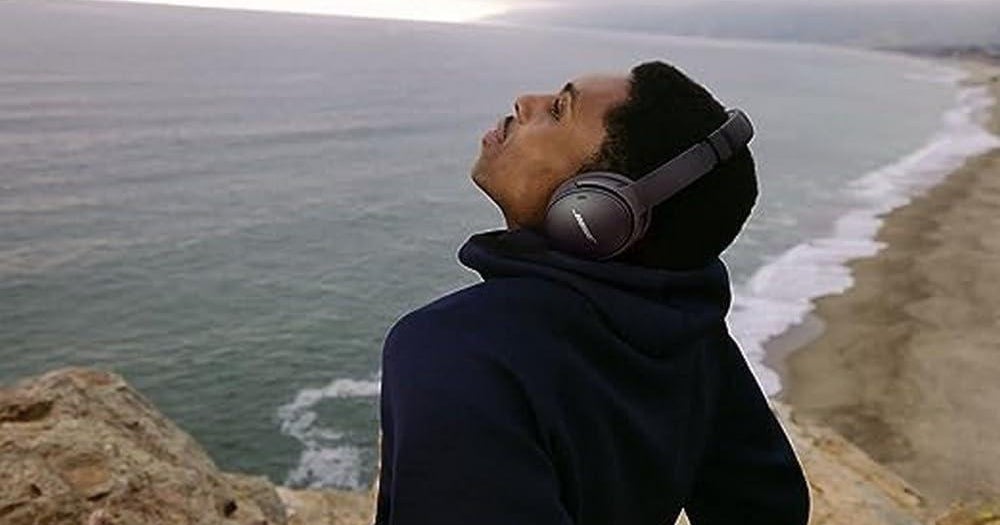 Listen up! It's time to pick up a brand new pair of headphones. Whether you use them primarily to check out new music, catch up on your favorite podcasts, or talk on the phone with them for hands-free chatting, hearing things with crystal clear clarity is always a plus. That's why, during the final hours of the Amazon October Prime Day 2023 sales event, you should snap up a deal on a new pair while you still can. 
One of the best deals you can snap up right now is this discount on the reliable, great-sounding Bose QuietComfort 45 headphones, one of our favorite picks for noise cancelling. Right now, you can get them at a 30% discount, making them just $229. That's a deal you won't want to pass up. 
Related: How we select our products
Both over-the-ear headphones and Bluetooth earbuds are on sale now. We found plenty of deals from brands like Bose, Apple, Samsung, Bowers & Wilkins and more. But act fast, because these deals are going, going, gone.
Best over-the-ear headphone deals at Amazon's October Prime Day sale
If you're looking for a new pair of over-the-ear headphones for the gym, or an audiophile-grade pair for listening to music at home, Amazon's the place to shop. Many of the best over-the-ear headphones of 2023 are on sale now.
The Bose QuietComfort 45 are a favorite of travelers and commuters, particularly those traveling on airplanes and trains. These headphones fold up and fit into a more compact hard shell case (compared to most higher-end headphones), so they're easier to transport when they're not being worn. They're also extremely comfortable, especially when worn during extended listening sessions. The padded ear cups use a comfortable layer of soft protein leather.
They provide excellent noise cancellation and decent battery life, along with adjustable EQ. (If you've never experienced noise cancellation on a plane, it's a game changer.) Plus, they make hands-free phone calls sound clear.
Regularly priced at $329, you can pick these 4.6-star-rated headphones up at Amazon's October Prime Day sale for $229.
Why we like the Bose QuietComfort 45 headphones: 
The Bose brand is synonymous with top-tier, high-end audio.
Gain full control over the headphones using the Bose Music mobile app.
The headphones come with a 3.5mm-to-3.5mm audio cable, so they can easily connect to an airline's entertainment system or another non-wireless audio source.
The QuietComfort 45 headphones offer active and passive noise cancellation with echo reduction.
---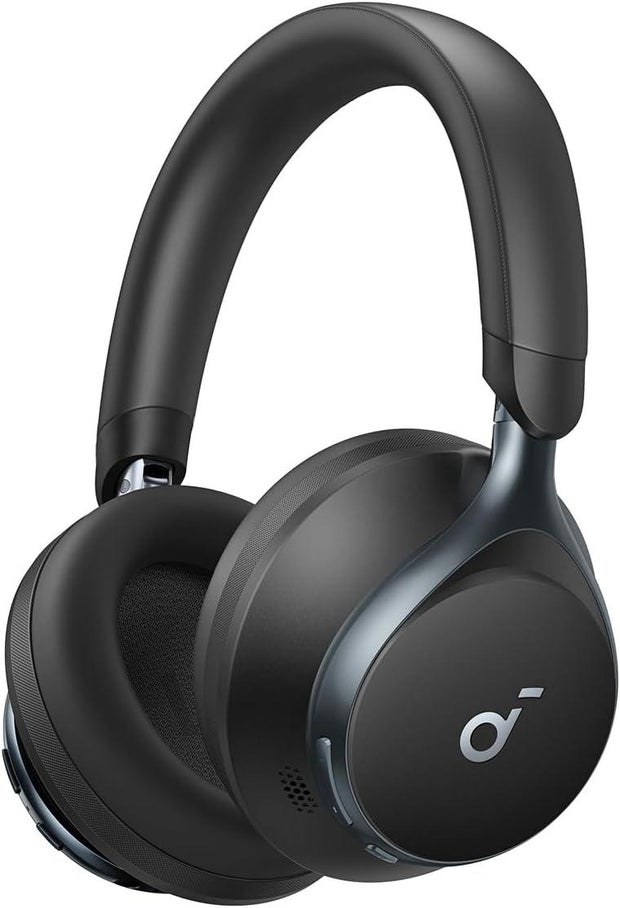 The Soundcore by Anker Life Q30 headphones are a fantastic deal at just $56. 
In this case, you do get noise cancellation, up to a 40-hour battery life and 40mm customized dynamic drivers that support LDAC (allowing for Hi-Res wireless audio). This means the audio you're listening to will sound clearer, richer and more robust than the what you'd get using ordinary Bluetooth headphones.
With cushioned ear cups that rotate up to eight degrees, these headphones will nicely conform to your head while evenly distributing pressure. This makes them comfortable even during extended listening sessions.
What we like about the Soundcore by Anker Life Q30 headphones: 
They offer high-quality, noise canceling headphones at a very affordable price.
Their adaptive noise canceling can detect external sounds and sound leakage while auto-calibrating in real time.
The Soundcore app lets you customize button controls, tune your EQ settings and tweak more options. 
You can get up to four hours of extra listening time with just a five-minute charge. 
---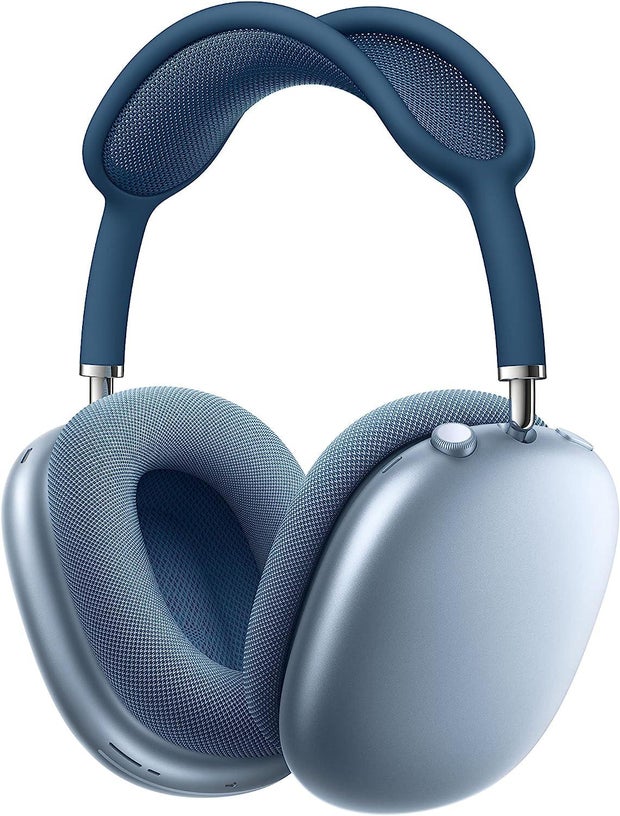 If you're already heavily invested in the Apple ecosystem and you're looking for headphones that sound incredible, especially when you utilize the spatial audio with dynamic head tracking, the Apple AirPods Max are a good choice. When listening to supported music or audio from a TV show or movie, it will sound like it's surrounding your head and will automatically adjust location with your head movements.
Also, like the AirPods Pro wireless earbuds, once you pair the AirPods Max headphones once with any compatible Apple device, such as your iPhone, iPad, Mac, MacBook, Apple TV, or Apple Watch, they'll automatically pair with whichever device you're using and will intelligently switch between devices whenever you do. Another feature that's only available to Apple users is that these headphones can be located using the Find My app if they get misplaced.
These headphones are currently $480 and up at Amazon. Price varies by color.
What we like about the Apple AirPods Max: 
The AirPods Max are ideal for Apple users, because they offer features that only work with other Apple equipment.
The onboard Crown button makes it easy to control the headphones.
The active noise cancellation works very well, especially on an airplane or in a loud, indoor or outdoor environment.
---
Just about everything about listening to audio through wireless Bluetooth headphones has been taken up a level with these premium Bowers & Wilkins headphones. In other words, these headphones will appeal to true audiophiles. Their biggest drawback is that they're expensive: $700.
The Px8s headphones offer Carbon Cone drive units that are specifically designed to reduce distortion and improve clarity in whatever audio you're listening to. While the audio quality is about as good as it gets utilizing a Bluetooth wireless connection with a sound source, the audio quality is even better when using a wired connection.
A total of six microphones are used to improve the performance of the headphone's noise cancellation, while also ensuring hands-free voice calls sound as crisp and clear as possible.
The Px8 headphones have ear cups that rotate 90 degrees, so they can lie flat when worn around your neck or when placed in the supplied hard shell case. This allows for a more streamlined (thin) case that's 2.48 inches thick. The hybrid noise cancellation feature does an excellent job keeping unwanted audio out, while still allowing audio in when you want to communicate with someone in the real world.
Why we like the Bowers & Wilkins Px8 headphones: 
These headphones offer extremely high quality music wirelessly or with the supplied audio cable.
Enhanced technology (compared to other Bowers & Wilkins headphones) allows the PX8s to bring out nuances in audio that make it sound more authentic and immersive.
They're the perfect option for absolute audiophiles. 
---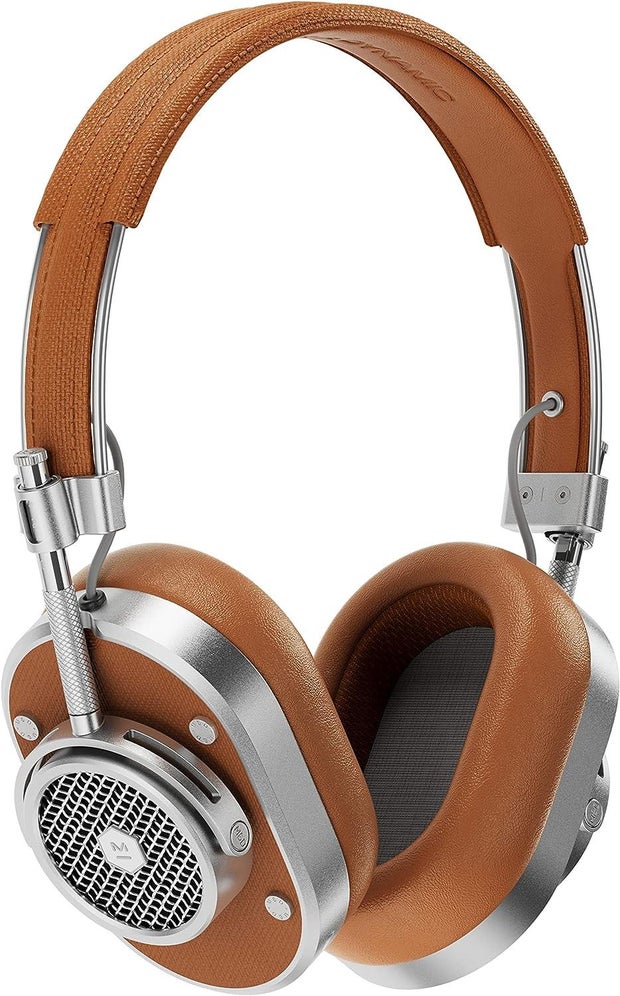 In addition to offering really good audio quality, we love the Master & Dynamic MH40 wireless headphones because of their unique two-toned appearance that combines leather, coated canvas and aluminum in a retro package. They're available in seven color options -– all of which are suitable for using in an office setting.
The anodized aluminum makes the headphones lightweight, while the cushioned ear cups use a soft lambskin leather covering. The headband is coated using a color coordinated coated canvas. The hardshell case matches the selected color of the headphones. The dual microphone array ensures calls sound clear, while the wind noise reduction improves audio when the headphones are being used outdoors.
The MH40 over-the-ear headphones use custom titanium drivers. We also like the fact that the ear cups are held to the headphones using strong magnets, while still being easily removable and replaceable. The padding of these ear cups adds an extra level of passive noise cancellation. Battery life is up to 30 hours, but using the quick charge feature, a 15 minute charge will provide an extra six hours of listening time.
Why we like the Master & Dynamic MH40 headphones:
The MH40s offer a truly unique retro design with very modern audio technology integrated into them.
Unlike most Bluetooth headphones with a 33-foot signal radius, the MH40s offer a wireless radius up to 100 feet.
The M&D Connect app allows you to adjust audio EQ manually or choose EQ sound profile presets.
---
Best earbud deals at Amazon's October Prime Day sale
Many of the best earbuds of 2023 are on sale at Amazon's October Prime Day sale. The discounts are deep, but there's not much time to act — the sale ends at 11:59 p.m. PT tonight.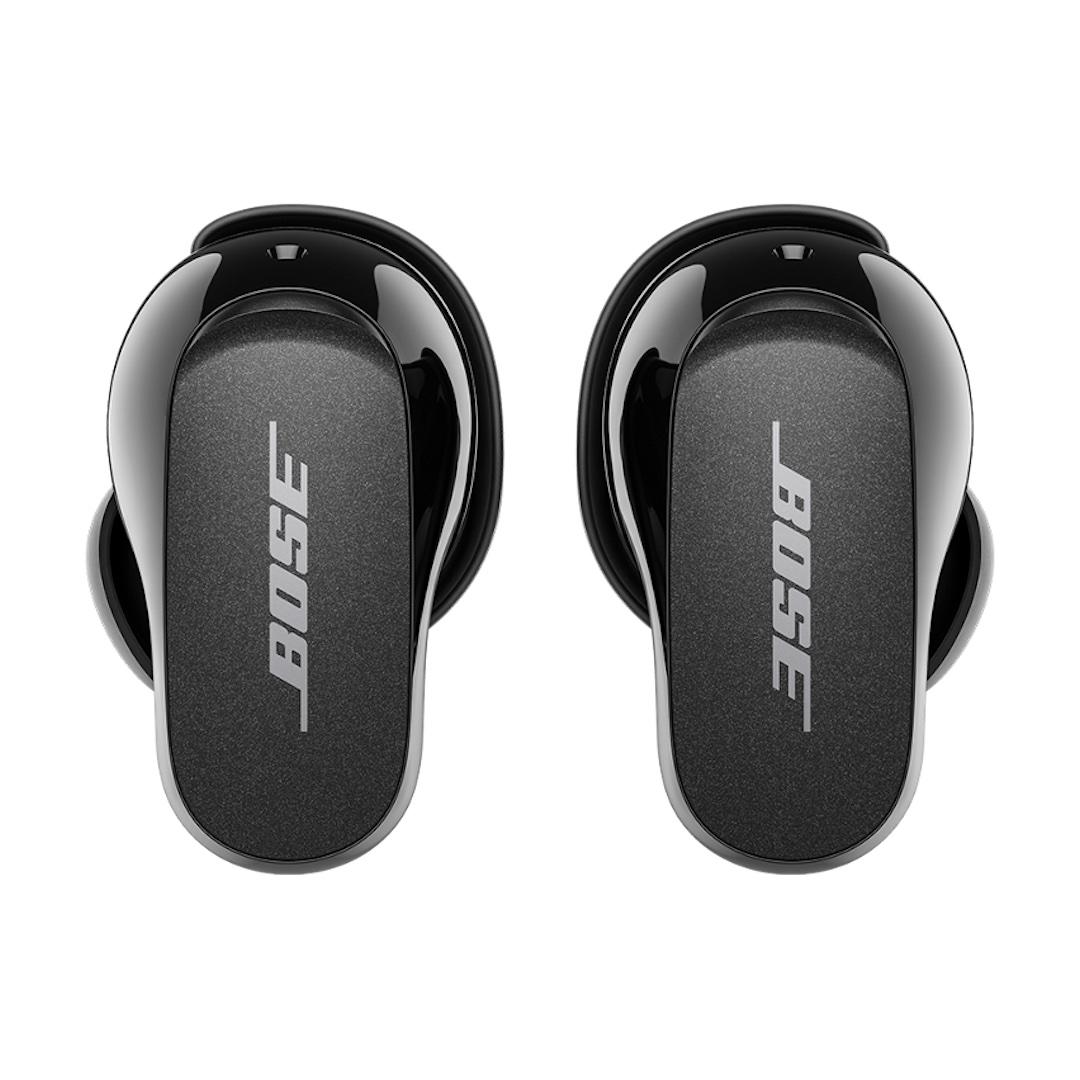 Bose products are known for their excellent sound quality, and the new Bose QuietComfort Earbuds II are no exception. They claim to offer the world's best active noise cancellation, and have a new CustomTune technology that auto-adjusts music to your ears' liking. They also have an "aware mode" that pauses noise cancellation for when you need to hear your surroundings. They're water- and sweat-resistant, too, so you can wear them to the gym.
The Bose QuietComfort Earbuds II offer six hours of battery life in a single charge, and come with a charging case that holds three additional charges (24 hours of battery life in total). You can control music, answer calls and adjust the volume by simply tapping your earbuds instead of having to use your phone. These Bluetooth 5.3-compatible earbuds are available in black and soapstone colors.
These headphones were originally priced at $299, and can be regularly found on Amazon for $279. But today, during Amazon's October Prime Day sale, you can get these earbuds for just $199, the best price we've ever seen for them.
---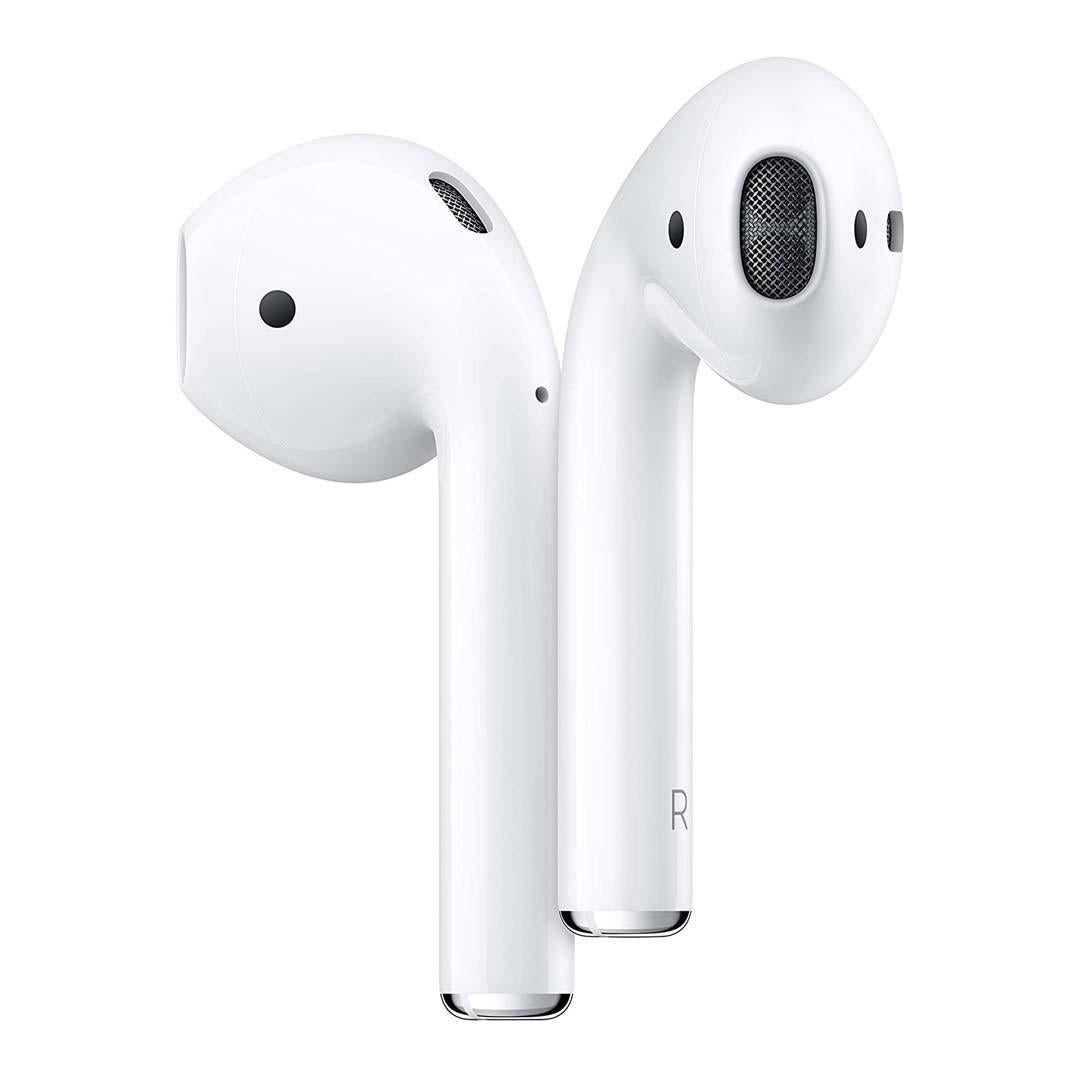 The second-generation Apple AirPods may not be the latest model, but they're still one of the most sought-after earbuds on the market. 
These are some of the most versatile earbuds you can buy if you're a regular iOS user. But beyond that, these are great earbuds that are perfect for tossing in your bag and heading out into the world. They just connect when you need them. There's no frustrating need to pair them.  
These 4.7-star-rated earbuds boast more than 24 hours of total listening time with the wireless charging case, fool-proof one-tap setup for Apple device owners and a low-latency wireless connection for full immersion when consuming movies and music. 
If you're in need of a daily set of earbuds that look and feel premium, these are a great and affordable option.
Why we like the Apple AirPods (2nd Generation):
Their clear and high-quality sound makes for immersive listening. 
They feature one-tap setup and intuitive controls for better convenience. 
They have an impressive battery life of over 24 hours with the charging case, and quick charging for on-the-go.
---
Our editors have picked the Apple AirPods Pro 2 as one of the best October Amazon Prime Day deals because of their price. These earbuds are easily our readers' favorite, and they've never been cheaper.
The design of the AirPods Pro 2 is fairly similar to the previous generation, but Apple has introduced touch control to the AirPods Pro 2 to help users more seamlessly control their AirPods. The latest Apple AirPods Pro 2 earbuds offer 30 hours of listening time with the included charging case. They have an upgraded wireless chip for improved audio functionality, a new low distortion driver for clearer audio and improved active noise cancellation.   
You can now choose between a USB-C compatible AirPods charging case or a Lightning compatible case. Both versions are on sale.
Why we like the Apple AirPods 2:
They have an upgraded wireless chip with improved active noise cancellation for enhanced audio quality. 
They offer 30 hours of listening time with the included charging case. 
 Their unique custom sound feature allows iPhone's camera to analyze ear anatomy for personalized audio settings.
---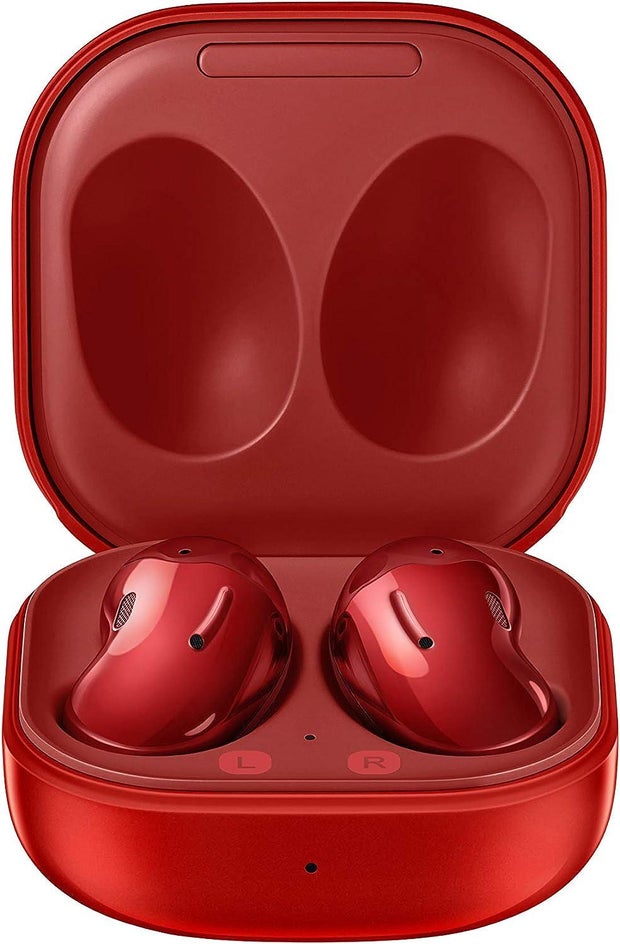 The Samsung Galaxy Buds Live are a standout pair of earbuds that deliver, whether you're tuning in during your daily commute or relaxing at home. They're the perfect accessory for going out and about and catching a podcast or taking your calls on the go. 
How's the audio quality, though? It's excellent. These earbuds boast rich, crisp, and full-bodied sound. Don't let their compact and sleek design fool you — these earbuds pack a punch when it comes to delivering sound that's satisfyingly clear and bassy. 
When it comes to battery life, they offer 8 hours of continuous playback on a single charge, and the charging case extends this further, offering additional charges that result in a total of up to 29 hours of playtime. That's more than enough to get you through a day of work, a long workout, and an evening of relaxation. 
They also come with a feature that allows you to easily connect with other Galaxy devices, such as tablets or phones, using Samsung's seamless device-to-device pairing. This means you can effortlessly switch between devices without the need to unpair and repair your earbuds. 
The best part? These top-rated earbuds are 25% off right now at Amazon.
Why we like the Samsung Galaxy Buds Live
They offer exceptional audio quality for rich and immersive sound.
They're compact and lightweight and come in an eye-catching charging case.
They're perfect for all-day wear and a natural, open sound experience.
They have an impressive battery life of up to 29 hours, with seamless device-to-device pairing for a smooth listening experience.
---
When is Amazon Big Deal Days?
The Amazon Big Deal Days sales event (also known as October Prime Day) kicks off at midnight PT (3:00 a.m. ET) on Tuesday, Oct. 10 and runs through Wednesday, Oct. 11, 2023.
---
What else is on sale during Amazon Big Deal Days?
During the Amazon Big Deal Days sales event, you'll also find big discounts across all of Amazon's departments, including home, tech, kitchen, fitness and so much more. This is the perfect time to kick off (and potentially even finish) your holiday shopping, without having to deal with Black Friday crowds and having the gifts you want to purchase being sold out. You'll find deals on luggage for your holiday travels, too.
---
Do you need to be a Prime Member to shop Prime Big Deal Days deals?
While some of the best Amazon Prime Big Deal Days offers are Prime-exclusive or invite-only, there will also be tons of deals that are open to all shoppers. So even if you don't have an Amazon Prime membership, there will be deals available to you.
If you want to shop the best deals, though, you'll want to sign up for a 30-day free trial of Amazon Prime. Prime memberships costs $14.99 per month or $139 per year, and include access to Amazon Prime Video (Thursday Night Football) and a number of other great perks.
---
What other stores are holding competing early Black Friday sales?
Savvy shoppers know that any of the Amazon Prime Day events offer the perfect time to find tens of thousands of popular products on sale from Amazon, including some at their lowest price of the year. However, many other popular online and retail merchants, such as Walmart, Target, Best Buy and even your favorite department stores, such as Macy's, all tend to kick off sales either at the same time or around the same dates as Amazon Big Deal Days.
---
Do products on sale during Amazon Big Deal Days sell out?
You bet they do — and sometimes things sell out within hours. If you see something on sale that you want to get your hands on during the Amazon Big Deal Days sale, order it right away. Often, quantities are limited. Once a product is sold out at the sale price, Amazon won't always restock right away and when it does restock, the sale price likely won't be offered.
---
Can products bought from Amazon during Amazon Big Deal Days be returned?
Unless it specifically states in the product description or near the "add to cart" and "buy now" buttons that the product being offered on sale is a final sale or not returnable, Amazon's regular return policy for that product will be honored. 
On the right side of a product description on Amazon, just below the "buy now" button (and where it says "ships from and sold by"), look for the heading that says "returns." 
If the text says, "eligible for return, refund or replacement within 30 days of receipt," that's the return policy that will be honored. However, you may be responsible for paying return shipping to Amazon, unless you drop off the product as a Whole Foods or Kohl's, which accepts some Amazon returns.
---
Best October Prime Day tech deals to shop now

The Prime Big Deal Days sale is one of your best opportunities this holiday season to save big on the hottest tech of 2023. Here are the best deals to shop now, while they're available.