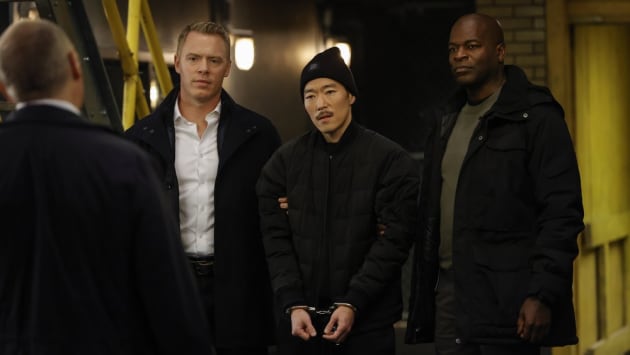 Wujing poses the greatest threat Raymond has ever faced.

Despite everyone, especially The Task Force, knowing this to be true, Raymond decided to downplay his fears or the threat, at least in other people's faces.

On The Blacklist Season 10 Episode 8, he decided to minimize the perceived threat of Wujing. Whether he truly considers Wujing to be a non-issue or he is trying to comfort himself remains to be seen.

If one thing is clear, Wujing has a plan, and he would be happy to die executing it. And speaking of death, he's not the only one.

TV Fanatic has an exclusive clip from The Blacklist Season 10 Episode 9 showing the fallout stemming from The Troll Farmer's sudden release from prison.

After failing in his mission to betray Wujing, The Troll Farmer is brought in for questioning, and he crosses paths with Raymond, who is at The Post Office. Chang has some words for Raymond.

It was clear that Wujing was planning on destroying Raymond's criminal empire by exposing his relationship with the FBI. But what if that is not enough?

The hate Wujing has developed for Raymond makes it such that nothing is off the table, and in his ramblings, Chang reveals that Wujing might be working on something else entirely.

Wujing is looking to kill Raymond.

Chang warns Raymond that he is running out of time and that his demise is inevitable.

Like before, Raymond downplays the threat and, in his true fashion, mocks Chang.

He calls Wujing a "washed-up assassin" who does not understand the rumors he is spreading. But we all know that all the rumors are true.

He tries to play the rumors as fake as he had done with Phillip on The Blacklist Season 10 Episode 8.

But to ensure his message comes across perfectly, he ends the act with a threat.

He promises hell to Chang if he doesn't reveal everything he knows about Wujing's plan to the Task Force, and then Chang is strutted away.

If you watch The Blacklist online, you know that this development changes things. It puts Raymond in the line of fire as directly as possible. His life is now in danger.

It was revealed that he had been working on something to end Wujing once and for all, and it better be epic because Wujing was gaining considerable ground every day.

Check out the clip below.

Reddington is quickly running out of tricks because his single act of claiming innocence and dishing out a threat can only work for so long and with so many people.

What do you think of this new development?

Is death the ultimate ending for Raymond, or will he emerge at the top as he'd always done?

Let us know in the comments section.
Denis Kimathi is a staff writer for TV Fanatic. He has watched more dramas and comedies than he cares to remember. Catch him on social media obsessing over [excellent] past, current, and upcoming shows or going off about the politics of representation on TV. Follow him on Twitter.