Entertainment
The Changeling Series Premiere Review: An Exotic Fairytale Gone Wrong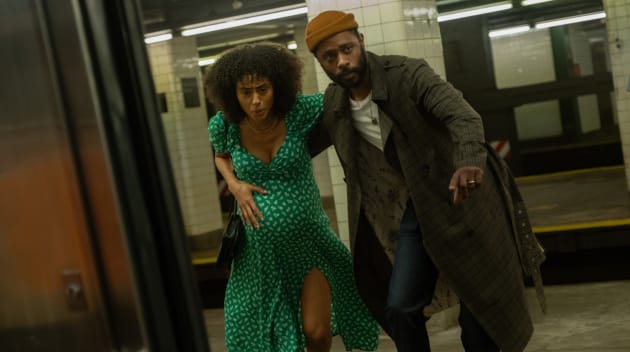 The Changeling promised twisted fairytales, and that's what we got with the three-episode premiere.

Unfortunately, despite an excellent plot and flawless acting, the new Apple TV+ horror fantasy struggles out of the gate because of its dreadful attempt to tell a story across multiple timelines.

The Changeling Season 1 Episode 1 started strongly enough, but the pace slowed considerably on The Changeling Season 1 Episode 2, and The Changeling Season 1 Episode 3 became the biggest chore to watch.

It's unfortunate because LaKeith Stanfield and Clark Backo turn in awards-worthy performances as this husband and wife whose lives are changed forever, seemingly out of nowhere.

The series needed to establish this bond between Apollo and Emmy off the bat because it made the horror they endured so much more challenging to watch.

Don't get me wrong: Many scenes could have been left on the cutting room floor because we understood their bond when they saw each other.

The saddest part of their relationship is that they came from very similar backgrounds, having been lied to about their younger years, but nothing could prepare them for the events that led to Emmy murdering their son.
Customer: Hello! Hello! I am in distress! This is dire! I am in need of a toilet! Emmy: Listen to my voice. Can you hear me?
Customer: I got ears, don't I? Look.
Emmy: Well, you see I have ears too, so why are you yelling? I need a piece of ID before I give you the bathroom key.
Customer: I don't have ID.
Emmy: Leave your bags here with me.
Customer: These contain state secrets!
Emmy: Okay.

Apollo's life was filled with the feeling of wanting to know his father, and to us viewers, it was hard to imagine his father just up and leaving after being so devoted to his mother.

Many people don't believe in love at first sight, but it was on full display when Brian first laid eyes on Lilian.

Just when it seemed like happiness was in store for them, it all came crashing down with the revelation that Brian had left his son and wife behind for good.

The stories Lilian told her son shaped his views on life and how he didn't want to become that kind of father.

These negative feelings about his father had been festering for years, and despite Lilian's best efforts, she couldn't keep the truth at bay.
Apollo: Why did you want a divorce?
Lillian: He was a good man. A real romantic. Fun. But marriage is a day-to-day, and a person like your dad, not so good with slow and steady.
Apollo: What does that even mean?
Lilian: Is there food in the fridge? Is the bed made? Are the bills paid? I had to put you in day care at two months old, so I could go back to work. Do you know what it feels like to hand over a two-month-old to strangers?
Apollo: Probably better than leaving a four-year-old alone.
Lilian: I had to leave him to keep afloat.
Apollo: So, he didn't abandon us? Wow.

Hearing that his father wanted to be in his life must have been heartbreaking because Apollo grew up thinking he was abandoned, and his life was changed by not having Brian in his life.

Even though Lilian has finally opened up to her son about the truth of his upbringing, it's hard to believe she's told him everything there is to know.

Lilian was shown to make sacrifices for her son in the past, but it's hard to believe she left him at home alone when she could have turned to Brian.

It makes me think there's far more to the tale of Apollo's upbringing than we're being led to believe. I hope that Apollo doesn't ice out his mother because he needs her more than ever right now.

Yes, he's going to feel betrayed, but when he hears there's inevitably more to the story, he'll understand why his mother took such measures to keep them apart.

The best part of hearing that Brian was in the house that fateful Saturday is that Apollo can put these nightmares of his youth to bed because things weren't as supernatural back then as his subconscious leads him to believe.

Then again, we'll probably get a completely different viewpoint when Brian is inevitably introduced in the present.

Apollo's storyline is heartbreaking for several reasons, but if he manages to regain some semblance of a normal life, he'll have significant trust issues because it seems the people he looked to for comfort have all lied to him.
If Emma Valentine thought Apollo Kagwa would give up this easily, she was mistaken. But to understand why and how in the world, we must first go back. Way back.

LaValle

As much as I'd love to believe Patrice has his best interests at heart, it's hard to shake the feeling that he'll also disappoint Apollo when he least expects it.

A part of me wondered whether Patrice was the person taking the photos and sending them to Emmy, but after the events of The Changeling Season 1 Episode 3, it's obvious the Wise Ones are to blame.

Apollo's realization that witches could be a part of the Wise Ones could explain why Emmy thought her child wasn't hers and was someone else.

If witchcraft is to play, who's to say Brian wasn't an offering to make the Wise Ones more powerful?

If we learned anything about Apollo during those first three episodes, he'll leave no stone unturned in his quest to avenge Brian and take down this group that could have played a part in his death.

The saddest part is that he will have to face Emmy, who will be struggling to comprehend that she killed her son.

The only positive is that Apollo is now aware that it wasn't Emmy who made these devastating decisions, so maybe he can put it aside if she is ready to help him take down this group.

The moment Emmy resurfaces, she'll be arrested, so there's a good chance she'll be well-hidden, possibly in the care of the Wise Ones.

Much like Apollo, Emmy didn't have the best start in life, with her sister lying to her for years about the day their parents died.

The most exciting part of that fact was how Emmy told her mother to let her go.

It's not uncommon for people to block out harrowing parts of their pasts, but for Emmy, it seems owning up to the past will set her free.

There's also the mystery surrounding her wishes in Brazil. Did Apollo really start this wicked chain of events by cutting the string off her wrist?
Emmy: Apollo takes the baby to the park every morning. He doesn't sleep much anymore either.
Kim: Brian?
Emmy: Apollo. Having nightmares. We're all a mess.
Kim: You could try a little Benadryl to help you sleep. You can take a little while you're breastfeeding. I'm worried about you, Emma. I see you, and I feel worried.

So. Many. Questions.

Then there's Apollo declaring that he's a God every so often, which means the big mystery of The Changeling Season 1 will be deeply rooted in Greek Mythology.

The Changeling is worth watching, but the show needs to find a way to tell these stories in the present because it's hard to remain interested when we're taking lengthy breaks from the central plot.

What did you think of the first three episodes?

Do you think the show switches things up a little too much?

Hit the comments.

Catch new episodes on Fridays, exclusively on Apple TV+.
Paul Dailly is the Associate Editor for TV Fanatic. Follow him on Twitter.