Education
The Future of Work in Engineering & Architecture 2022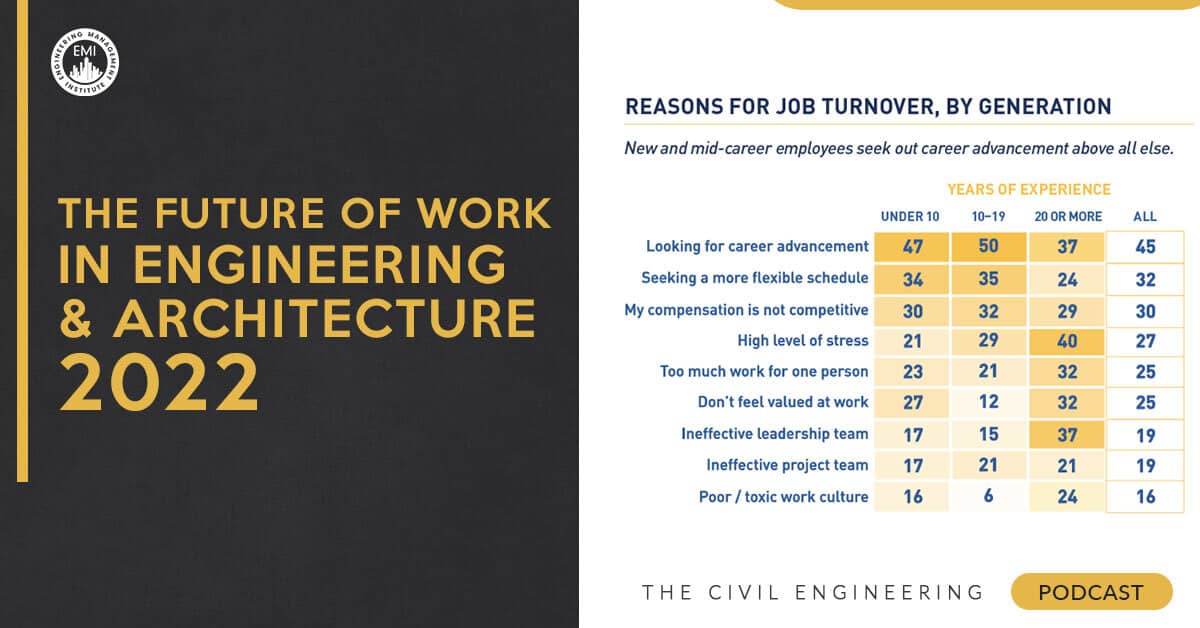 Podcast: Play in new window | Download | Embed
In this episode, I talk to Peter Atherton, P.E., about an in-depth study we did together about the state of the industry and talent market — and how companies can compete in a fast-changing world. We also highlight some of the key findings that are in the Future of Work in Engineering and Architecture 2022 report.
Engineering Quotes:


Here Are Some of the Questions We Answer:
Why do you say that the great resignation isn't over yet?
Why do professionals leave their employers?
What is the driver behind the stress in our organizations and why should company owners be cognizant of the shape of our firms?
Here Are Some Key Points Discussed About the Future of Work in Engineering & Architecture 2022:
The research shows turnover for engineering and architecture talent is still at record highs. Hiring engineers and architects has been challenging for at least a decade, but post-pandemic growth, fueled by strong public and private sector spending and the post-COVID "snapback," is exacerbating talent market pressures. Eighty percent of professionals we surveyed expect growth in 2022 — with nearly 40% predicting strong growth — despite inflationary pressures and ongoing supply chain slowdowns. Nearly two in three (61%) say they would consider leaving their current employer in the next 12 months for the right opportunity. And 26% would strongly consider leaving.
People are in search of career advancement opportunities, a more flexible schedule, and competitive compensation when they leave their employer. One of the biggest challenges for firms is to decide how they will continue working post-pandemic.
More experienced professionals are most likely to cite stress as the key driver, though they also feel overworked and unappreciated. They also said that an ineffective leadership team is one of the main causes for their higher feelings of stress. Stress can eventually lead to burnout, which is a big deal. The research shows that 79% of people at least sometimes suffer from burnout, which leads to a lack of function in an organization.
There is a "gap" in the mid-level leadership in firms because of the great recession, which caused many young engineers to be laid off. This has caused the shape of the industry and firms to change from a more pyramid shape to an hourglass shape, which causes pressure to flow up to senior leadership levels and frustration to set in below the pinch point.
Two of the 7 Directives That People First A/E Companies Do Differently:
Commit to training and development as a strategic asset. The reason that training is such a good investment is that it gives you three different returns on your investment:

You develop your people, which drives up the profitability of your company.
Developing your people in that manner will increase the chances of them staying with your company because training in this manner is rare in the industry.
Training and investment will make your firm more attractive to people because they want career growth and support.

Use a people-centric, data-driven approach to surface "hotspots." As a people-centric society, we have realized that one size certainly does not fit all. Everyone is different and has different life circumstances that must be considered. A data-driven approach requires different thinking by leadership and management teams. Reflexive thinking will not work, and reflective thinking is what is needed. Looking at things across generations and gender requires more nuance and career development plans. The more nuance we have with people, the clearer we must be with the organization's vision, goals, and objectives as well as its mission and values. We want to be attractive, supportive, and dynamic, but we also need to perform.
More Details in This Episode…

About Peter Atherton, P.E.
Peter Atherton, P.E. is an industry insider having spent more than 20 years as a successful professional, principal, major owner, and member of the board of directors for a high-achieving A/E firm. Pete is now the President and Founder of ActionsProve, LLC, author of "Reversing Burnout. How to Immediately Engage Top Talent and Grow! A Blueprint for Professionals and Business Owners", and the creator of the I.M.P.A.C.T. process. Pete works with A/E firms to grow and advance their success through strategic planning, executive coaching, employee engagement, and corporate impact design. Connect with him at [email protected].
Sources/References:
Present and Future of Work in Engineering and Architecture Report
ActionsProve, LLC
This Episode is Brought to You by: Colliers Engineering & Design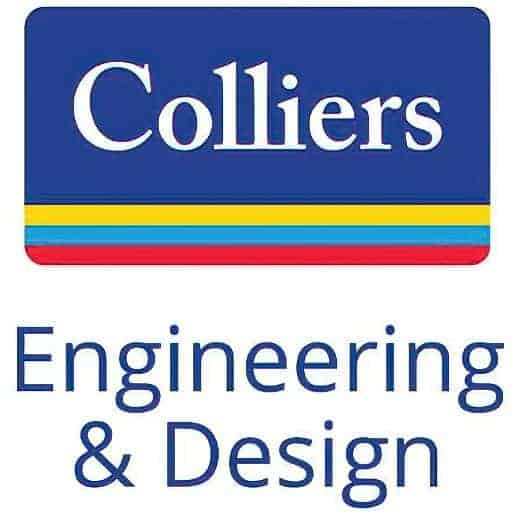 Colliers Engineering & Design is a multidiscipline engineering firm with over 1,800 employees in 63 offices nationwide — and growing fast! Colliers Engineering & Design maintains an internal culture that is nurtured through the promotion of integrity, collaboration, and socialization. Their employees enjoy hybrid work environments, continuous career advancement, health and wellness offerings, and programs and projects that have a positive impact on society. Colliers Engineering & Design stays on the cutting-edge of technology, and their entrepreneurial approach to expansion provides personal and professional development opportunities across the firm. Leadership's dedication to the well-being of their employees and their families is demonstrated throughout the wide range of benefits and programs available to them. For more information, visit the career page on their website at colliersengineering.com.
We would love to hear any questions you might have or stories you can share about The Future of Work in Engineering & Architecture 2022.
Please leave your comments, feedback, or questions in the section below.
To your success,
Anthony Fasano, PE, LEED AP
Engineering Management Institute
Author of Engineer Your Own Success