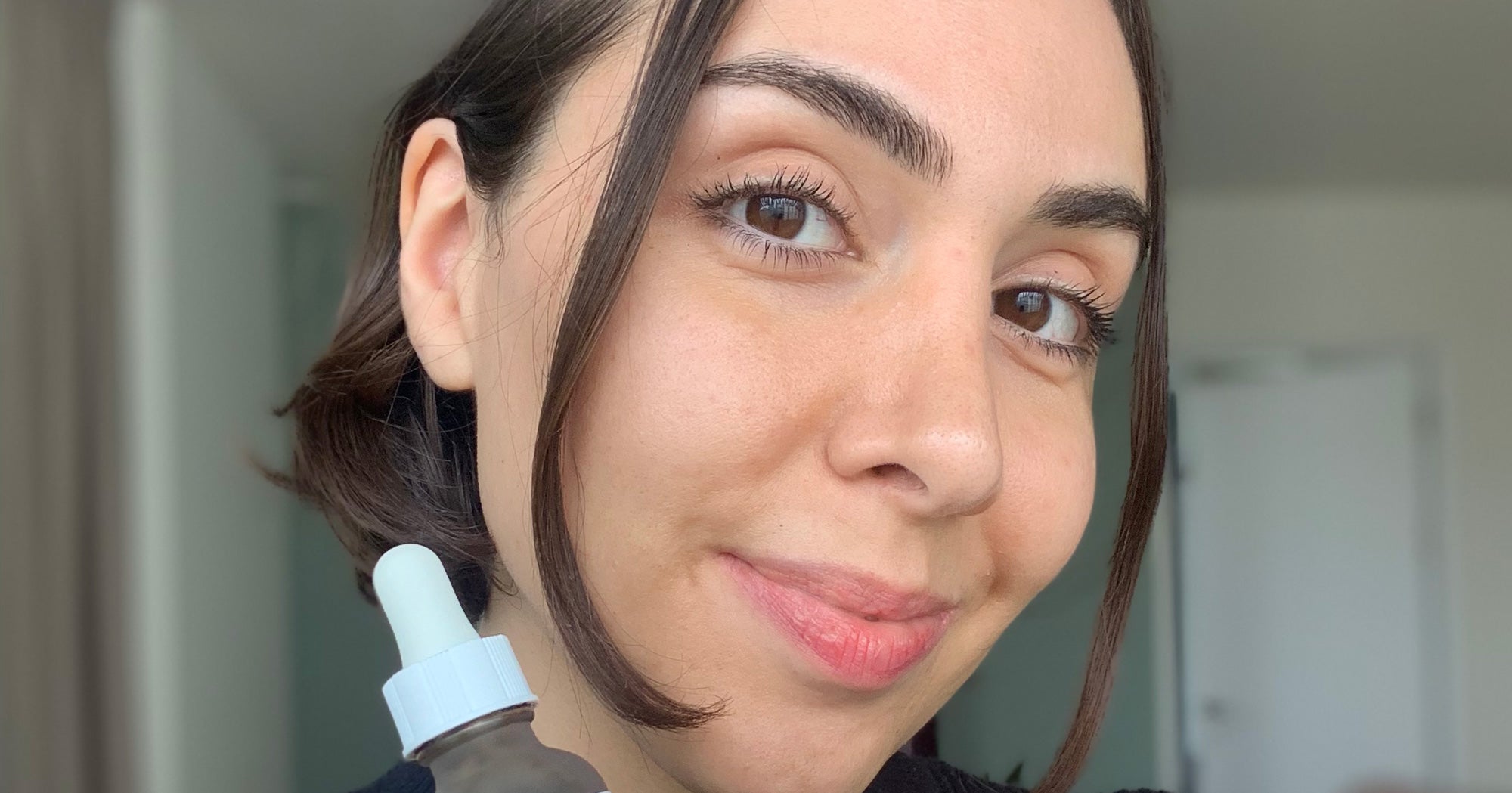 Welcome to Beauty In A Tik, where each week we put TikTok's viral beauty hacks and innovative trends to the test.
Self tanner is the MVP when it comes to makeup hacks. It stands in for brow tint, makes for a convincing lip liner, and trumps cream contour, thanks to its long-lasting results. Needless to say, TikTok's beauty enthusiasts are constantly finding new ways to make the product work harder for them. This month it's all about using self tanner to whip up your very own bronzing drops and impart a believable, sun-kissed glow in moments.
Whether you're a makeup devotee or not, it's likely you've spotted Drunk Elephant D-Bronzi Drops making the rounds on social media. The bronzer-meets-illuminator — and the countless similar alternatives, like NYX Professional Makeup Born To Glow Liquid Illuminator and Versed Mood Lighting Luminizing Glow Drops — has the beauty community in something of a chokehold at the moment. The timing makes perfect sense: Spring has officially sprung and with the warmer weather often comes an inclination to ditch the layers, specifically heavy foundation.
That's where bronzing drops come in. Combining bronzer with a little highlighter in a moisturizing base, they're the ultimate warm-weather complexion product. TikTok certainly agrees: the hashtag #bronzingdrops has amassed an impressive 152.9 million views (and counting). 
Drunk Elephant's bronzing drops have proven so popular, they're currently sold out at various retailers, but TikTokers have realized that they can make something similar at home.
Makeup and style content creator Shauna Farrelly recently went viral for concocting bronzing drops by combining hyaluronic acid serum with self tanner and a little water. Other TikTokers like Chantelle Fen have stitched beauty content creator Juliana Shiel's viral video, in which she skips the hyaluronic acid and just dilutes self tanner with water in a dropper bottle. The results are impressive to say the least: lightly bronzed skin, which develops into a subtle tan throughout the day and lasts twice as long as makeup. The DIY tanning drops containing hyaluronic acid offer the added benefit of skin hydration, too. 
I've lost count of how many times friends and family have asked if I'm feeling unwell when I visit them without makeup on. That's literally just my skin tone so I need all the help I can get to appear perky. It seems I'm not alone. 'How to make skin look brighter/less dull/less tired' are commonly googled questions. Could TikTok's DIY bronzing drops be the answer? 
By now you'll probably know that I'm a big fan of Bondi Sands Self Tanning Foam, but I could take or leave a dedicated hyaluronic acid serum. A master hydrator, hyaluronic acid is present in my cleanser, moisturizer, and sunscreen so adding a serum into the mix felt a bit much. For that reason, I recently shelved The Ordinary Multi-Peptide + HA Serum, but I figured it would be the ultimate product to mix with my self tanner. I decanted five pipettes worth of tanning mousse and two pipettes worth of water into the bottle, then gave it a good shake.
To my surprise, the tanner melted into the serum and the runny texture was exactly like professional self-tanning face drops, like Isle of Paradise Self-Tan Drops and Tan-Luxe The Face Self-Tan Drops. Like the TikTokers I've seen, I used a brush to make sure every drop was blended seamlessly into my skin and that there were no patchy areas. Bondi Sands says all its products can be used on the face but advises patch testing first. The United States Food & Drug Administration (FDA) also suggests to avoid applying fake tan to mucous membranes, such as directly onto the lips and eyelids.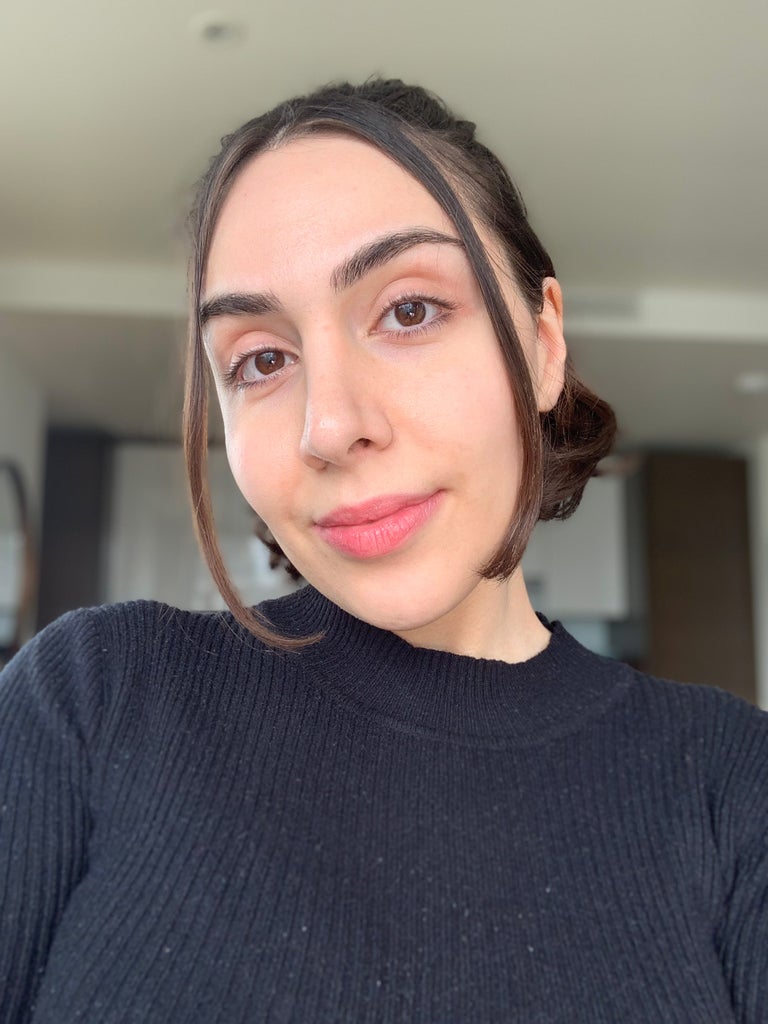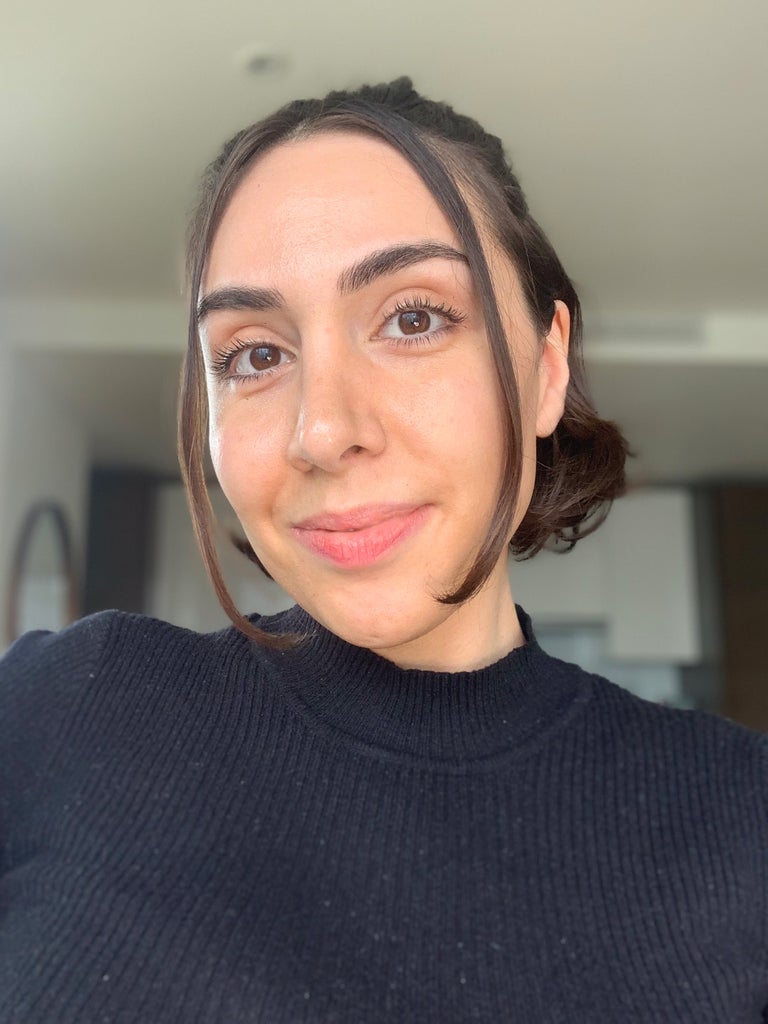 Like all the fake-tan hacks I've tried previously, I was convinced this wouldn't work, but the effect was subtly bronzed skin that looked a lot healthier and brighter. That said, it was missing the illumination factor. Drunk Elephant's bronzing drops, for example, have fine shimmer particles that reflect the light and give skin dimension, whereas my DIY version simply lent my skin more color. You can also remove most bronzing drops using micellar water, but a fake tan lasts for days.
By the end of the day, my skin took on a slightly orange tinge (typical of fake tan that hasn't been rinsed off) but when I did wash my face, I couldn't deny that the combination of the tan and a hydrating serum lent better, more seamless results than simply applying undiluted fake tan with a mitt. The next day, I went out with just a dab of concealer and blush on my skin, instead of a full face of foundation. 
If you are mixing your own products, I would recommend using them up quickly. Beauty products go through rigorous testing processes and changing the formulation by adding in serums or water will almost certainly affect the composition of a product. Rebecca Wilson, CEO of UK-based tanning brand utan, seconds this. "Stability testing is crucial, as you would need to ensure that the ingredients are compatible," she tells R29. "While this hack may not cause issues for most people, we recommend patch testing." Keep in mind, too, that a hack like this could mess up the preservative system (which stop your products growing mold and bacteria) inside a product and subsequently alter the shelf life. Wilson suggests that if you are going to try this, mixing should be done at the time of use, rather than mixing up a whole bottle for long-term use, which could result in bacteria growth.
If you'd rather not mix your own skincare, Wilson recommends a tanning mist. Much like bronzing drops, a face mist, can be applied in seconds during your skin-care routine without the need for mixing or washing your hands. "It also reduces the risk of streaking," she adds. If you're looking to try a tanning face mist, try St. Tropez Self Tan Purity Bronzing Water Face Mist.
TikTok makeup artist Kirsty Belle also has some thoughts on DIY bronzing drops. "If your tan is oil-based, mixing it with water could potentially cause it to go patchy so make sure to check the ingredients before mixing it with anything," advises Belle. She adds that combining water and self-tan can also dilute the formula and change the consistency, which can affect the results and the longevity of the tan. "This is because the water can break down the active ingredients in the fake tan, which can diminish their ability to penetrate the skin and produce a deep and long-lasting tan." That said, I wanted my glow to be as convincing and understated as possible so this worked out pretty well for me.
Fake tan products are not exclusive to lighter skin tones. The product has many benefits for darker skin, including evening out skin tone and minimizing the appearance of hyperpigmentation. Last spring, Refinery29's Unbothered editor L'Oréal Blackett wrote about her love of self-tanning drops, specifically the aforementioned Tan-Luxe drops.
Lastly, if you're after more of a short-lived glow, Belle recommends mixing cream contour with a couple of drops of facial oil and applying with a brush. "I also love mixing a moisturizer with self-tan drops," she says. "This works well to create a naturally bronzed look as the moisturizer can help hydrate the skin and create a smoother surface for the self-tan drops, resulting in a more natural and even-looking tan." Moisturizer can also help to slow down the absorption rate of the self-tan drops, adds Belle, which gives you more time to blend the product (whether you're using a brush or your fingers) and ensure that it is applied evenly across the skin. Belle's go-to is Coco and Eve Sunny Honey Bronzing Face Drops, which swerve the patchy finish. 
This story was originally published on Refinery29UK.
At Refinery29, we're here to help you navigate this overwhelming world of stuff. All of our market picks are independently selected and curated by the editorial team. If you buy something we link to on our site, Refinery29 may earn commission.
Like what you see? How about some more R29 goodness, right here?
Women of Color Are Now Getting Spray Tans
8 Fresh, Wearable Makeup Trends To Try For Spring
How To Get Good Skin From NYC's "Acne Whisperer"