Sports
Traveler arrested for assaulting attendant on flight from Cabo to LAX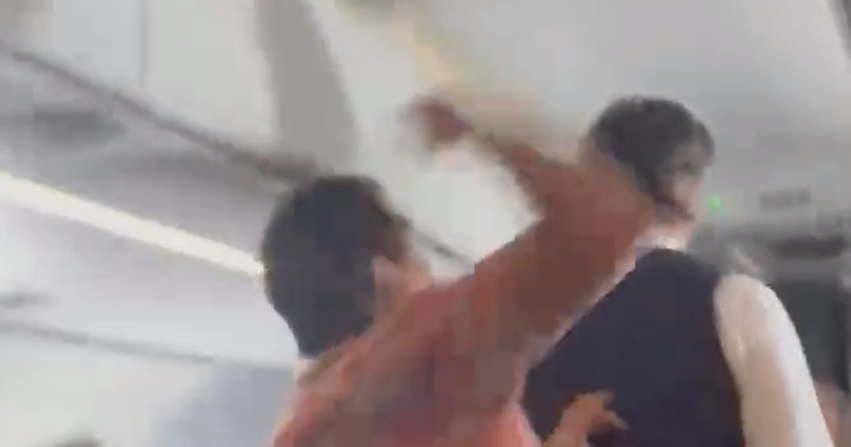 An unruly passenger was arrested at Los Angeles International Airport on Wednesday after he assaulted a flight attendant during a flight from Los Cabos International Airport in San José del Cabo, Mexico.
According to the Federal Bureau of Investigation, who took the investigation since the assault happened in the air, 33-year-old Alexander Tung Cuu Le of Westminster was detained after the flight landed on suspicion of interfering with a flight crew, which is a federal offense. He is expected to make his first court appearance Thursday afternoon.
According to an affidavit filed with the complaint charging Le, the Westminster resident had left his seat about 20 minutes after takeoff and grabbed a flight attendant's shoulder to ask for coffee. Moments later, Le grabbed both of the flight attendant's shoulders from behind, prosecutors said. When the flight attendant stepped back and put up a defensive posture, Le walked to the front of the plane.
Le allegedly started loitering near the first-class cabin and sat in an unoccupied seat near the wall separating the area from the rest of the plane. When another flight attendant approached and sked Le to return to the seat, prosecutors say Le refused to comply, stood up and put up both his fists.
According to the affidavit, Le swung and missed, at which time the flight attendant turned to walk away and report the unruly behavior to the pilot. That's when Le runs up behind the flight attendant and punches him in the back of the head, which was witnessed by several passengers, including one who recorded the attack on his phone.
Le went back to the front of the airplane, which is when he was restrained by several passengers near an exit row. Out of safety concerns, Le was moved to another row, where his hands and legs were cuffed, prosecutors said. Because he kept unbuckling his seatbelt, federal officials say flight attendants had to restrain him using seatbelt extenders.
Since the incident occurred in the air, LAX police are not involved in the investigation.
American Airlines issued a statement on the incident, which read: 
"American Airlines flight 377 with service from San José del Cabo (SJD) to Los Angeles (LAX) was met by law enforcement upon arrival due to an unruly passenger who physically assaulted a flight attendant. The aircraft landed safely and taxied to the gate where law enforcement removed the individual.

Acts of violence against our team members are not tolerated by American Airlines. The individual involved in this incident will never be allowed to travel with us in the future, and we will work closely with law enforcement in their investigation. 

We thank our crew for their quick action and professionalism to ensure the safety of their fellow team members and customers on board. Our thoughts are with our injured flight attendant, and we are ensuring that they and their fellow crew members have the support they need at this time."