Business
UK's tourism leaders told Chinese students could rescue their sector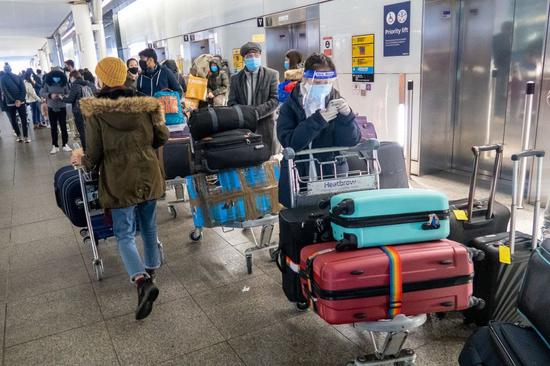 A Chinese student was identified as having contracted the new strain of the coronavirus after returning home from Britain. (Photo/Xinhua)
Special: Battle Against Novel Coronavirus
Chinese international students bring much needed cash into the British tourism industry and the sector should capitalize on this potential market while mainstream inbound tourism is on hold, travel experts say.
Speaking at the Chinese Tourism Leaders' Forum on Wednesday, Helen Bailey, head of China Travel Outbound's new research division, said: "Chinese students have more than 1.7 billion pounds ($2.38 billion) a year of disposable income to spend while studying in the United Kingdom and are looking for engaging, welcoming experiences to enjoy alongside their university studies."
Her findings looked at why students chose to study in the UK and why they are so important to tourism destinations and attractions in the UK.
"Chinese university students want to immerse themselves in the UK and all that it has to off er," Bailey said. "They want to experience places as a local and feel what it is like to really live in the UK."
Also speaking at the forum was Matt Durnin, global head of insights and consultancy at the British Council, who talked about Chinese international student mobility pre- and post-pandemic and the global impact on university admissions.
He explained that while it is still too early to predict the exact number of Chinese applications to UK universities this fall, UCAS(The Universities and Colleges Admissions Service) indications for the 2021 cycle are looking positive. He said there has been a 30 percent uplift in Chinese applications compared to the previous year. "However, many students are applying to multiple destinations as a backup, so the reality is unlikely to be as high," he added.
The forum, hosted by China Travel Outbound, a travel public relations and representation agency based in the UK and specializing in China, and Capela China, a consultancy that offers China-ready training to UK destinations, brought together the top 50 senior British travel executives who are key drivers of the inbound travel market from China.
The pandemic has put a temporary stop to much of the mainstream inbound tourism market, and this year, the student market has shot into sharp focus.
The figures from China's Ministry of Education revealed that 703,500 Chinese nationals studied overseas in 2019. With China being the single largest country of origin for international students worldwide, experts say the prospects for UK tourism to benefit from the patronage of Chinese students over the next few years continue to grow.
China sends more students to the UK than any other country. According to the Higher Education Statistics Agency, 35 percent of all non-EU students in 2019-20 were from China, and the number of students from China has increased by 51,140, or 56 percent, over the five-year period to 141,870 in 2019-20.
Over the last two years, the UK has taken significant market share from the US and Australia primarily due to political tensions.
Helena Beard, managing director of China Travel Outbound, said: "The UK and European tourism industry need to take heed of the growing numbers of Chinese international students to the UK and learn how best to tap into this affluent market and maximise on its vast potential.
"Chinese students, on average, have four times the disposable income of British students, and prioritize their spend on travel, leisure, entertainment and fashion, all of which provide an important boost to the UK economy," she added. "There really is no place quite like China when it comes to international students."