Sports
Watch live: State of Emergency in effect as storm brings flooding, damage to New York City and beyond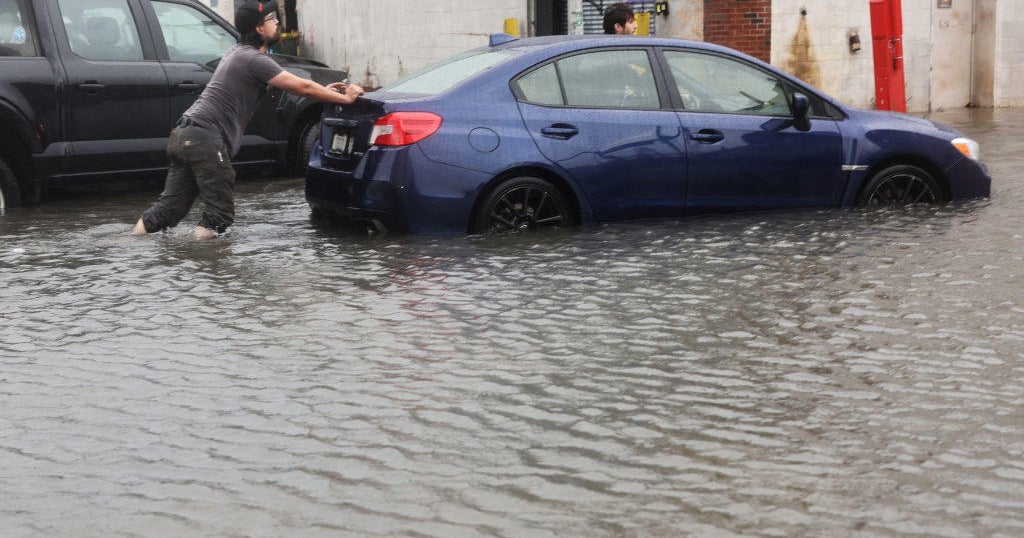 NEW YORK – New York Gov. Kathy Hochul declared a state of emergency across New York City, Long Island and the Hudson Valley as Friday's strong storm caused flooding and damage across the area. 
New York City Mayor Eric Adams asked for city residents to shelter in place temporarily during the worst of the storm. 
Hochul called the flooding levels "historic," saying New York could set a new single day record. 
She pleaded with New Yorkers to "please stay home" during the storm, saying the greatest loss of life comes when people think they can drive through what appear to be standing waters. 
Adams said there have been "zero" deaths and significant injuries as a result of the storm so far. 
Adams said that the Prospect Park area was one of the hardest hit locations. At Prospect Park, the lake overflowed and created a miniature river, with water gushing steadily into the street. 
He hailed New Yorkers for heeding warnings and staying home. 
Significant flooding was reported throughout the five boroughs.
Mayor Adams asks NYC residents to shelter in place temporarily
Adams said New York City is under a State of Emergency. 
"I want to say to all New Yorkers, this is time for heightened alertness and extreme caution. If you are home, stay home. If you are at work or school, shelter in place for now," Adams said. "Some of our subways are flooded, and it's extremely difficult to move around the city." 
Adams called the weather "dangerous" and said it's not over. 
"We could possibly see eight inches of rain before the day is over," Adams said. 
By 11:20 a.m., more than five inches of rain had fallen in Central Park since midnight.   
Adams said that every New York City agency has a plan in place for the situation and is executing those plans. 
"This is a time for caution, but it is also a time for community," Adams said. "Check on neighbors. Do whatever is possible to unclog drain areas to allow the water to flow freely. You would be surprised how, if we remove leaves and other trash from those areas, it would really assist in getting water off our streets. Check on your friends, your relatives, and especially those who are most vulnerable, such as the elderly and individuals with health conditions."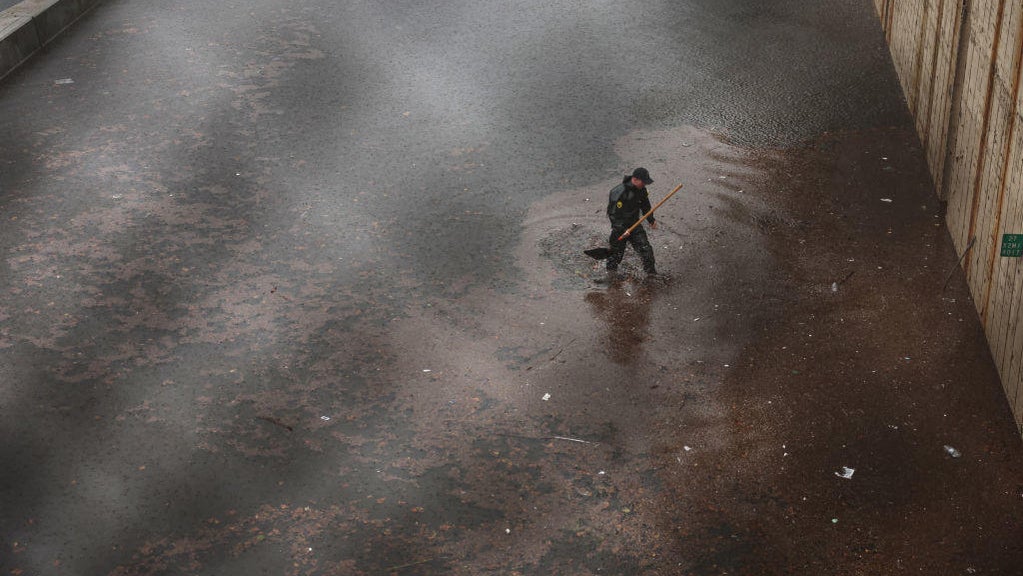 Hochul said the epicenter of the storm has since headed north toward Hudson Valley. She urged extreme caution to anyone thinking of driving in the rain. 
"I will say this: If people decide to venture out in a vehicle, they do so at their own peril, because even six inches of rain, one foot of rain may look pretty innocuous, it's safe, but that is a condition where your vehicle can be swept away. We lose more lives of people during flooding events, of which we've had many, especially this summer in the city and the Hudson Valley in particular. The reason people lose their lives in a flooding event, more often than not, is they're swept away in their vehicle," Hochul said. "So this is a choice people make. We encourage them not to decide to do that. Please stay home, be safe." 
"The storm picked up significantly soon after 7 a.m., and I think New Yorkers should be aware that between 8 and 9 a.m. the Brooklyn Navy Yard received 2.58 inches of rain in one hour," DEP Commissioner Rohit T. Aggarwala said. "Our sewer system was designed for 1.75 inches per hour. And so, it's no surprise, unfortunately as a result, that that part of Brooklyn, and a couple of other, particularly, parts of Brooklyn, have borne the brunt of this."
New York City schools report no major flooding concerns 
Schools Chancellor David Banks said no major problems were reported at New York City public schools, and that all of them were open. 
"We do have a portion of our schools, approximately 150 out of the more than 1,400 schools that we have, that have in fact taken on some water, has presented some challenge, but nothing has impacted our ability to safely educate our students in any of those schools," Banks said. "Our buses are prepositioned for dismissal. We've been in touch with all of our vendors, and they're prepositioned means that they are staging early in order to have enough time to get our children home. These are high-axle vehicles, and they'll be able to navigate any water in the roadways." 
Banks said going fully remote is "always the last option." 
"Our kids needs to be in school. This is also where they get their healthy meals as well," Banks said. "Whenever we make a decision to close schools, it is a major, major disruption. So it is really only used as a last resort. And I think in this case, while this was a tough day in terms of the rain, it certainly did not put, our kids are not in danger. All of our schools are open. Our teachers are in school, our kids are in school, and doing well." 
Prospect Park lake overflows 
Brooklyn got particularly hard hit Friday morning, although there were many reports of damage and flooding throughout New York City. 
Prospect Park lake overflowed, creating a shocking scene for many in the area as a miniature river formed in the street, flowing into nearby intersections. 
"You can see the debris from the lake water as it made its way down," CBS New York's Doug Williams reported. "It extends all the way into Ocean Parkway… it's legitimately shocking to see." 
Williams called it basically a "river of water," reporting that it had been flowing that way nearly all day. 
"The lake has been known, when it gets heavy rainfall, to overflow," Williams reported. "But people here, all day, have been trying to navigate it, almost shocked when they arrived." 
He described it as "basically rapids, and water coming down like a river."
"We've seen people acting like they've never seen anything like it," Williams reported. "It is certainly shocking to see." 
Major flooding in Rosedale, Queens
Roads were flooded at 147th Avenue in Rosedale. 
CBS New York's Jennifer Bisram reported a driver was forced to abandon her vehicle due to rising waters. 
"That's kind of the story around here – lots of flooded roads, lots of flooded basements," Bisram reported. 
She said residents were using hoses to drain water from basements. 
Video shows massive flooding across New York City
Around 8:30 a.m., emergency responders were on the scene of a partial roof collapse at a warehouse on Lexington Avenue between Classon and Franklin Avenues. Fortunately all workers at the warehouse were accounted for, according to the FDNY. 
In Windsor Terrace, neighbors said a tenant living in a basement apartment along Sherman Avenue managed to get out as his apartment began to flood. 
Officials said at least six basement apartments flooded, and there were "successful rescues" at each. 
"We have not had any fatalities today. We have had a number of calls for basements, people trapped in cars," FDNY Commissioner Laura Kavanagh said. 
Heavy rain brought flooding conditions at Walton Street between Union and Harrison Avenues. Water had overtaken the sidewalk and appeared to partially flood parked cars there. 
Significant flooding was reported in southern Brooklyn. Video posted to X, formerly Twitter, also showed flooding near Atlantic Avenue and Pacific Street. 
At Smith and Ninth Street, there was major flooding. 
"My team & I are aware of widespread flooding & dangerous conditions across [Brooklyn]. Like many [New Yorkers], we've spent our mornings stranded on subways & buses, but we're in communication [with] the offices of the mayor & governor & monitoring where conditions are worst," Brooklyn Borough President Antonio Reynoso wrote on X. 
Mass transit, roads, and airports all disrupted due to flooding
The floods, damage and impact weren't limited to just Brooklyn, of course. 
The FDR was closed in both directions at Delancey Street in Manhattan due to flooding. 
The Belt Parkway was closed in both directions at Exit 6, Cropsey Avenue, the NYPD said. 
There were extensive disruptions to subway and other mass transit service. 
Click here for an update on subway, mass transit and flight disruptions 
Click here to check the latest on the forecast
New York City public schools remained open. 
Video posted to social media from across the area was shocking. Flooded intersections were spotted in Bushwick, Brooklyn. 
The Prospect Park Expressway experienced significant flooding, with at least one car stalled out. 
The Wildlife Conservation Society closed the Bronx Zoo, Central Park Zoo, Queens Zoo, Prospect Park Zoo and New York Aquarium due to the emergency. 
Stay with us as we continue to cover this weather emergency.