Life Style
"We truly don't deserve you": GOP Rep. rips colleagues who ousted McCarthy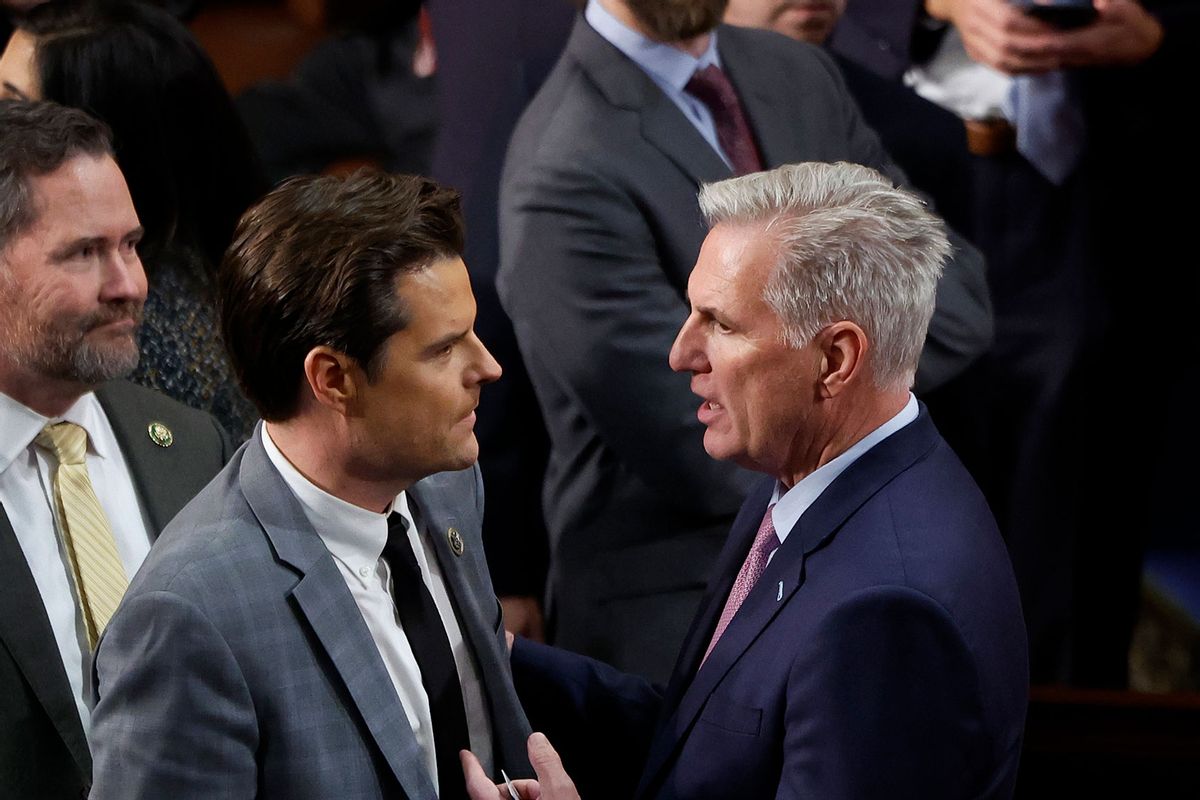 As House Republicans continue to prolong weeks of infighting one GOP lawmaker is now just trolling the conservative members who ousted former House Speaker Kevin McCarthy, Calif., in favor of an imagined "messiah" while Donald Trump is encouraging the GOP to turn to Jesus. 
Rep. Tom McClintock, R-Calif., inked a letter over the weekend posted to X, formerly Twitter, by Axios reporter Juliegrace Brufke. 
McClintock, in the letter, sarcastically addresses those Republican lawmakers who paved the way for McCarthy's abrupt removal, an effort that was largely spearheaded by Rep. Matt Gaetz, Fla. Weeks later, House Republicans remain speakerless after ultra-conservative House Judiciary Chairman Rep. Jim Jordan, Ohio, failed numerous times in his bid for the position. Jordan on Friday lost his third attempt to be elected House Speaker, also flopping at a secret ballot vote afterward, with only 194 votes to House Minority Leader Hakeem Jeffries' 210.
"We should have been moved by your willingness to suffer 'censure, suspension, or removal from the conference' to enforce your personal preferences on the overwhelming majority of your unenlightened colleagues," McClintock wrote in the letter.
"We truly don't deserve you," the letter continued. "But your sacrifice is not in vain. You have succeeded in replacing the outdated concept of majority rule with an exciting new standard that a speaker must be elated by 98.2 percent of the Republican conference. Someday, a messiah will be born unto us who can achieve this miraculous threshold, and on that day your judgment will be vindicated and you will be hailed as the geniuses that you are."
"I think we were all truly humbled to learn that your 'fidelity to Republican virtues and principles remains unwavering,'" McClintock quipped. "Who could not be moved to tears to read that you offer your self-sacrifice 'sincerely and with the hope of unity with purpose?'"
"With this in mind, I modestly suggest that you plan your martyrdom in the only way that truly matters: to have the wisdom to see the damage you have done to our country and to have the courage to set things right before it is too late. I enclose a proposed resolution that perhaps one of you can offer as we begin the fourth week of national paralysis and as the world burns around us."
McClintock is far from being the only Republican to have gripes over the current state of the party and its incessant bickering. Donald Trump, the overwhelming favorite to capture the 2024 Republican nomination for president echoed McClintok's mention of the messiah. 
"I said there's only one person that can do it all the way. You know who that is? Jesus Christ," Trump joked during a New Hampshire campaign stop on Monday. "If he came down and said, 'I want to be speaker,' he would do it."
A new USA Today/Suffolk University poll determined that the majority of Republicans have grown weary of their party's antics, with 67 percent of Americans believing the House should elect a Speaker as soon as possible, while only 25 percent don't care if a new Speaker is chosen. 57 percent of Republican voters indicated that they want the search for a Speaker to end, in contrast to the 34 percent who are willing to wait out the drama. The same poll determined that 54 percent of voters have a critical view of the House. "How often do you see Democrats, Republicans, and independents agree on anything in D.C.?" David Paleologos, director of Suffolk's Political Research Center, told USA Today. "Look at every demographic: gender, geography, age, race, education level, income, political philosophy, even those who trust CNN vs Fox News. They are all speaking the same seven words in unison: 'Elect a speaker and do your job.'"
The House Freedom Caucus on Monday released an official position "urging leadership to keep Republicans in Washington to elect a new Speaker of the House without further delay."
"House Republicans should not leave Washington again until we have a new Speaker of the House," the organization tweeted. "No more delays or breaks. The American People are depending on us."
---
Want a daily wrap-up of all the news and commentary Salon has to offer? Subscribe to our morning newsletter, Crash Course.
---
And former House Republican Rep. John Katko, N.Y., offered an ominous prediction for the Republican Party more broadly, during a recent sit-down with Politico. "I think what's happened is that a very small number of members of the far right took it upon themselves to use a motion to vacate, and they never had a plan for what would come after they were successful," Katko said. "The chaos that's ensued has really illuminated the divisions in the party. Not only has it illuminated them, it's kind of deepened and hardened those divisions."
"Now we've got a real problem because the moderates have finally pushed back and said enough's enough," Katko continued. "The far right feels falsely empowered because of concessions made to them by Kevin McCarthy to get the speakership."
"They've just got to hope sanity will prevail at some point and someone will emerge to lead this group out of this mess. But make no mistake: There's going to be a lot of scars in this fight and those scars are going to last a long time in the party. I think it's going to be harder to get some consensus on things, because the battle lines are now firmly drawn. Jordan did some damage with his heavy-handed tactics that turned off a lot of people. It's going to take someone who is truly a great leader to emerge and cut through the nonsense so we can get some things done."
In regard to whether the speaker infighting will come at the cost of the GOP losing the House majority, Katko felt "it's too early to tell, and it ultimately depends on whether Trump ends up as the nominee or not."
"I think Trump being the nominee is going to have a far greater negative impact on these seats than the shenanigans that have taken place in the House," he added.
"But make no mistake about it: The shenanigans that have taken place are not going to help. Trump being on the ticket in moderate districts is going to be a very, very difficult thing."