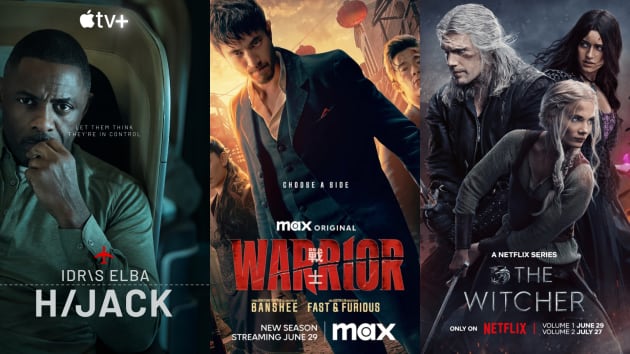 We are now well into summer, which unfortunately means premieres on the small screen are slowing down.

There is still some excellent TV on offer, so it's another week of new shows and returning favorites.

Check out what's coming your way.


Saturday, 24

8/7c Keyshia Cole: This Is My Story (Lifetime)

Lifetime's Voices of a Lifetime series, and the aptly timed feature that celebrates Black Music History Month, focuses on R&B singer Keyshia Cole's life story.

She executive produces a piece that she feels honors her journey and her experiences with her late mother.

The film follows the early days of Keyshia realizing her dream in Oakland and the steps she took toward stardom until she became the multi-platinum-selling artist that we know today!

8/7c Make Me a Match (Hallmark Channel)

The Hallmark Channel is airing its' first Indian-American rom-com, and it's so charming as it combines Indian matchmaking with a modern dating app.

Eva Bourne and Rushi Kota star in this adorable film where Vivi needs helps saving her dating app, so she meets with an Indian matchmaker, Raina, and meets her son, Boom.

Since their views on love differ, what will happen when their worlds collide?


Sunday, June 25

8/7c Love at First Lie (Lifetime)

The problem with dating bad boys is that they're bad boys!

Kate Burns swiped right on handsome dealer Walker Stevenson, and he takes her on a walk.

Unbeknownst to her, he's in the business of hustling women, and she's his next victim or the woman who'll finally stop him; we'll have to see!

9/8c The Idol (HBO)

It was evident on The Idol Season 1 Episode 1 that Jocelyn was not unaware of her environment, and now it has become clear to her that things have gone too far with Tedros.

Joss tries to introduce her new persona to the world while fighting to maintain the upper hand in her relationship with Tedros.

Her team grows increasingly concerned with Jocelyn's involvement with Tedros' inner circle.

9/8c The Walking Dead: Dead City (AMC)

Maggie and Negan's journey to Manhattan takes a deadly turn when they encounter the Croat's group.

As they try to find allies, they realize there's more they don't know about the city and how the survivors live.

There's also an excellent Negan scene that may be his best moment to date.

9/8c The Lazarus Project (TNT)

So is George going off the rails?

Despite all those around him explaining why changing time for personal gain is a horrible idea, George doesn't seem convinced. He wants Sarah back.

And the fact that he's thrown in with Lazarus' rogue Rebrov isn't a positive development. Will George pull himself back before he does something that he'll regret?


Monday, June 26

Days of Our Lives (Peacock)

EJ and Kristen are still missing, meaning Nicole must turn to Eric when she has a pregnancy scare! Eric and Sloan have been talking about having kids of their own, but with Nicole convinced that EJ abandoned her and Eric playing the role of her savior yet again, anything could happen.

Meanwhile, Rafe and Jada get it on too — but will the Salem PD get any closer to finding Abe?

And will Stefan and Gbai's upcoming nuptials end in disaster after Megan and Li bring Rolf back to Salem?

8/7c The Bachelorette (ABC)

It's time for Charity Lawson's quest for love.

After her appearance on The Bachelor, Lawson returns to the Bachelor Manor to search for the man of her dreams.

Check out the teaser below.

9/8c Crime Scene Kitchen (FOX)

With a title like "Going Plum Crazy," we can safely assume a plum pudding of some sort is in store for the five remaining classically trained baker teams. Or can we?

Yolanda is in charge of the holiday classic challenge, so some red herring clues will undoubtedly be planted in the kitchen.

Can the teams keep it together as the temperature gets cranked? ICYMI: check out last week's historic back-to-back safety win by Steph and Cherry!


Wednesday, June 28

Secret Invasion (Disney+)

In the aftermath of Maria Hill's death, Nick is thrown for a loop as he tries to figure out a plan of attack.

But Sonya is closing in, and he's got to answer for the sins of his past before he gets any answers.

Will Talos and G'iah get some closure?

Hijack (Apple TV+)

Idris Elba returns to the small screen, and this time he headlines a brand new thriller about a hijacked plane.

The idea doesn't sound new, but they find a way to make it fresh.

It is a story that'll leave you with many questions, and you can't wait to find answers. We will be seated in the first class charting the course with episodic coverage, so don't forget to check them out.

8/7c Nancy Drew (The CW)

Temperance's death curse is still keeping Nancy and Ace apart while everyone tries to figure out how the "black door" relates to the sludgy water.

And when the Drew Crew discover a clue in an unexpected place, they call in someone from George's past to help find answers.

Scott Wolf directed "The Oracle of the Whispering Remains."


Thursday, June 29

Star Trek: Strange New Worlds (Paramount+)

It's time travel time as La'an is whisked into a temporal conundrum, racing around 22nd century … Toronto(!?) trying to prevent an attack with far-reaching repercussions.

Joining her is a discombobulated and skeptical alternate, James T Kirk (Hel-lo again, Paul Wesley!), and much of the success of their mission lies in the secret horde of our new favorite Lanthanite.

Check out what Wesley and Peck have to say about bringing these proto-versions of Kirk and Spock to Strange New Worlds!

.@ethangpeck and @paulwesley share how they bring their own personal touch to two iconic #StarTrek characters pic.twitter.com/9m4zdsg9hy


— CBS Studios (@CBSTVStudios) June 22, 2023

The Witcher (Netflix)

The adventure continues as Geralt and Yennefer try to keep Ciri safe while honing her powers, as she may be the only hope of saving the Continent from their extra-dimensional enemies.

Of course, it's not like they need to look in other dimensions for enemies. Surrounded by intrigue, pursued by multiple armies, and driven by the knowledge of imminent otherworldly peril, they must maneuver politics and dodge plots if they are going to survive.

Of course, knowing Cavill is on his last arc as Geralt, there's some foreboding in the air. Season 3 Act 1 drops us into it with five episodes. Act 2 arrives July 27.


Friday, June 30

Warrior (Max)

Close to three years since Cinemax went out of business, leaving Warrior and other shows in limbo in terms of continuance, Max heard our prayers, and they answered.

Warrior returns with the same great story, epic scraping scenes, sex, blood, and intense Western Spaghetti Music. If the trailer is any indication, we will have fun this season. We will be covering the season episodically, so check back here after watching.

The Crowded Room (Apple TV+)

We have been limited to Danny's point of view for the past five episodes of The Crowded Room Season 1.

That is bound to change as another missing piece in the story is revealed.

Meet Rya. Mother, daughter, and professor. We learn why she is so invested in Danny's case. Solving this might save them both.
Paul Dailly is the Associate Editor for TV Fanatic. Follow him on Twitter.