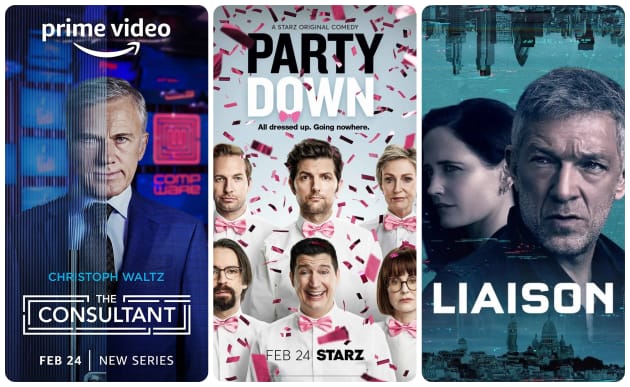 Are you ready to Party Down? Starz sure hopes so, as after over a decade, the series makes a (hopefully triumphant) return.

It's joined by newcomers The Consultant and Liaison, as well as returning favorties Grey's Anatomy and, on a new network, Magnum P.I..

I'm also sharing some personal favorites with you. My love for Nordic entertainment led me to Lykkeland — State of Happiness on Topic, and Viaplay US finally premieres this week with a lot more Scandanavian content for those who enjoy it. See all of that and more below.


Saturday, February 18

Lykkeland – State of Happiness (Topic)

With so many streaming services around, we know how hard it is to find content. As a big fan of Nordic programming, I'm sharing this series with you.

State of Happiness follows the rise of the oil industry in Norway, and it plays out as a half Norwegian, half American drama studying the effects of the possibilities of incredible weath on a sleepy seaside town.

By the time Season 2 was finished, I was scouring the internet for news of a third season, and I was in luck. I highly recommend this compelling drama and predict you'll fall in love with the characters just like me.

8/7c A Rose For Her Grave: The Randy Roth Story (Lifetime)

After a heartbreaking loss, it's only natural that a single mom and widow wants to find love again, but even that comes at a cost.

When she meets a loving mechanic, Randy, she thinks that maybe there is such a thing as finding another second love, but her blissful wedding plans become everything, but when she learns who Randy really is behind the charming facade.

In a powerful story shining a light on domestic abuse, Chrishelle Stause puts forth an emotional performance, and Colin Egglesfield a chilling one in this must-see true crime flick.


Sunday, February 19

9/8c The Way Home (Hallmark)

When The Way Home returns, Brady will be making himself at home, trying to find a place for himself in the lives of his daughter and former wife.

That will stir up all kinds of emotions for both Alice and Kat. Can they keep their past and present feelings separate?

And everyone gets nostalgic when a town landmark closes for good, and the school dance features a party like it's 1999 theme to get everyone in the swing of things.

9/8c East New York (CBS)

Our favorite freshman police drama is finally back!

Bentley's ready to go back to work… or is he? How will his first day back at the 7-4 go? And will he have the mental energy to continue his relationship with Quinlan?

Meanwhile, Killian makes a discovery that could derail his personal life while investigating a string of robberies at marijuana dispensaries. What's that about?

And don't forget that Regina's at war with the powers that be over a cop who failed to do his job. When Suarez meets a new political policy advisor, what will he do?

Double the action, double the fun — Sunday on @CBS is where it's at. 👊 #TheEqualizer and #EastNewYork are back with all-NEW episodes! It all starts at 8/7c, be there. pic.twitter.com/04h0YzCkji


— East New York (@EastNYCBS) February 16, 2023

9/8c Magnum: PI (NBC)

After being canceled by CBS, Magnum PI returns on a new network.

In the first episode, Magnum and Higgins weigh the risks of pursuing a relationship. Rick juggles being a new father and running La Mariana; Katsumoto tries to figure out his next move.

In the second episode, Magnum and Higgins go undercover as lifeguards in order to solve a murder; Jin Jeong wins a storage unit auction and enlists the help of Rick and TC upon finding a stolen military medal.

9/8c The Last of Us (HBO)

It's the moment we've been waiting all season long for.

Joel finally reunites with his brother, Tommy, and we find ourselves with a big information dump about their past and what happened following Sarah's death.

Joel, of course, is adamant about his brother taking Ellie to the Fireflies, so it will be fun to see how Ellie reacts to that.

10/9c The Company You Keep (ABC)

ABC has a sudsy drama for your viewing pleasure, with Milo Ventimiglia leading the charge as a con man who finds his life upended after a wild night with a CIA agent.

The pilot is compelling and sexy and everything you want from a 10 pm drama.

Catch it live and come back here to see our full thoughts on the premiere episode!

10/9c NCIS: Los Angeles (CBS)

The NCIS team must quickly find Kensi and Fatima after they are kidnapped and drugged while searching for a missing Navy lieutenant who they learn has ties to a dangerous Islamic militia.

We're sure there's a whole lot more to it.

So, check out the promo.


Monday, February 20

Days of Our Lives (Peacock)

Eric and Sloan might not be friends with benefits — or friends at all! — for much longer. Brady convinces Eric to test Sloan's loyalty, and when she finds out what Eric's done, she is PISSED! What on Earth is this about?

And if you thought Orpheus was really going to die at Steve and John's hands, think again. Roman'll save the day, and then Orpheus wll do something uncharacteristically unselfish and give them some info he could have kept to himself.

Could it have to do with a certain Megan Hathaway, who is supposed to return to Salem on February 24?
8/7c All American (The CW)

It's the fallout from Billy's shocking death.

The Beverly Hills and Crenshaw communities come together to support each other in an unexpected way.

It's the beginning of a new direction for this series.

8/7c Fantasy Island (FOX)

What's wrong with wanting your family to be happy? Melinda Clarke guest stars as Amber, a wife and mother who has devoted her life to ensuring her family never wants for stability and support.

And yet, they are still distant and sarcastic and distracted, nothing like the perfect family pics she posts online. But when the Island grants her wish for an Insta-awesome family, things go horribly wrong.

Meanwhile, Isaiah's future happiness hinges on knowing the exact date of his death. Intrigued? Be sure to check out this week's episode!

9/8c Alert: Missing Persons Unit (FOX)

Mikes mentor ropes him into a case that has him searching for a police officer with some unexpected twists and turns that tests him and the MPU.

Sidney tells her parents the truth about what happened the night of Keith's disappearance or presumed death (in her mind), and it causes some more friction.Spurred on by it, Jason will confront "Keith" about who he really is and why he's there.

It's an explosive episode, with only one remaining until the season finale.

10/9c Quantum Leap (NBC)

Soup's on! Or, more accurately, the curry's up as Ben leaps into the daughter of an Indian family with a restaurant history has recorded as a charred ruin.

As he hurries to prevent the restaurant (and the family) from falling to disaster, Magic has some tough questions for Ian to answer back at HQ after Dottie reveals Ian leaped into them last year.

Will we get any answers? Will Ben's leap set right the future even as he fights to save the past? Tune in and find out!


Tuesday, February 21

8/7c FBI (CBS)

There are a string of armed robberies that target various businesses.

The team investigates a suspect who leads them to something much bigger.

Also, OA worries about his future when his investments begin to go south.

8/7c 9-1-1: Lone Star (FOX)

If you've been craving more emergency calls and checking in on some of the other characters, this hour is the one for you!

Marjan lands herself in hot water after a call, and it may be a game-changer for her, while Grace's connection to a boy who becomes a frequent caller leads to something shocking.

Don't forget to check back for a full review and an exclusive interview with star Natascha Karam!

8/7c The Rookie (ABC)

Just when it seems folks have escaped one quarantine, a select few may be headed for another when an Ebola breakout has Harper, John, Celina, and Thorsen on a quest to find three people exposed and get them to quarantine before there's a larger outbreak.

Lucy and Tim are riding together yet again, and Tim gives Lucy a little something special for Valentine's Day as they and the others get enlisted into an investigation to stop a bomb set by a milita.

Enjoy the pun, but it's bound to be an explosive hour!

8/7c Night Court (NBC)

Can Gurgs successfully complete her mission to connect Abby with her favorite celebs, Johnny Weir and Tara Lipinski, by stalling the courtroom proceedings? Is that even legal?

Dan's out to grinch it up (BIG surprise), while a train delay inspires Abby to mete out some "underground justice," whatever that means.

So many questions: Why does Gurgs have an ax? Who is Judge Flobert? How is meeting Weir and Lipinski even an option? Guess we'll have to watch to find out!

9/8c La Brea (NBC)

In another two-hour event, Ty and Paara's wedding day finally arrives.

It's not all romance aty the festivities as a controversial guest shoots another guest at the wedding.

In the second hour, Veronica and the others must save Ella when a deadly swarm attacks the Clearing. Don't miss any of the romance and adventure.

10/9c Will Trent (ABC)

The GBI sends learns that a neo-Nazi organization is planning an attack and sends Will in to negotiate.

Faith realizes that Will is missing, and they can't locate him. Will he be able to outsmart his captors?

Meanwhile, Angie faces a potentially life-changing scenario and investigates a sneaker release gone wrong with Ormewood.


Wednesday, February 22

Furia (Viaplay)

The threat from the far-right forces is growing stronger in Europe. In Furia, a mix of thriller and drama, viewers are drawn on a dark journey from the Norwegian idyllic small coastal village of Åndalsnes to the city pulse of the world city of Berlin.

Two cities completely separate from each other but that are woven together as the threat gets closer. Ragna (Ine Marie Wilmann) works at the beautiful tourist destination Romsdalen in Ådalsness. She secretly lives a dark life online.

Police officer Asgeir (Pål Sverre Hagen) arrives at the same location with his daughter. Father and daughter must keep a low profile, hidden from the Russian mafia. Together, their stories are now tied together in a journey that keeps the viewer on the edge of their seat.

Trom (Viaplay)

When a local activist is found dead during a whale hunt, journalist Hannis Martinsson must risk his own life to find the truth in the isolated island community in the Faroe Islands.

TROM is a captivating crime thriller that combines loyalty, power, and unbreakable family ties.

The main roles are played by Ulrich Thomsen, Maria Rich, and Olaf Johannessen.

8/7c Chicago Med (NBC)

It's Archer vs. Asher when a heroin user gives birth! Archer thinks the new mother cannot be allowed to leave the hospital with her baby, while Asher is determined to get her sober and keep the family together.

Archer and Asher are not the only ones butting heads, either, as Charles finds himself caught in the middle between his girlfriend and Sharon during a labor dispute.

Talk about divided loyalties!

10/9c The Ark (SYFY)

When the crew suddenly begin hallucinating, their psyches are put to the test by memories of the past while they simultaneously race to figure out what's causing their mysterious symptoms.

The doctor still needs help in the medbay, and the situation is worsened by the hallucinations.

Garnet becomes the prime suspect in the murder investigation.

10/9c A Million Little Things (ABC)

It's always a good time, and maybe a dramatic one, when the guys and girls have a night out on their own!

The women throw Maggie a baby shower gathering and spend time together while the guys head out to a Bruins game.

Eddie entertains the idea of heading back to school, and Rome is still worried about his father and what testing will reveal.

10/9c Chicago PD (NBC)

Brace yourselves, Chi-hards, it's the big 200 for Chicago P.D., and they're coming in hot with an action-packed, emotional hour that centers Kim and finally addresses her unresolved trauma.

A brutal shooting leaves Burzek stuck on the train, trying to solve as much as they can with as little as they have while the team works their magic on their end.

The shooting triggers Kim's trauma, and all the things she's been burying will come to the surface in this milestone hour!


Thursday, February 23

Star Trek:Picard (Paramount+)

The final season continues to intrigue and excite as Amanda Plummer's villainous Vadic makes their first appearance.

Crazy like a space fox, Vadic holds the upper hand with more weaponry, intel, and pure rage. The odds of survival or success are pitiful. And yet, hope springs eternal.

Can Picard, Riker, and Beverly's son(!) outmanuever the deadly Shrike vessel? Will Seven convince Shaw to throw in with the old guard? Will Beverly survive to explain herself? Strap in, beam up, and Make It So!

Outer Banks (Netflix)

The Pogues are back for their most dangerous season to date, and unlike some of the other recent Netflix entries, we're getting the entire season to binge.

The teenagers successfully evaded danger at the end of Outer Banks Season 2, and found themselves in a corner of the world, well away from everyone else.

It will be interesting to see how that dynamic changes when the new season picks up.

8/7c Law & Order (NBC)

Shaw's more-or-less successfully navigated being both Black and a homicide detective, but what happens when another cop treats him like a criminal because of the color of his skin?

Shaw's got the inner strength and the legal knowledge to fight this, but could some retaliation be headed his way?

The homicides don't stop because of this situation either; he and Cosgrove need to get to the bottom of the murder of a respected doctor.

8/7c Station 19 (ABC)

The station responds to a raging fire at Meredith Grey's house that changes the course of her life.

Meanwhile, Maya is raced to Grey Sloan Memorial to fight for her life after a terrible fall.

We can expect a whole lot of action and FEELS

9/8c Law & Order: SVU (NBC)

The squad catches a challenging case in an episode directed by Mariska Hargitay.

When a man with dementia, played by Bradley Whitford, confesses to murder, neither Benson nor Carisi thinks this is the whole story; can they get to the truth?

And speaking of truth, Velasco's legal issues are back. This time Fin will be the one pressing him to get to the bottom of whether he once murdered someone.

9/8c Grey's Anatomy (ABC)

Grey's Anatomy FINALLY returns after what feels like the longest hiatus ever!

The hour teases Meredith Grey's grand farewell as she leaves Seattle for new ventures following her house burning down, but star Ellen Pompeo, clarifies that it's not the last we'll ever see of Meredith Grey.

Nevertheless, sit back and enjoy this milestone episode for what it is.

10/9c Law & Order: Organized Crime (NBC)

Murphy's gotten away with his crimes for now; the team instead will begin a brand-new, action-packed case.

This one's personal for Stabler, as a biker gang has kidnapped the daughter of his Marine buddy. To get her back, the team will have to try to settle a deadly dispute between rival gangs peacefullly.

But can Stabler keep his friend in line before they accidentally trigger a war instead?


Friday, February 24

Carnival Row (Prime Video)

Vignette plots revenge while Philo investigates the murders of the Black Raven leaders, Dahlia and Bolero.

Ezra still wants to "rescue" Imogen from Arceus as the couple deal with life in the New Dawn.

Tourmaline's visions become more frequent, warning her the murders aren't what they seem.

The Consultant (Prime Video)

The Consultant is a twisted comedic thriller series that explores the sinister relationship between boss and employee. Based on Bentley Little's 2015 novel of the same name, the characters and story in this thrilling new series unfold in new and unexpected ways.

When a new consultant, Regus Patoff (Christoph Waltz), is hired to improve the business at the App-based gaming company "CompWare," employees experience new demands and challenges that puts everything into question… including their lives.

The series stars Christoph Waltz as Regus Patoff, Nat Wolff as Craig, Brittany O'Grady as Elaine, and Aimee Carrero as Patti. If you've never experienced Bentley Little's mind, this will be quite the trip!

Liaison (Apple TV+)

Apple's first French and English-language original series, Liaison stars César Award winner Vincent Cassel (Black Swan, Westworld) and BAFTA Award winner Eva Green (Miss Peregrine's Home For Peculiar Children).

"Liaison" is a high-stakes, contemporary thriller exploring how the mistakes of our past have the potential to destroy our future, combining action with an unpredictable, multi-layered plot where espionage and political intrigue play out against a story of passionate and enduring love.

The first episode drops today, with a new episode dropping weekly on Fridays.

Party Down (Starz)

Everyone's favorite catering company is back with its long-awaited third season!

The cult classic comedy Party Down has returned, and they are inthe business of celebration!

This new season features original stars Adam Scott, Megan Mullally, Ken Marino, and Jane Lynch, among others, as well as Jennifer Garner, James Marsden, Zoe Chao, and a host of other special guest stars!

Are we having fun yet?
Carissa Pavlica is the managing editor and a staff writer and critic for TV Fanatic. She's a member of the Critic's Choice Association, enjoys mentoring writers, conversing with cats, and passionately discussing the nuances of television and film with anyone who will listen. Follow her on Twitter and email her here at TV Fanatic.