Entertainment
Will Trent's Erika Christensen Teases her Relationship With Will & the Appeal of the Series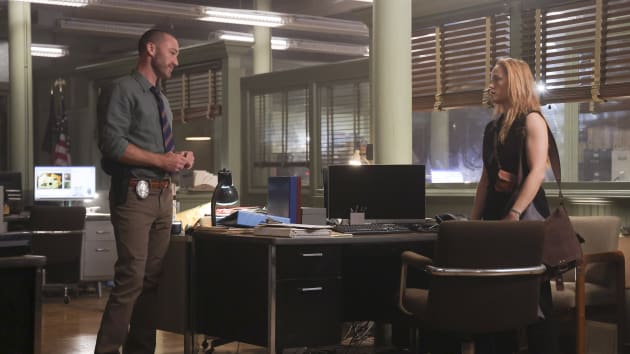 Erika Christensen has played numerous TV and film roles, including Julia Braverman-Graham on NBC's Parenthood. Now, she's portraying Detective Angie Polaski in ABC's new detective series, Will Trent, which premieres Tuesday, January 3, 2023, at 10/9c.

Will Trent is based on Karin Slaughter's best-selling series and features the title character(Ramon Rodriguez), who works for the Georgia Bureau of Investigations (GBI). Will has a unique way of seeing cases based on a traumatic past in foster care, where he met Angie (Erika Christensen.)

TV Fanatic chatted with Erika about the appeal of the series, Angie's relationship with Will, and working with her leading men. Check it out below:

Tell us a little about the premise of Will Trent and why you think it will appeal to viewers.

It's based on Karin Slaughter's bestselling books, and the series follows Special Agent Will Trent of the Georgia Bureau of Investigations. Will grew up in Atlanta's overwhelmed foster care system and doesn't want any more children overlooked.

Some of Will's recent actions have caused him to make some enemies, but he has the highest clearance in the GBI.

The series also focused on the complicated relationship between Will and my character, Angie, whom he grew up with. No one at work has figured out their relationship yet, so that's really fun to play.

They're close friends and have this intense relationship because they were traumatically bonded from something that happened to them long ago. They also grew up with and had a history with several other characters. I was sold the minute I saw the script.

Had you read the book series before getting the part? Do you know how closely the series follows the source material?

I had yet to read the books before starting the series. Since then, I learned it was a 10-book series. From talking to Karin, I think I'm doing justice to the part of Angie. We try to stay true to some of the source material and have an artistic license to change other storylines in the series while keeping true to the heart of the series.

Tell us about your character Angie and how she is different from other characters you've played.

I play Detective Angie Polaski. When we meet Angie, she's working at VICE. Angie's confident and proficient at her job. She's strong and tough and only a few days sober.

She's also got a soft spot, mainly for Will and the female victims she encounters at work, because she had a traumatic childhood and identified with those she's trying to help.

Angie is trying to navigate her life as a cop and deal with her traumatic past, some of which she shared with Will. While they're close, it doesn't necessarily mean that it's a healthy relationship for Angie.

Angie seems to have complicated pasts with both Will and Michael. What can you tease about that?

What's fascinating about how we first meet these characters is there is Will Trent, and Will Trent has a huge secret, but he's a hotshot detective. There's Angie, the woman in his life, and she's a hotshot detective, and you find out that these two grew up in the foster care system in Atlanta.

The only other person they know from that time is possibly a victim and a suspect in this significant case they just caught. So, it brings up so much between the three of them. Meanwhile, they're on the clock, trying to solve this case.

Oh yes. Angie also has a past with Michael, albeit a much shorter one, though some of the issues are similar. They worked together on a past case and are now forced to work together again on this big case.

What has it been like working with both of your leading men?

Oh, it's terrific. I don't know if you know that I've known Ramon for over 15 years, so there is a certain familiarity there. It really helps to have that history when you play characters with a long-term history.

We're super comfortable together playing together on-screen, playing these characters. By now, I can decipher the personality of Will Trent from my close friend Ramon Rodriguez.

When I met Jake McLaughlin, who plays Michael, I knew we'd be friends immediately. We connected instantly, and he texted, offering to watch my children. I have so much fun with both of them.

Will the murder in the series premiere be a season-long arc, or will there be different cases?

There will be several cases spread out throughout the season. Some will last a few episodes. You'll see soon why the murder from the season premiere has to be solved very quickly. I don't want to give anything away.

Why else should viewers watch Will Trent?

We're about halfway through filming the first season, and every character gets fleshed out. You learn more about major and minor characters and their stories, which is fascinating.

We have all these recurring and guest stars, and they're really creating a world with these characters.

Some of these characters we may only see for a few minutes, but they impact other characters and relationships, so it's interesting to see how the storylines unfold.

I love the uniqueness of each of these characters and how they evolve.

Will Trent premieres on Tuesday, January 3 at 10/9c on ABC. Check back after the premiere for our review.
Laura Nowak is a staff writer for TV Fanatic. Follow her on Twitter.