Life Style
With a storyline about the adjunct crisis, "Lucky Hank" moves to the head of the class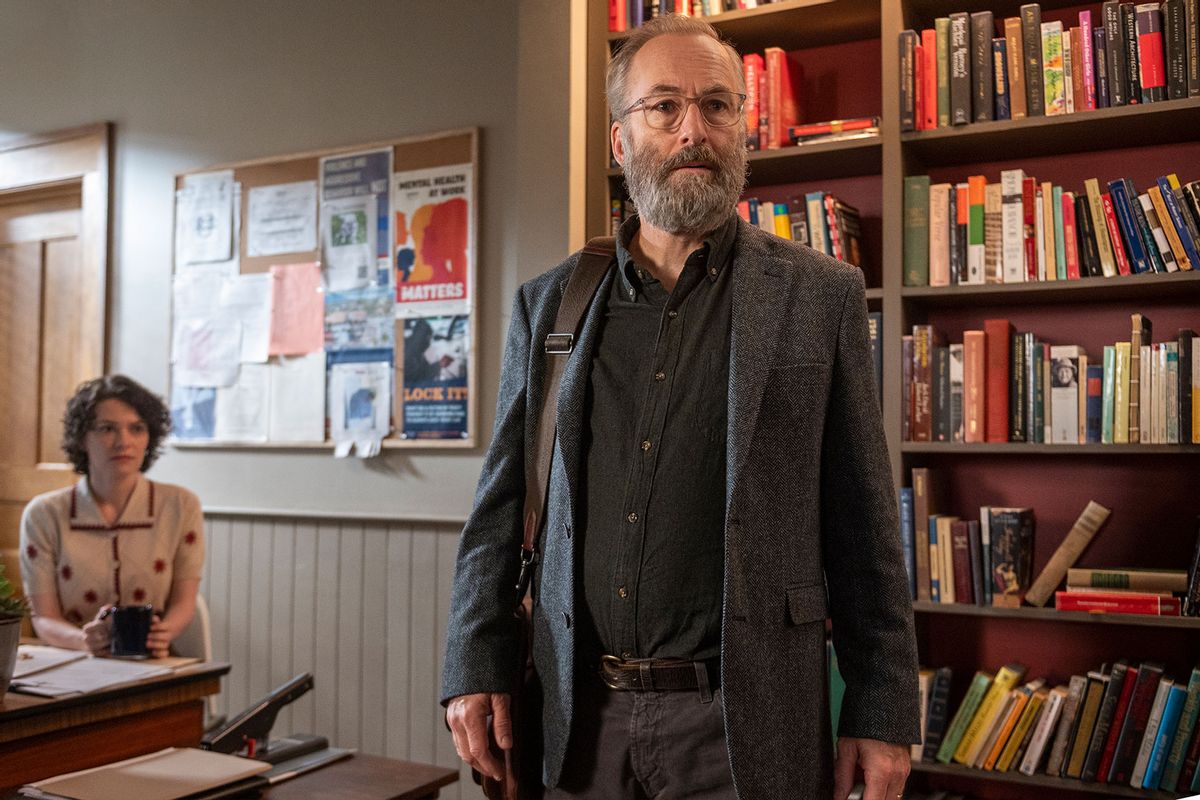 You know them, I love them. Campus storylines. Students with backpacks stroll down leafy quads. Professors linger in empty classrooms, trying to solve complex equations on chalkboards. I particularly love the scary academic fictions, the sinister force that may be supernatural and the very real bigotry facing a young Black student at a small college in the 2022 film "Master"; the creepy mentorship of Classics scholars gone too far in Donna Tartt's novel "The Secret History" (which really should be a streaming series). 
I spent the first part of my career in academia, as a graduate student then instructor, and it's nice to return to campus in fiction, without all the pesky department meetings and creepy supervisors. Perhaps it's firsthand knowledge of the field that draws me to dark academia. Yes, small elite colleges really are that cloistered. Yes, small pond poets sometimes do abuse their power. But one area of darkness that campus stories have overwhelmingly neglected to explore is the very real crisis of adjuncts. Lucky for us, "Lucky Hank" has arrived. 
"Lucky Hank," the AMC's series starring Bob Odenkirk, has a solid foundation as its source material: writer Richard Russo's novel "Straight Man," a bestseller from 1997 which has a much-loved position in my collection. Odenkirk plays William "Hank" Devereaux, Jr., an English professor and writer at a small, struggling college in Pennsylvania. Like Grady Tripp of Michael Chabon's "Wonder Boys," Hank has published one fairly respected novel, years ago. He's struggled to write ever since, especially while balancing the demands of a dysfunctional English department and trying to escape the shadow of his much more famous writer-professor father who abandoned him. 
That's Hank's crisis. But the crisis of some of his colleagues is different and in many ways, much more dire. Theirs is a crisis of survival.
Many adjuncts — despite having the same PhDs as tenured professors and often, more teaching experience and publishing credits — live below the poverty line. 
One of the criticisms of the Sandra Oh-fronted limited series "The Chair" on Netflix about an English department, is that the majority of the teaching faculty was completely absent. Who was teaching all those first-year English Composition sections? Likely, adjuncts, the contractual educators who are not on the tenure track and have no chance of tenure, that oh-so indefinite academic appointment. Adjuncts teach about half or more of the courses at many universities, including at the University of Denver. Despite their huge presence, they have little to no say in faculty meetings. They don't often receive benefits. Their employment is extremely perilous, usually not knowing until just before the start of a semester — or even after it already begins — if they'll have any work. This even despite teaching for years at the same place. 
But most adjuncts have to teach at multiple places at the same time in order to even approach making ends meet. Over 50%, according to a study cited by Inside Higher Ed in 2020, make less than $3,5000 per course. When I taught as an adjunct, I drove between three universities, sometimes all in the same day. Many adjuncts — despite having the same PhDs as tenured professors and often, more teaching experience and publishing credits — live below the poverty line. 
Sara Amini as Meg Quigly in "Lucky Hank" (Sergei Bachlakov/AMC)The adjunct in "Lucky Hank" is Sara Amini as Meg Quigley. She works as a bartender, likely making more in tips, even in a small town dive bar, than she does in the classroom. But she loves to teach. She genuinely believes in academia, despite it continually betraying her. Even Hank, her friend, lets her down by dropping the news about a hiring freeze and that there won't be any tenure track positions at his college for years. "It's bleak," he says, only moments after complaining to her about his own secure tenured position, which traps him in a town he doesn't like (but pays for his super sweet house). 
Not only that, but Hank has no work for Meg in the coming semester, no classes at all. I'm reminded of the line in "Alice in Wonderland," where a unicorn says to Alice, "If you'll believe in me, I'll believe in you." Alice never went to academia land.
The dean advises Hank, when it comes to his firing list, that adjuncts are "half the price. You should load them up."
Hank is sympathetic but like the older, rather clueless white man he is, financially secure despite a mediocre track record, Hank protests that Meg has a great resume and "that any school would jump at the chance" to hire her, "even in this job market." What Hank and the show are not saying is that the academic job market is dire, even for those with tenure track positions. (Good luck getting another job if you left, Hank.) For those who have (barely) existed far outside of the track, like Meg, there is little hope. Schools aren't going to be jumping. The ones doing the leaping, scrambling to stay alive, are adjuncts. 
Bob Odenkirk as Hank and Sara Amini as Meg Quigly in "Lucky Hank" (Sergei Bachlakov/AMC)Hank's department is in dire straits as well. The hiring freeze is real, and Hank, as the grumpy chair, is given the impossible task of deciding who to let go. The dean (Oscar Nuñez) advises Hank, when it comes to his firing list, that adjuncts are "half the price. You should load them up."
"Lucky Hank" presents one of the most realistic portrayals of writer-professors and their milieu that this writer and (former, visiting assistant) professor has ever seen. But how diverse the show's English department is does veer into fantasy. Shannon DeVido as the department's Emma Wheemer, who is a wheelchair user, is absolutely fantastic, yet only 4% of faculty members in the U.S. have a disability, as Boston Today wrote in 2021. Disabled faculty, especially on the tenure track, are a more rare sight on campuses than that goose who bothers Hank. While their jobs may be not as precarious as adjuncts, any marginalized faculty is going to be in danger when it comes to cuts. Emma later cries in her car. "Obviously, I'm going to be on your list," she tells Hank.
---
Want a daily wrap-up of all the news and commentary Salon has to offer? Subscribe to our morning newsletter, Crash Course.
---
"Lucky Hank" is a comedy — and it is very funny, sweet and real. But a large part of its realness comes from the bare acknowledgement that adjuncts are real and really struggling. Hank is compelling as a character, especially under Odenkirk's humble guy mastery. Where the show truly sets itself apart is by opening the conversation we need to have in all stories about higher ed: certain educators, through no fault of their own, are being exploited and left behind.