Entertainment
Woman Ditched by Date Gets "Revenge" by Posting Texts Online for His Girlfriend to See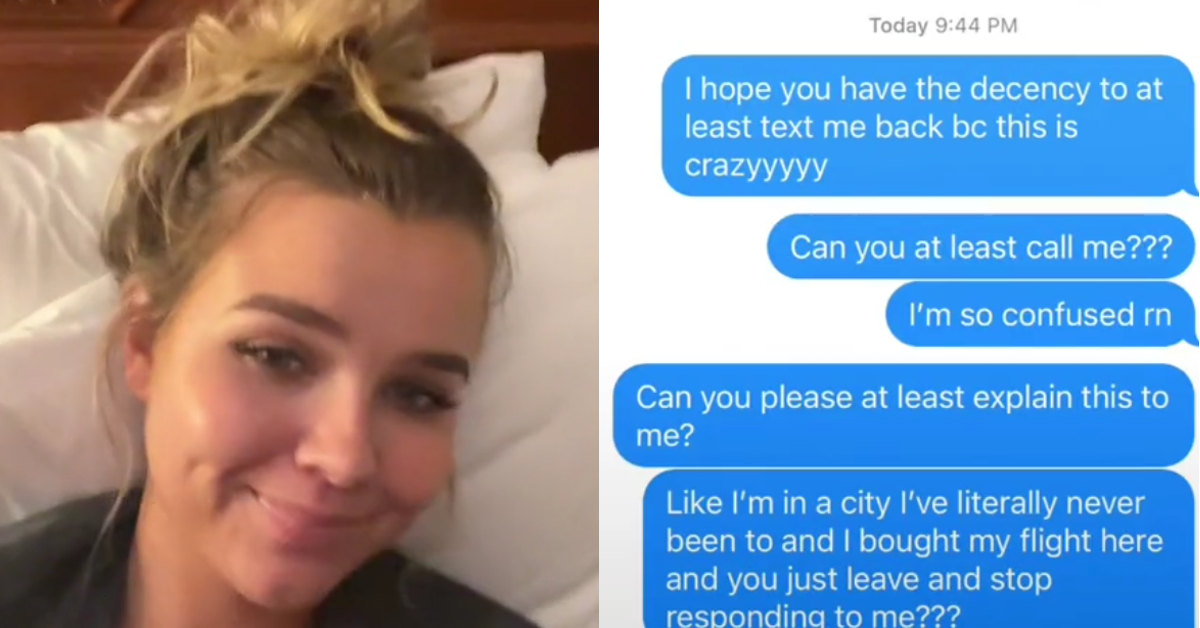 A woman says she was ditched by her date in a hotel room as she took a nap after flying across the country to meet him.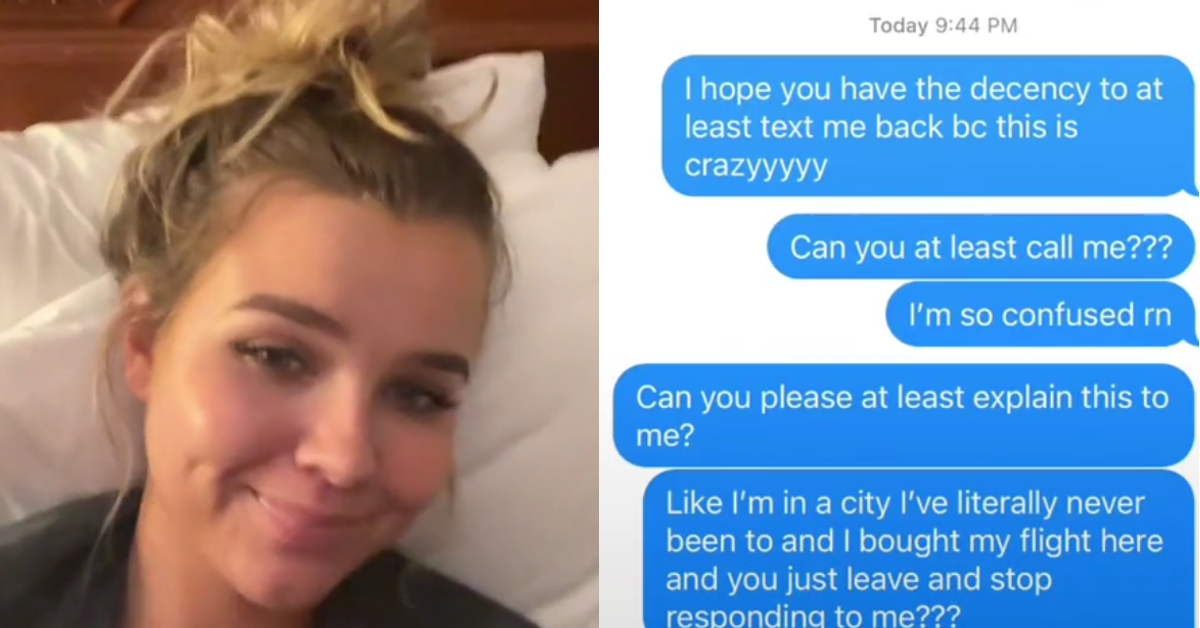 This woman flew cross country to meet a man.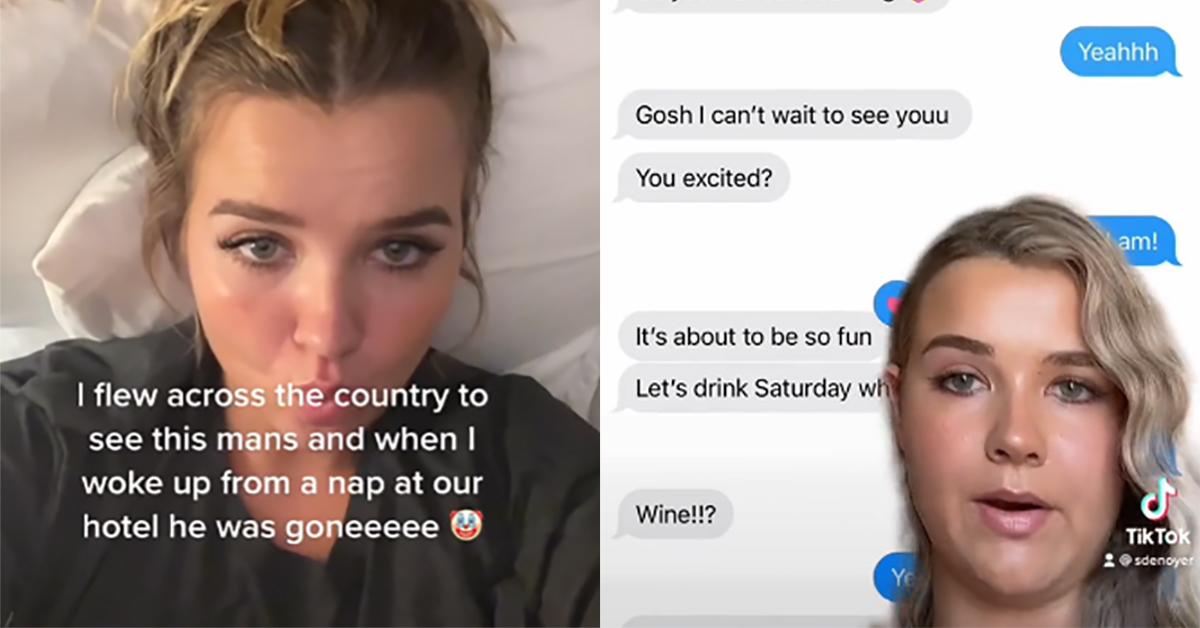 When you're excited to meet a potential romantic love interest, there are few things you wouldn't do in order to see that special someone. You'll modify longstanding plans, you'll respond back to their texts in embarrassingly quick fashion (or stop yourself from doing so), your heart will pound whenever you receive a call or text from them and you may just travel ridiculously long distances for a chance to spend some time with them.
Article continues below advertisement
She had never met him in person.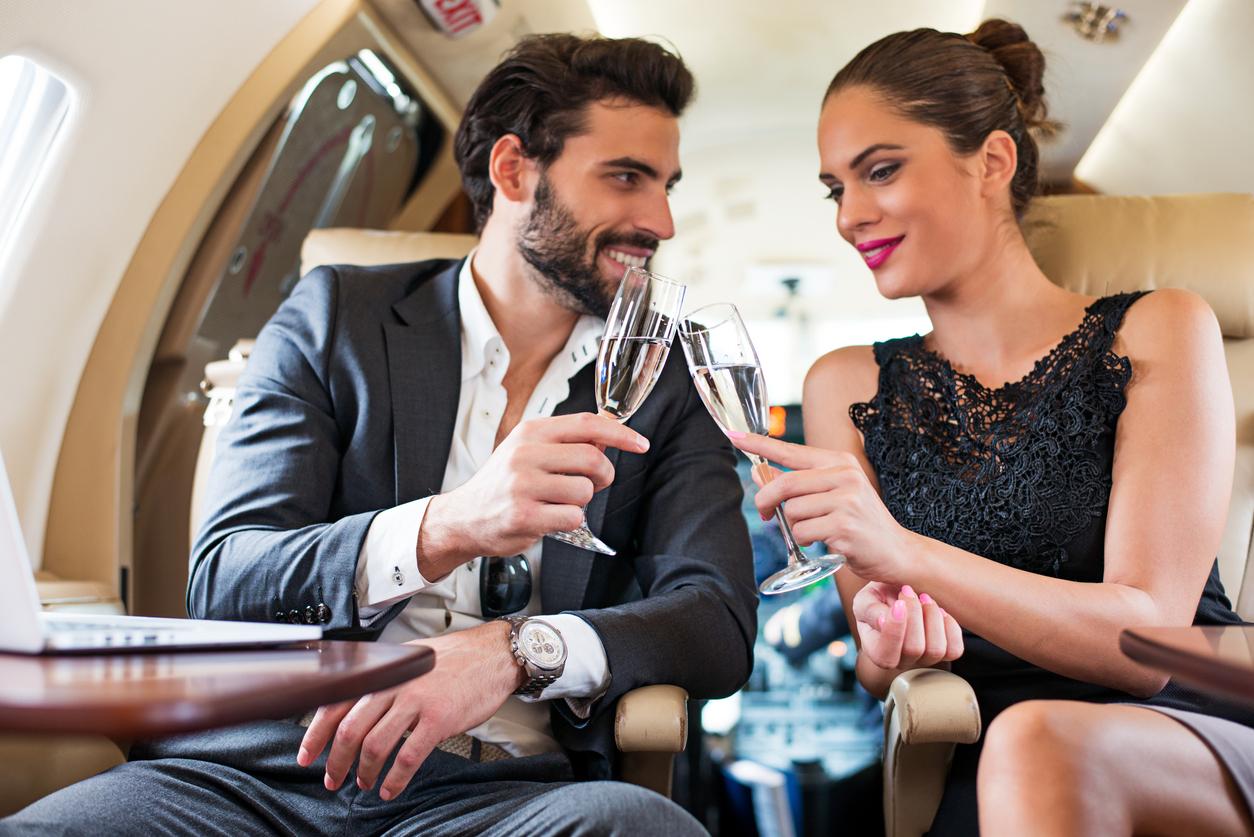 And while it might seem extreme, there are folks who'll charter a flight just for the opportunity to meet up with someone they want to pursue a relationship with, like this one woman who booked a plane in a strange city to meet up with a guy she met through a mutual friend she FaceTimed with.
She decided to tell her experience in response to another bad date story.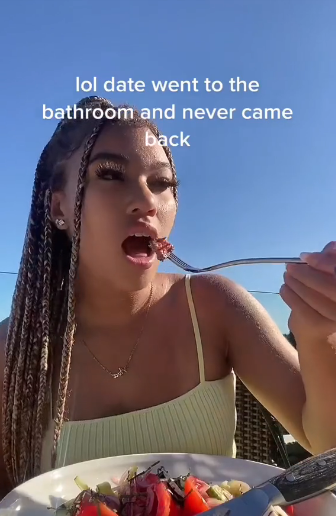 TikToker Samantha Marie, who posts under the handle @sdenoyer stitched her own "stood up" experience with fellow user @ayeevuh._ who posted a clip of her eating alone. A text overlay reads: "lol date went to the bathroom and never came back."
Article continues below advertisement
She says she woke up to an empty bed.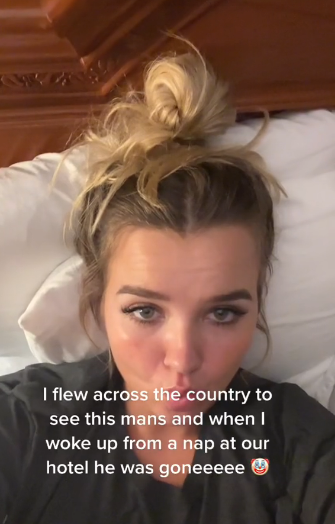 Samantha followed it up with a video of her own. She's in bed looking at the lens of her camera and reveals that there's an empty space next to her.
Article continues below advertisement
She took a nap and he was just gone.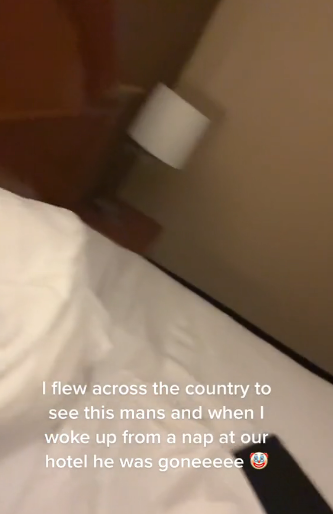 "I flew across the country to see this mans and when I woke up from a nap at our hotel he was goneeeee," she proceeds to show that the room is empty and then the video cuts to a series of texts between her and the date. It appears that the man at the top of the shown conversation says, "I'll let you know when I'm heading back."
Article continues below advertisement
She shared the text convos she had with the guy.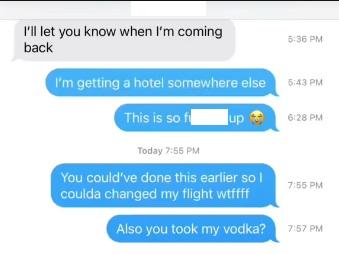 She then proceeds to tell him that it "is so f—– up" that he did this to her. And says a little over an hour later that the least he could've done was let her know earlier so she could've changed her flight to go back home earlier.
Article continues below advertisement
He even took her bottle of vodka!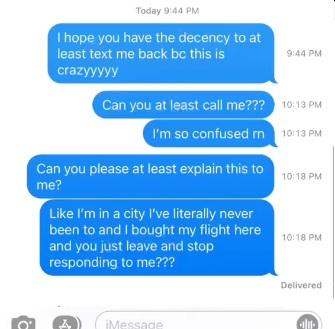 Several hours later she receives no response from the man, and asks for him to call her back. She goes on to tell him that she's "confused" and that she's in a city she has never been to before, one that she purchased her own flight to, and that it's rude of him to just up and stop replying to her texts.
Article continues below advertisement
People said she should name drop the guy.

In the comments section, some folks told the woman that it's never a good idea to spend their own money to go and see a date in another city. Some folks mentioned that the guy is probably double-dipping and was probably with his wife or significant other which is why he wasn't responding.
Article continues below advertisement
Others agreed it probably wasn't the best idea to meet up.

Samantha, and others said in the comments section the worst part is that she was left in the dark as to what was going on and not knowing if she did anything wrong or what he was up to is what was truly bothersome.
The TikToker in a follow-up post explained what happened: they found each other through a mutual friend online and she "found him attractive" and she "liked the vibes" and they began texting and FaceTiming.
Article continues below advertisement
She said the trip was mostly fun leading up to him ghosting.

She flies out to see him for a couple of days but doesn't arrive to his city until around midnight. She stays at his "hometown" house and the next day they go out for brunch and walk around town. She says that she was "having fun for the most part" and on the second day they ended up spending time with one another at a hotel.
Article continues below advertisement
She only took a nap to rest up for the night out.

Prior to heading out they play some board games and decide to take a nap before heading out for the evening. He goes to the bathroom and she falls asleep on the bed. When she wakes up, the Vodka she brought is gone and so is the man she came to see along with his duffel bag. That's when she started texting him.
Article continues below advertisement
She decided to ask her mutual friend if he knew anything.

Samantha then decided to call their mutual friend and he answers her call, but once he realizes it was her friend, he hangs up the phone, presumably because he didn't have her number saved. Her friend said that when he answered the phone "there was really loud music" playing in the background.
Article continues below advertisement
The guy apparently claims it was a family emergency.

It's right after that phone call that he texted the TikToker saying he had a family emergency he needed to attend to, which didn't make sense to Samantha because why would he take Vodka to a family emergency? None of it added up to Samantha, who chalked it up as a huge loss and ended up taking an Uber to the airport.
Article continues below advertisement
Turns out the guy had a girlfriend.

But then, a few weeks later, she discovered that the man who ditched her doesn't have a wife, as some folks speculated, but that he does have a girlfriend. She spilled all of the details in a TikTok update.
Article continues below advertisement
They were apparently in a long-term relationship!

She says in the video "No he doesn't have a wife but he does have a girlfriend, of like three years which is so sad, so I hope she sees this."
As it turns out, the guy wasn't just cheating on his girlfriend with Samantha, but with yet another girl in the same weekend.
"So another girl reached out to me from my other TikToks and was like oh my gosh I think I was with him that weekend."
Article continues below advertisement
She ends up talking to the girlfriend via Texts.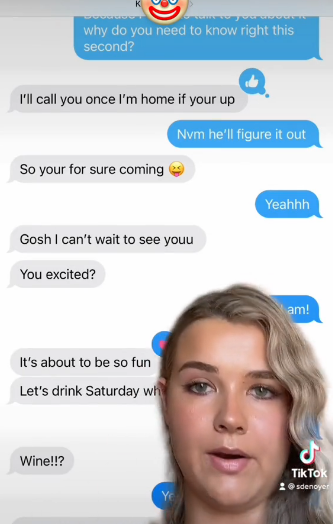 Samantha continued, "And she called me explaining the whole thing. And basically he was with her, the night that I arrived, Saturday. And then he left her to go see me, and the next night he left me to go see her. But he just didn't say anything to me. So she sent me the texts between them, before I got there, while I was there, everything."
Article continues below advertisement
Turns out he was dating three women at once!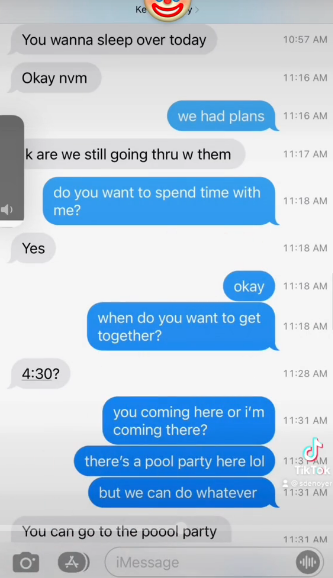 "So I'm gonna show you guys." She then proceeded to show screenshots of the text conversations the "other other woman" had with the triple-dipping dude.
Samantha said that the guy was telling her that if the two of them had gone to the same college together that they "would have been married by now" which she called "the corniest thing ever."
Article continues below advertisement
That missing bottle of vodka? Apparently he shared it with the other girl.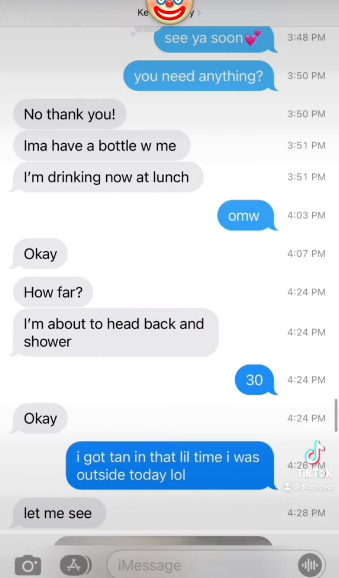 Another text conversation between the man and the other-other-woman finally gets to the bottom of the missing bottle mystery: it turns out he stole Samantha's bottle of vodka in order to drink it with her. "Anyway, so neither of us are the girlfriend," Samantha concluded, adding that she hopes the woman sees the TikTok and "saves the next" woman the man ends up talking to him.
She also gave the man's name: Kevin Easley.